WISCONSIN MILK BOTTLES:::.
You all thought those antique Wisconsin bottle ads and slogans were bunk right? Well, check out this Gridley ad and the subsequent update on the life and times of Neil the featured Gridley milk aficionado...
Hi Steven,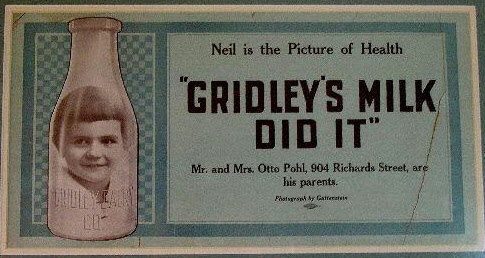 How fun, that you have seen it. Hope we can track one down for my family, to go with the poster. Neil A. Pohl: Dad said he was about 2 1/2 yrs. old when the Guttenstein Photographer took this image. Dad was born June 1915, died Dec.'98. He had four kids, and ten grandchildren. In High School, he was in track and field and said Jessie Owens was a competitor, at several meets. Jessie was setting records then; Dad was 6'1", and ran the 100 yard dash very fast. Dad was nominated All American as a football star Center, while Attending at U of Wisconsin. He was an Engineer. Worked as a Factory Manager during W.W.II, for the war effort. His interests lay in gardening, grilling, pre-historical man, golf, tennis and physics (quantum mechanics). Just recently, I believe he took Physics classes under Eugene Wigner, a Noble Laureate. Most fondly he was known by his kids and grand kids as sharing his martini olives.
KC Neil's youngest Daughter
Adams Wisconsin Milk Bottles
Frequently Asked Questions
Contact mrbottles
Back to Top

Purity Dairy, Barton & West Bend, Wisconsin

Albany Wisconsin Milk Bottle (s)
Frequently Asked Questions
Contact mrbottles
Back to Top

No Images


Algoma Wisconsin Milk Bottle (s)
Frequently Asked Questions
Contact mrbottles
Back to Top

No Images


Altoona Wisconsin Milk Bottle (s)
Frequently Asked Questions
Contact mrbottles
Back to Top

No Images


Antigo Wisconsin Milk Bottles
Frequently Asked Questions
Contact mrbottles
Back to Top

Antigo Dairy Co., Antigo, Wisconsin

Appleton Wisconsin Milk Bottle (s)
Frequently Asked Questions
Contact mrbottles
Back to Top

Dairy Queen Products, Appleton, Wisconsin

Park View Dairy, Appleton, Wisconsin

Steffen's Dairy (Quart), Appleton, Wisconsin

Argonne Wisconsin Milk Bottle (s)
Frequently Asked Questions
Contact mrbottles
Back to Top

Argonne Dairy, Argonne, Wisconsin

Ashland Wisconsin Milk Bottle (s)
Frequently Asked Questions
Contact mrbottles
Back to Top

Andrew Peterson (half pint), Ashland, Wisconsin

Pioneer Creamery (half pint), Ashland, Wisconsin

Pioneer Dairy Co., Ashland, Wisconsin

Ashland Dairy (half pint), Ashland, Wisconsin

Athens Wisconsin Milk Bottle (s)
Frequently Asked Questions
Contact mrbottles
Back to Top

No Images


Bancroft Wisconsin Milk Bottle (s)
Frequently Asked Questions
Contact mrbottles
Back to Top

The Bancroft Dairy Louis Bisselvoer, Bancroft, Wisconsin?

Bangor Wisconsin Milk Bottle (s)
Frequently Asked Questions
Contact mrbottles
Back to Top

Meyer's Dairy, Bangor, Wisconsin

Meyer's Dairy, Bangor, Wisconsin

Baraboo Wisconsin Milk Bottle (s)
Frequently Asked Questions
Contact mrbottles
Back to Top

Baraboo City Dairy, Baraboo, Wisconsin

Barron Wisconsin Milk Bottle (s)
Frequently Asked Questions
Contact mrbottles
Back to Top

No Images


Belgium Wisconsin Milk Bottle (s)
Frequently Asked Questions
Contact mrbottles
Back to Top

No Images


Belleville Wisconsin Milk Bottle (s)
Frequently Asked Questions
Contact mrbottles
Back to Top

Belleville Dairy R.Q. Fritz, Belleville, Wisconsin

Beloit Wisconsin Milk Bottles
Frequently Asked Questions
Contact mrbottles
Back to Top

Consumers Milk Co., Beloit, Wisconsin

Consumers Milk Company Beloit, Wisconsin

S.W.& W. Dairy Co., Beloit, Wisconsin

S.W.& W. Dairy Co., Beloit, Wisconsin

S.W.& W., Dairy Co., Beloit, Wisconsin

S.W.&W. Dairy Co., Beloit, Wisconsin

Silas N. Hazeltine, Beloit, Wisconsin

S.W.&W. Dairy Co. (quart), Beloit, Wisconsin

W.W. Dairy, Beloit, Wisconsin

Berlin Wisconsin Dairy Bottle (s)
Frequently Asked Questions
Contact mrbottles
Back to Top

No Images


Black River Falls Wisconsin Milk Bottles
Frequently Asked Questions
Contact mrbottles
Back to Top

Waterman IceCream Beverage Dairy Products, Black River Falls, Wisconsin

Bloomer Wisconsin Milk Bottle (s)
Frequently Asked Questions
Contact mrbottles
Back to Top

Golden Glow Dairy, Bloomer, Wisconsin

Golden Glow Dairy, Half Pint, Bloomer, Wisconsin

Golden Glow Dairy (Phone 2491), Bloomer, Wisconsin

Bloomington Wisconsin Milk Bottle (s)
Frequently Asked Questions
Contact mrbottles
Back to Top

No Images


Blue River Wisconsin Milk Bottle (s)
Frequently Asked Questions
Contact mrbottles
Back to Top

No Images


Boscobel Wisconsin Milk Bottle (s)
Frequently Asked Questions
Contact mrbottles
Back to Top

Sanitary Creamery (Back side), Boscobel, Wisconsin

Sanitary Creamery (Front side), Boscobel, Wisconsin

Boyd Wisconsin Milk Bottle (s)
Frequently Asked Questions
Contact mrbottles
Back to Top

W. Zais Prospect Hill Dairy Boyd, Wisconsin

Brillion Wisconsin Milk Bottle (s)
Frequently Asked Questions
Contact mrbottles
Back to Top

Wolfmeyer's Dairy, Brillion, Wisconsin

Brodhead Wisconsin Milk Bottle (s)
Frequently Asked Questions
Contact mrbottles
Back to Top

No Images


Brookfield Wisconsin Milk Bottle (s)
Frequently Asked Questions
Contact mrbottles
Back to Top

Elm Grove Milk Co., Brookfield, Wisconsin

Burlington Wisconsin Milk Bottles
Frequently Asked Questions
Contact mrbottles
Back to Top

No Images


Cambridge Wisconsin Milk Bottle (s)
Frequently Asked Questions
Contact mrbottles
Back to Top

No Images


Cedar Grove Wisconsin Milk Bottle (s)
Frequently Asked Questions
Contact mrbottles
Back to Top

No Images


Cedar Lake, Wisconsin Milk Bottle (s)
Frequently Asked Questions
Contact mrbottles
Back to Top

Riesch Cedar Lake Dairy, Wisconsin

Cedarburg Wisconsin Milk Bottle (s)
Frequently Asked Questions
Contact mrbottles
Back to Top

Cedarburg Milk Co. Cedarburg, Wisconsin

Cedarburg Milk Co. (Half Pint), Cedarburg, Wisconsin

Cedarburg Milk Co. (Quart), Cedarburg, Wisconsin

Chetek Wisconsin Milk Bottle (s)
Frequently Asked Questions
Contact mrbottles
Back to Top

Carlson Dairy, Chetek, Wisconsin

Chippewa Falls Wisconsin Milk Bottle (s)
Frequently Asked Questions
Contact mrbottles
Back to Top

Clover Dairy Co., Chippewa Falls, Wisconsin

Kenndy's Circle K Dairy, Chippewa Falls, Wisconsin

Chippewa Model Dairy Co. (1/2 pint), Chippewa Falls, Wisconsin

Chippewa Model Dairy Company (1/2 pint), Chippewa Falls, Wisconsin

Chippewa Model Dairy Company, Chippewa Falls, Wisconsin

Creamland Dairy Co., Chippewa Falls, Wisconsin

McGillivray Dairy Co. Of Farmland (1/2 pint), Chippewa Falls, Wisconsin

Colfax Wisconsin Milk Bottle (s)
Frequently Asked Questions
Contact mrbottles
Back to Top

No Images


Coloma Wisconsin Milk Bottle (s)
Frequently Asked Questions
Contact mrbottles
Back to Top

No Images


Crivitz Wisconsin Milk Bottle (s)
Frequently Asked Questions
Contact mrbottles
Back to Top

No Images


Cross Plains Wisconsin Milk Bottle (s)
Frequently Asked Questions
Contact mrbottles
Back to Top

Garfoot's Dairy, Cross Plains, Wisconsin

Cudhay Wisconsin Milk Bottle (s)
Frequently Asked Questions
Contact mrbottles
Back to Top

No Images


Dane Wisconsin Milk Bottle (s)
Frequently Asked Questions
Contact mrbottles
Back to Top

No Images


Darlington Wisconsin Milk Bottle (s)
Frequently Asked Questions
Contact mrbottles
Back to Top

Jersey Home Farm Milk (quart), Darlington, Wisconsin

Delafield Wisconsin Milk Bottle
Frequently Asked Questions
Contact mrbottles
Back to Top

Thomas Stocks Delafield, Wisconsin

St. John's Military Academy Dairy, Delafield, Wisconsin

Delavan Wisconsin Milk Bottle (s)
Frequently Asked Questions
Contact mrbottles
Back to Top

Golden Dawn Dairy (1/2 Pint), Delavan, Wisconsin

Dodgeville Wisconsin Milk Bottle (s)
Frequently Asked Questions
Contact mrbottles
Back to Top

Powell Dairy, Dodgeville, Wisconsin

Eagle River Wisconsin Milk Bottle (s)
Frequently Asked Questions
Contact mrbottles
Back to Top

Eagle River Creamery, Eagle River, Wisconsin

Eagle Wisconsin Milk Bottle (s)
Frequently Asked Questions
Contact mrbottles
Back to Top

Harold Pardee Jersey Dairy, Eagle, Wisconsin

Eau Claire Wisconsin Milk Bottle (s)
Frequently Asked Questions
Contact mrbottles
Back to Top

Eau Claire Creamery and Dairy Product Co, Eau Claire, Wisconsin BIMAL!!

Oak Park Dairy Eau Claire, Wisconsin

Oak Park Dairy Eau Claire, Wisconsin

Robin Brand Eau Claire, Wisconsin

Uecke Dairy Co. Eau Claire, Wisconsin

Uecke Dairy, Eau Claire, Wisconsin (Front)

Uecke Dairy, Eau Claire, Wisconsin (Reverse Side)

Horlacher Dairy, Eau Claire, Wisconsin

Morningcrest Farms, Eau Claire, Wisconsin

Robin Brand Eau Claire Creamery Co., Eau Claire, Wisconsin

Uecke Dairy (variant) half pint, Eau Claire, Wisconsin

Edgerton Wisconsin Milk Bottle (s)
Frequently Asked Questions
Contact mrbottles
Back to Top

No Images


Elkhorn Wisconsin Milk Bottle (s0
Frequently Asked Questions
Contact mrbottles
Back to Top

No Images


Elkhorn Wisconsin Milk Bottle (s0
Frequently Asked Questions
Contact mrbottles
Back to Top

No Images


Elroy Wisconsin Milk Bottle (s)
Frequently Asked Questions
Contact mrbottles
Back to Top

Sanitary Dairy Co., Elroy, Wisconsin

Endeavior Wisconsin Milk Bottle (s)
Frequently Asked Questions
Contact mrbottles
Back to Top

Walter Moss, Endeavior, Wisconsin

Evansville Wisconsin Milk Bottle (s)
Frequently Asked Questions
Contact mrbottles
Back to Top

Graves & Mabie, Meadow Brook Dairy, Evansville, Wisconsin

Fond Du Lac Wisconsin Milk Bottle (s)
Frequently Asked Questions
Contact mrbottles
Back to Top

Diamond Dairy (1/2 pint), Fond Du Lac, Wisconsin

Fountain City Dairy Co., Fond Du Lac, Wisconsin

Roach Farm Dairy, Fond Du Lac, Wisconsin

Sunny Side Dairy, Fond Du Lac, Wisconsin

Corium Gurnsey Dairy, Fond Du Lac, Wisconsin

Fountain City Dairy, Fond Du Lac, Wisconsin

Roach Farm Dairy, Fond Du Lac, Wisconsin

Fort Atkinson Wisconsin Milk Bottle (S)
Frequently Asked Questions
Contact mrbottles
Back to Top

Edgewater Stock Farm Dairy Fort Atkinson, Wis.

Edgewater Stock Farm Fort Atkinson, Wis.

Fort Farms Fort Atkinson Wisconsin bottle

Hoard's Dairyman Farm 5 Cent, Fort Atkinson, Wisconsin

Fort Atkinson Creamery Fort Brand (Quart), Ft. Atkinson, Wisconsin

Ridgehurst Dairy, Fort Atkinson, Wisconsin

Fox Lake Wisconsin Milk Bottle (s)
Frequently Asked Questions
Contact mrbottles
Back to Top

No Images


Fredonia Wisconsin Milk Bottle (s)
Frequently Asked Questions
Contact mrbottles
Back to Top

No Images


Gays Mills Wisconsin Milk Bottle (s)
Frequently Asked Questions
Contact mrbottles
Back to Top

No Images


Genesee Depot Wisconsin Milk Bottle (s)
Frequently Asked Questions
Contact mrbottles
Back to Top

Brook Hill Farm, Genesee Depot, Wisconsin

Genoa Wisconsin Milk Bottle (s)
Frequently Asked Questions
Contact mrbottles
Back to Top

No Images


Glen Flora Wisconsin Milk Bottle (s)
Frequently Asked Questions
Contact mrbottles
Back to Top

Duke's Guernsey Dairy (Back Side), Glen Flora, Wisconsin

Dukes Guernsey Dairy (Front), Glen Flora, Wisconsin

Glenbulah, Wisconsin Milk Bottle (s)
Frequently Asked Questions
Contact mrbottles
Back to Top

Alex R. Schroeder, Glenbulah, Wisconsin

Grafton Wisconsin Milk Bottle (s)
Frequently Asked Questions
Contact mrbottles
Back to Top

No Images


Green Bay Wisconsin Milk Bottle (s)
Frequently Asked Questions
Contact mrbottles
Back to Top

Modern Dairy Green Bay, Wisconsin

The Bingham & Risdon Dairy Suppliers, Green Bay, Wisconsin

A.J. Rasmussen Dania Dairy, Green Bay, Wisconsin

Twin Hill Dairy, V.S. Johnson, Green Bay, Wisconsin

Vanden Brook Milk Co., Green Bay, Wisconsin

Green Lake Wisconsin Milk Bottle(s) ACL's only
Frequently Asked Questions
Contact mrbottles
Back to Top

Brooklyn Creamery Company, Green Lake, Wisconsin

Hartford Wisconsin Milk Bottle (s)
Frequently Asked Questions
Contact mrbottles
Back to Top

Christiansen's Products Hartford, Wisconsin

Mantes Dairy Hartford Wis

Horicon Wisconsin Milk Bottle (s)
Frequently Asked Questions
Contact mrbottles
Back to Top

No Images


Hortonville Wisconsin Milk Bottle (s)
Frequently Asked Questions
Contact mrbottles
Back to Top

L. Lenzner (pint), Hortonville, Wisconsin

L. Lenzner, Hortonville, Wisconsin

Hurley Wisconsin Milk Bottle (s)
Frequently Asked Questions
Contact mrbottles
Back to Top

Twin Cities Dairy, Hurley, Wisconsin

Iron River Wisconsin Milk Bottle (s)
Frequently Asked Questions
Contact mrbottles
Back to Top

No Images


Ixonia Wisconsin Milk Bottle (s)
Frequently Asked Questions
Contact mrbottles
Back to Top

Weege's Dairy, Ixonia, Wisconsin

Janesville Wisconsin Milk Bottles
Frequently Asked Questions
Contact mrbottles
Back to Top

Cronin Dairy Co

Janesville Pure Milk Company (Pint), Janesville, Wisconsin

Merrick Dairy Co., Janesville, Wisconsin

Pure Milk Co. (half Pint), Janesville, Wisconsin

Jefferson Wisconsin Milk Bottle (s)
Frequently Asked Questions
Contact mrbottles
Back to Top

Klingler's Dairy (Quart), Jefferson, Wisconsin

Marsch's Dairy (Quart), Jefferson, Wisconsin

Kaukuana Wisconsin Milk Bottle(s)
Frequently Asked Questions
Contact mrbottles
Back to Top

No Images


Kenosha Wisconsin Milk Bottle (s)
Frequently Asked Questions
Contact mrbottles
Back to Top

Bruner Dairy Co. Kenosha, Wisconsin

Landgren's Dairy, Kenosha, Wisconsin

Kiel Wisconsin Milk Bottle (s)
Frequently Asked Questions
Contact mrbottles
Back to Top

Kiel D-P Co. (quart), Kiel, Wisconsin

La Crosse Wisconsin Milk Bottle (s)
Frequently Asked Questions
Contact mrbottles
Back to Top

Grandad View Dairy, La Crosse, Wisconsin

La Crosse Pure Milk Co., La Crosse, Wisconsin

Tri State Dairy, La Crosse, Wisconsin

Tri-State Dairy, La Crosse, Wisconsin

Ladysmith Wisconsin Milk Bottle (s)
Frequently Asked Questions
Contact mrbottles
Back to Top

Gustafson's Pasturized Milk & Cream, Rice Lake & Ladysmith, Wisconsin

Lake Geneva Wisconsin Milk Bottle (s)
Frequently Asked Questions
Contact mrbottles
Back to Top

Cornell Bros. (BIMAL!!), Lake Geneva, Wisconsin

Maple Leaf Dairy, Lake Geneva, Wisconsin

Cornell Bros. (Machine?, quart, Lake Geneva, Wisconsin

Lake Mills Wisconsin Milk Bottles
Frequently Asked Questions
Contact mrbottles
Back to Top

Lake Mills Dairy (quart), Lake Mills, Wisconsin

Lancaster Wisconsin Milk Bottle (s)
Frequently Asked Questions
Contact mrbottles
Back to Top

No Images


Little Chute Wisconsin Milk Bottle (s)
Frequently Asked Questions
Contact mrbottles
Back to Top

Hietpas Dairy Farm (Pint), Little Chute, Wisconsin

Lone Pine Wisconsin Milk Bottle (s)
Frequently Asked Questions
Contact mrbottles
Back to Top

No Images


Madison Wisconsin Milk Bottle (s)
Frequently Asked Questions
Contact mrbottles
Back to Top

Capitol Dairy, Madison, Wisconsin

Manor Dairy, Madison, Wisconsin

Charmany Dairy Farms, Madison, Wisconsin

The Kennedy Dairy, Madison, Wisconsin

Whiting Dairy, Madison, Wisconsin

Manitowoc Wisconsin Milk Bottle (s)
Frequently Asked Questions
Contact mrbottles
Back to Top

Manitowoc Farmers Co-op Dairy Co., Manitowoc, Wisconsin

Marathon Wisconsin Milk Bottle (s)
Frequently Asked Questions
Contact mrbottles
Back to Top

Baumann Dairy, Marathon, Wisconsin

Marinette Wisconsin Milk Bottle (s)
Frequently Asked Questions
Contact mrbottles
Back to Top

Boulevard Dairy, Marinette, Wisconsin

Marion Wisconsin Milk Bottle (s)
Frequently Asked Questions
Contact mrbottles
Back to Top

No Images


Marshfield Wisconsin Milk Bottle (s)
Frequently Asked Questions
Contact mrbottles
Back to Top

No Images


Maustin Wisconsin Milk Bottle (s)
Frequently Asked Questions
Contact mrbottles
Back to Top

No Images


McFarland Wisconsin Milk Bottle (s)
Frequently Asked Questions
Contact mrbottles
Back to Top

McFarland Dairy (Front), Mcfarland, Wisconsin

Mv Farland Dairy (Back), McFarland, Wisconsin

McFarland Dairy, McFarland, Wisconsin

Menomonee Falls, Wisconsin Milk Bottle (s)
Frequently Asked Questions
Contact mrbottles
Back to Top

J. Voss, Menomonee Falls, Wisconsin

Merrill Wisconsin Milk Bottle (s)
Frequently Asked Questions
Contact mrbottles
Back to Top

No Images


Milton Junction, Wisconsin Milk Bottle (s)
Frequently Asked Questions
Contact mrbottles
Back to Top

Cash's Dairy (embossed) Milton Junction, Wisconsin

Cash's Dairy (pyro) Milton Junction, Wisconsin

Milwaukee Wisconsin Milk Bottle (s)
Frequently Asked Questions
Contact mrbottles
Back to Top

Dairy Distributers Inc. Milwaukee, Wis.

Emmer Bros. Milwaukee, Wis.

Layton Park Dairy Co. Milwaukee, Wisconsin

Luick Milwaukee, Wisconsin

Sanitary Dairy Co. Milwaukee, Wisconsin

Trapp's (Milwaukee), Wis.

Fox's Guernsey Dairy, Milwaukee, Wisconsin

J. F. Bennet 17th-33 St., Milwaukee, Wisconsin

Jersey Dairy (quart), Milwaukee, Wisconsin

Mineral Point Wisconsin Milk Bottle (s)
Frequently Asked Questions
Contact mrbottles
Back to Top

No Images


Mondovi Wisconsin Milk Bottle (s)
Frequently Asked Questions
Contact mrbottles
Back to Top

No Images


Monroe Wisconsin Dairy Bottle (s)
Frequently Asked Questions
Contact mrbottles
Back to Top

Meadow Green Dairy, Monroe, Wisconsin

Montfort Wisconsin Milk Bottle (s)
Frequently Asked Questions
Contact mrbottles
Back to Top

No Images


Mount Horeb Wisconsin Milk Bottle (s)
Frequently Asked Questions
Contact mrbottles
Back to Top

No Images


Muscoda Wisconsin Milk Bottle (s)
Frequently Asked Questions
Contact mrbottles
Back to Top

No Images


Neenah Wisconsin Milk Bottle (s)
Frequently Asked Questions
Contact mrbottles
Back to Top

No Images


Nekoosa Wisconsin Milk Bottle (s)
Frequently Asked Questions
Contact mrbottles
Back to Top

Curt's Dairy, Nekoosa, Wisconsin

New Glarus Wisconsin Milk Bottle (s)
Frequently Asked Questions
Contact mrbottles
Back to Top

Ol. Grossembach, New Glarus, Wisconsin

Niagara Wisconsin Milk Bottle (s)
Frequently Asked Questions
Contact mrbottles
Back to Top

No Images


North Fond Du Lac Wisconsin Milk Bottle (s)
Frequently Asked Questions
Contact mrbottles
Back to Top

Pomplin, North Fond Du Lac, Wisconsin

North Prairie, Wisconsin Milk Bottle (s)
Frequently Asked Questions
Contact mrbottles
Back to Top

Broadlands, North Prarie, Wisconsin

Norwalk Wisconsin Milk Bottle (s)
Frequently Asked Questions
Contact mrbottles
Back to Top

V.D. Dairy, Norwalk, Wisconsin

Oconomowoc Wisconsin Milk Bottle (s)
Frequently Asked Questions
Contact mrbottles
Back to Top

Acacia Farm Oconomowoc, Wis.

Land-O-Lakes Oconomowoc, Wisconsin

Shoreland Farms (Stevens) Oconomowoc, Wis.

S-M-P Co. Oconomowoc, Wisconsin

Thompson's Incorporated Oconomowoc, Wisconsin

Braatz Dairy, Oconomowoc, Wisconsin

King's Dairy, Oconomowoc, Wisconsin

Onalaska Wisconsin Milk Bottle (s)
Frequently Asked Questions
Contact mrbottles
Back to Top

No Images


Oneida Wisconsin Milk Bottle (s)
Frequently Asked Questions
Contact mrbottles
Back to Top

Oneida Milk And Cream Co., Oneida, Wisconsin

Oregon Wisconsin Milk Bottle (s)
Frequently Asked Questions
Contact mrbottles
Back to Top

No Images


Oshkosh Wisconsin Milk Bottle (s)
Frequently Asked Questions
Contact mrbottles
Back to Top

No Images


Palmyra Wisconsin Milk Bottle (s)
Frequently Asked Questions
Contact mrbottles
Back to Top

Woodrow Wilson's Dairy, Palmyra, Wisconsin

Park Falls Wisconsin Milk Bottle (s)
Frequently Asked Questions
Contact mrbottles
Back to Top

No Images


Pewaukee Milk Bottle (s)
Frequently Asked Questions
Contact mrbottles
Back to Top

Brandt's Dairy Pewaukee, Wisconsin

Haimer Dairy, Pewaukee, Wisconsin

Phestigo Wisconsin Milk Bottle (s)
Frequently Asked Questions
Contact mrbottles
Back to Top

Bergeson Dairy, Phestigo, Wisconsin (Front)

Bergeson Dairy, Phestigo, Wisconsin (Reverse Side)

Peshtigo Dairy Co., Peshtigo, Wisconsin

Plainfield Wisconsin Milk Bottle (s)
Frequently Asked Questions
Contact mrbottles
Back to Top

No Images


Plymouth Wisconsin Milk Bottle (s)
Frequently Asked Questions
Contact mrbottles
Back to Top

No Images


Port Washington, Wisconsin Milk Bottle (s)
Frequently Asked Questions
Contact mrbottles
Back to Top

No Images


Power's Lake Wisconsin Milk Bottle (s)
Frequently Asked Questions
Contact mrbottles
Back to Top

Lakeside Farms, Powers Lake, Wisconsin

Prairie Du Sac, Wisconsin Milk Bottles
Frequently Asked Questions
Contact mrbottles
Back to Top

No Images


Racine Wisconsin Milk Bottle (s)
Frequently Asked Questions
Contact mrbottles
Back to Top

Racine Pure Milk Co., Racine, Wisconsin

Westfield Dairy, Racine, Wisconsin

South Side Dairy, Racine, Wisconsin

Random Lake Milk Bottle (s)
Frequently Asked Questions
Contact mrbottles
Back to Top

Random Lake Dairy, Wis.

Reedsburg Wisconsin Milk Bottle (s)
Frequently Asked Questions
Contact mrbottles
Back to Top

C.W.Co. Pasturized, Reedsburg, Wisconsin

Rhinelander Wisconsin Milk Bottle (s)
Frequently Asked Questions
Contact mrbottles
Back to Top

No Images


Rice Lake Wisconsin Milk Bottle (s)
Frequently Asked Questions
Contact mrbottles
Back to Top

Gustafson Ice Cream Co. (babyface), Rice Lake, Wisconsin

Gustafson's Pasturized Milk & Cream, Rice Lake & Ladysmith, Wisconsin

Richland Center Wisconsin Milk Bottle (s)
Frequently Asked Questions
Contact mrbottles
Back to Top

Elm Grove Dairy, Richland Center, Wisconsin (Front)

Elm Grove Dairy, Richland Center, Wisconsin (Reverse Side)

Rio Wisconsin Milk Bottle (s)
Frequently Asked Questions
Contact mrbottles
Back to Top

Risgaard Food Market Rio, Wisconsin

Ripon Wisconsin Milk Bottle (s)
Frequently Asked Questions
Contact mrbottles
Back to Top

No Images


Ryan Wisconsin Milk Bottle (s)
Frequently Asked Questions
Contact mrbottles
Back to Top

No Images


Shawano Wisconsin Milk Bottle (s)
Frequently Asked Questions
Contact mrbottles
Back to Top

No Images


Sheboygan Falls Wisconsin Milk Bottle (s)
Frequently Asked Questions
Contact mrbottles
Back to Top

Schlichtang's Dairy (cottage cheese), Sheboygan Falls, Wisconsin

Schlichtang's Dairy, Sheboygan Falls, Wisconsin

Shullsburg Wisconsin Milk Bottle (s)
Frequently Asked Questions
Contact mrbottles
Back to Top

No Images


Slinger Wisconsin Milk Bottle (s)
Frequently Asked Questions
Contact mrbottles
Back to Top

Slinger Dairy, Slinger, Wisconsin?

South Milwaukee Wisconsin Milk Bottle (s)
Frequently Asked Questions
Contact mrbottles
Back to Top

No Images


Sparta Wisconsin Milk Bottle (s)
Frequently Asked Questions
Contact mrbottles
Back to Top

No Images


Stanley Wisconsin Milk Bottle (s)
Frequently Asked Questions
Contact mrbottles
Back to Top

No Images


Stevens Point Wisconsin Milk Bottle (s)
Frequently Asked Questions
Contact mrbottles
Back to Top

No Images


Stoughton Wisconsin Milk Bottles
Frequently Asked Questions
Contact mrbottles
Back to Top

City of Stoughton Diary

Johnson Dairy, Stoughton, Wisconsin

Stoughton Pure Milk Co., Stoughton, Wisconsin

Sturgeon Bay Wisconsin Milk Bottle (s)
Frequently Asked Questions
Contact mrbottles
Back to Top

No Images


Summit Wisconsin Milk Bottle (S)
Frequently Asked Questions
Contact mrbottles
Back to Top

Chas. Salewsky Summit Farm Dairy Wisconsin

Sun Prairie Wisconsin Milk Bottle (s)
Frequently Asked Questions
Contact mrbottles
Back to Top

Starker Dairy Sun Prairie, Wisconsin

Superior Wisconsin Milk Bottle (s)
Frequently Asked Questions
Contact mrbottles
Back to Top

MacArthur Farm (Half Pint), Superior, Wisconsin

Thiensville Wisconsin Milk Bottle (s)
Frequently Asked Questions
Contact mrbottles
Back to Top

Willow Spring Farm, Thiensville, Wisconsin

Thorp Wisconsin Milk Bottle (s)
Frequently Asked Questions
Contact mrbottles
Back to Top

Gengler Dairy, Thorp, Wisconsin (Front)

Gengler Dairy, Thorp, Wisconsin (Reverse Side)

Tomah Wisconsin Milk Bottle (s)
Frequently Asked Questions
Contact mrbottles
Back to Top

Pleasant Mount Dairy, Tomah, Wisconsin

Tomahawk Wisconsin Milk Bottle (s)
Frequently Asked Questions
Contact mrbottles
Back to Top

Herman's Woodland Dairy Farm, Tomahawk, Wisconsin

Pine Tree Dairy, C.M. Martinson, Tomahawk, Wisconsin

Two Rivers Wisconsin Milk Bottle (s)
Frequently Asked Questions
Contact mrbottles
Back to Top

Taddy's Dairy, Two Rivers, Wisconsin

Union Township Wisconsin Milk Bottle (s)
Frequently Asked Questions
Contact mrbottles
Back to Top

C.G. Strong, Sunnyview Farm (BIMAL.)

Valders Wisconsin Milk Bottle (s)
Frequently Asked Questions
Contact mrbottles
Back to Top

J.E. Ciser's Dairy Farm

Walsh Wisconsin Milk Bottle (s)
Frequently Asked Questions
Contact mrbottles
Back to Top

No Images


Watertown Wisconsin Milk Bottle (s)
Frequently Asked Questions
Contact mrbottles
Back to Top

Mullen's Dairy (pint.), Watertown, Wisconsin

Mullen's Dairy, Watertown, WIS.

Waukesha Milk Bottle (s)
Frequently Asked Questions
Contact mrbottles
Back to Top

A. Herzog's Dairy (pint), Waukesha, Wisconsin

A. Herzog's Dairy Waukesha, Wisconsin

Burr Oak Dairy (Jones) Waukesha, Wisconsin

Fox's Guernsey Dairy Waukesha, Wis

Fox's Guernsey Dairy Waukesha, Wisconsin

Sanitary Milk & Crean Williams & Rowland Waukesha, Wisconsin

Tillybardin (Mitchell) Waukesha, Wisconsin

W M Co. Waukesha, Wisconsin

Waukesha Dairy Co. Waukesha, Wisconsin

Waukesha Milk Company pint

Waukesha Milk Company Waukesha, Wisconsin

Wern Farms Waukesha, Wisconsin

Waukesha Milk Company, Waukesha, Wisconsin

Waupaca Wisconsin Milk Bottle (s)
Frequently Asked Questions
Contact mrbottles
Back to Top

Pope's Dairy, (picture of slug plate only), Waupaca, Wisconsin

Pope's Dairy, Waupaca, Wisconsin

Waupun Wisconsin Milk Bottle (s)
Frequently Asked Questions
Contact mrbottles
Back to Top

Freriks Dairy, Waupun, Wisconsin

Elmwood Dairy, Waupun, Wisconsin

Wausau Wisconsin Milk Bottle (s)
Frequently Asked Questions
Contact mrbottles
Back to Top

Woods Dairy, Wausau, Wisconsin

Klein Bros Dairy Co., Wausau, Wisconsin

Trapp's Dairy, Wausau, Wisconsin

Wauwatosa Milk Bottle (s)
Frequently Asked Questions
Contact mrbottles
Back to Top

Gridley (Wauwatosa) Wisconsin

Gridley Dairy Company Wauwatosa, Wisconsin

Gridley Dairy Co. (Half Pint), Wauwatosa, Wisconsin

Gridley Dairy Co., Wauwatosa, Wisconsin

West Bend Milk Bottle (s)
Frequently Asked Questions
Contact mrbottles
Back to Top

Consumers Milk and Ice Cream co West Bend Wis

Decorah Farm Dairy West Bend, Wisconsin

Jac Nehrbass Pint West bend

Schroeder Half pint Milk from West Bend

Decorah Farm Dairy, West Bend, Wisconsin

Hamlyn Dairy Pasturized, West Bend, Wisconsin

Jac. Nehbrass (pint), West Bend, Wisconsin

Schupper's Dairy, West Bend, Wisconsin

W.F. Schuppel Dairy Co., West Bend, Wisconsin

West De Pere, Wisconsin
Frequently Asked Questions
Contact mrbottles
Back to Top

Vandanhueval Dairy, West De Pere, Wisconsin

West Prarie Wisconsin Milk Bottle (s)
Frequently Asked Questions
Contact mrbottles
Back to Top

Starker Dairy, West Prarie, Wisconsin

West Salem Wisconsin Milk Bottle (s)
Frequently Asked Questions
Contact mrbottles
Back to Top

No Images


Westfield Wisconsin Milk Bottle (s)
Frequently Asked Questions
Contact mrbottles
Back to Top

No Images


Williams Bay Wisconsin Milk Bottle (s)
Frequently Asked Questions
Contact mrbottles
Back to Top

No Images


Wisconsin Dells Wisconsin Milk Bottle (s)
Frequently Asked Questions
Contact mrbottles
Back to Top

Martiny Dairy, Wisconsin Dells, Wisconsin

WISCONSIN MILK BOTTLES-UNKNOWN
Frequently Asked Questions
Contact mrbottles
Back to Top

No Images


Wisconsin Rapids Wisconsin Milk Bottle (S)
Frequently Asked Questions
Contact mrbottles
Back to Top

Wisconsin Valley Dairy (quart), Wisconsin Rapids, Wisconsin

Wisconsin Valley Wisconsin Milk Bottle (s)
Frequently Asked Questions
Contact mrbottles
Back to Top

No Images