ARTICLES WITH INFORMATION FOR WISCONSIN ANTIQUE BOTTLE COLLECTORS:::.
Articles with great information of interest for Wisconsin antique bottle collectors. Please, do not republish without expressed written permission from the original publisher or author.
12/6/2012
Twas The Night Before Christmas
12/6/2012
'Twas The Night Before Christmas - "by" Steven Libbey
'Twas the night before Christmas, when all through the house
Not a creature was stirring, not even a mouse;
The pontils were displayed by the chimney with care,
In hopes that Alonzo Blossom soon would soon join them there;
The children were nestled all snug in their beds,
While strawberry puce visions of Hopkins danced in dad's head;
And mamma in her 'kerchief, and I in my dive gear,
Had just set about for a cold winter bottle dive at a river near,
When out on the river bank there arose such a clatter,
I sprang from the river bed to see what the matter.
Away to the bank I swam like a fish,
Climbed up on the shore then remembered my dive wish.
The moonbeams on the breast of the new-frozen ice
Betrayed the luster of nineteenth century objects below at least thrice
When, what did my wondering eyes see,
But a miniature sleigh, filled with Blossom's for me!,
With a little old driver, so lively even gonzo,
I knew in a moment it must be St. Alonzo.
More rapid than eagles his draft horses they came,
And he whistled, and shouted, and called them by name;
"Now, SEPHRENESS! now, VALENTINE! now, CHRISTOPHER and OTTO!
On, CHARELES! on LOUIS! on, THEODOR and HIRAM!
To the top of the bank! To the top of the sea wall!
Now dash away! dash away! dash away all!"
As dry leaves that before the wild hurricane fly,
When they meet with an obstacle, mount to the sky,
So up to the house-tops the coursers they flew,
With the sleigh full of Blossoms, and St. Alonzo too.
And then, in a twinkling, I heard on the bank
The prancing and pawing of each horse's flank.
As I drew in my dive float, and was turning around,
Down the riverbank St. Alonzo came with a bound.
He was dressed all in fur, from his head to his foot,
And his clothes were all tarnished with ashes and soot;
A six pack of bottles he had flung on his back,
And he looked like a peddler just opening his pack.
His bottles -- how they twinkled! his pontils how merry!
His blobs were like roses, his stoppers like a cherry!
His droll little mouth was drawn up like a bow,
And the beard of his chin was as white as the snow;
A crumpled up old Ale recipe he held tight in his teeth,
And the effervescence of its concoction encircled his head like a wreath;
He had a broad face and a little beer belly,
That shook, when he laughed like a bowlful of jelly.
He was chubby and plump, a right jolly old elf,
And I laughed when I saw him, in spite of wanting to get one of his bottles for myself;
A wink of his eye and a twist of his head,
Soon gave me to know I had nothing to dread;
He spoke not a word, but went straight to his work,
And filled up my dive float; then turned with a jerk,
And laying his finger aside of his nose,
And giving a nod, up the riverbank he rose;
He sprang to his sleigh, to his team gave a whistle,
And away they all flew like the down of a thistle.
But I heard him exclaim, ere he drove out of sight,
"HAPPY CHRISTMAS TO ALL, AND TO ALL ENJOY A FRESH BLOSSOM'S BADGER ALE TONIGHT!"
3/6/2012
Point In Time
3/6/2012
Point In Time
by: Steven R. Libbey
Bob Markiewicz was a great part of our community and a well of information capped with so much of the resource seemingly untapped. A crazy thing happened in writing this. After two weeks of putting ideas together it was finally done in a way I thought appropriate. I sent Dan an email saying I just need to revise it in the morning and will get it to you for the newsletter. Draga, my wife, got on the computer for a couple of minutes as I played with the kids before bedtime when suddenly the computer that has been on for months, maybe a year, crashed. All but the minimal framework of the piece on Bob was lost. It makes me wonder, did an editor in the sky reach down and press reset because he wanted something added or omitted or written differently or, is it just a coincidence? I've never been a big believer in coincidence. Here is try two Bob... I hope you like it.
The show was just peachy this year. Great attendance and a lot of people we don't normally see. For me the show has always been a step forward. The show is an annual point in time re-indexing of what it means to be a Wisconsin collector. The show is a new start and a fresh look at what we do. Every year the show is a battery recharge. Coming together as a community makes the bottle collecting facet of life feel all good. The show always felt like the warmest day of the coldest time of year.
This year the show was marred by absence of a larger than life presence. As the first club event since Bob's passing it didn't feel the way the show always has. Every year builds on the last. The club show, in essence, is Bottle New Years when the thought of bottles doth banish grief. At midnight the morning of the show all bad passes and we start the day/year with a feverish energy ready to celebrate by remembering the bottle year past, the coming together as a community and hope for the new year. This year was different. Reading to this point Bob would be compelled to point out, Dave did a great job with the show this year. Maybe that is what I missed first try... Dave you did a great job.
The show was marked by an immeasurable step back. A cornerstone didn't show up and won't be showing up evermore. This year wasn't building a new tier on what it is to collect. This year Bottle New Years was looking over the shoulder at the wretched and gaping breach blown into the foundation of what it is to be a collector in Wisconsin.
Roger Peters says, "What have we lost," reminiscing of the old flavors of real fruit fermented soft beverages. Was it simply a purity of natural process or a taste or a flavor? Now it is a process abandoned for more efficient methods. We seemingly lose something when any change hits us. For the fermented soft beverages the parts that were most desirable went through a metamorphosis becoming carbonated beverages. Not the same. Perhaps not as good yet a carry forward satisfying taste and progressing a method to suit growing demand.
Bob was a cool cat. Hard to imagine the robust guy I knew as a lanky kid as Bob is described as a young hunter collector. The directions life could have taken when that lanky kid was out treasure hunting... How many times have you heard, 'if you can take your passion and make it your career you will be successful.' Bob lived the dream. Bob got up every day and did what most of us try to squeeze into the open spaces of hectic schedules. It just would be nice if he would have kept on keeping on for another thirty years. Bob was sublime in protecting our state culture and history preferring to keep it local. Many collectors have something great because of Bob's efficacy of keeping the best items from Wisconsin in Wisconsin. We have lost a friend, a story teller, a historian and an informational resource of unparalleled expertise in the broadest spectrum on antiquities of Wisconsin advertising and utilitarian life.
We lost a friend who was as gracious as any in the collecting community. Bob found us all something spectacular. If you don't have a piece from Bob in your primary collection then you have admired many in other collections from Bob. Maybe it is a piece of furniture. As a kid with no money Bob gave me a great deal on an antique armoire Draga and I needed for storage space in our West Allis duplex. It is about eighteen inches from my left foot right now. At the time I remember being surprised Bob had a couple of nice ones stored at a friend's house. Rather than having great objects put up in storage lockers Bob often let friends enjoy them. I can remember multiple times when after I exclaimed where did you get THAT? A collector telling me an impressive $10,000+ advertising piece was on loan from Bob. He knew they loved it and knew maybe they couldn't afford to pull the trigger on a purchase. Rather than tuck items away or shop them around he openly shared treasures with the people who appreciated them more than anyone else. How many times have you spent more than ten minutes with Bob and not seen him smile or heard his chuckley laugh?
The historian might be the greatest loss we have suffered. How much information did Bob exclusively possess? How many different pieces of the broad spectrum of information he had captured over decades are now lost? Taking a historic object out of context makes it utilitarian art. Utilitarian art is wonderful. The history, even the individual history of a bottle or a piece of furniture or a terracotta tile or a storefront sign means as much to our culture going forward as the object itself. The ability to assess an object detached from its provenance took Bob's brain instantly assembling a million reference points. "Hmm, let me see," followed by so much information as to be almost more than you can capture listening attentively. Who will we hand the things out of context or of undetermined age, origin or value for that two minute assessment? An assessment that often resolved with an entertaining story closing with a chuckley laugh.
The story teller we lost was the most unassuming decent guy. Anyone who spent more than a few minutes with Bob heard a story or two. It is said Native Americans carried their history forward countless generations with stories. Bob wasn't Native American but he did have a big box of arrowheads picked from the farm fields at his home... I heard a half dozen great stories at one picnic about them. There was always a glimpse of how it all comes together in Bob's stories. The history of our club, the funny things people did back in the day all relating to how collecting works. Listening to Bob's humorous tales of collecting-past imparted a broader understanding of what the collecting community is about. Relaying information through story telling with such a high level of eloquence is a trait many of the highest leaders in business and government share. I will miss hearing those incredible stories with that wonderful chuckley laugh.
A wife lost a husband, kids lost a dad way before they should have. What can assuage even a moment of that pain? I wish I knew. What our community has lost is immeasurable and irreplaceable. We have gained a lot too. Maybe somewhere in his soul he knew. Bob shared information and had an impact most of us will not have should we live three times as long. That chuckley laugh will survive in my and I suspect a lot of minds forever. Bob set a standard and spent 40 years preserving and protecting our culture and history and the objects that recall them. Bob succeeded in preserving and passing forward hoards of information. Bob protected thousands upon thousands of historically important artifacts from fading out of existence. Bob put countless artifacts in hands most likely to preserve their historic significance while promoting them forward to future generations. A life seemingly cut short yet a huge success at living the dream in any count of days. Bob achieved a sort of immortality and greatness in being part of the history of the history of. We are all lucky to have been part of Bob Markiewicz's epic point in time.
5/3/2011
Bay View's own Weissbier Microbrewery
5/3/2011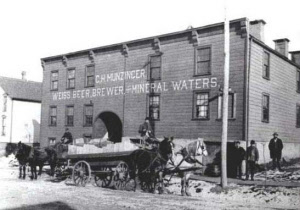 In the 1890s, Bay View's Munzinger Brewery may have been small potatoes in the world of beer greats such as Miller, Pabst, Schlitz, and Blatz. But Munzinger Brewery succeeded in carving out a niche in the brewing industry, producing a German specialty beer called weissbier.
Christian H. Munzinger, Jr. was born Dec. 27, 1856, and grew up on a farm in Oak Creek Township (on the site of the former AC Delco) with his 11 siblings. His father, Christian, Sr., a farmer in Bavaria, Germany, immigrated to America in 1847 at the age of 31.
In 1885 Christian Jr. purchased property for his brewery at present-day 2428-32 S. Burrell Street from Bay View residents Christian and Annie Otjen and Christian and Anna Bech, for $800. Munzinger opened his brewery on that site in 1890, and also lived at this location. His first products were soda water and ginger ale.
In 1892 Richard Koethe joined Munzinger's business and the company began using bottles lettered Munzinger & Koethe. The company produced weissbier made of wheat and barley. The English translation for "weiss" is "white", hence weissbier being also called "white beer." The Great American Beer Book describes weissbier as an effervescent, light-colored beer with a sharp yeasty or "bready" aroma.
A second stage of fermentation took place after the beer was bottled, so the bottles and tops had to be extra strong. Weissbier was so charged with carbonation that when the bottle was opened, the cork would pop out just like a champagne bottle.
The brew came in pint-sized, deep amber colored bottles, which prevented light from spoiling the beer. The bottles had a center embossing (raised lettering) that identified the brew as coming from Munzinger's brewery. The Cream City Glass Company in Milwaukee produced the bottles.
Koethe remained in the business with Munzinger for only one year. Then in May 1895, Munzinger sold half interest in the business to George Fred Gerlinger for $1,000. The name Koethe was ground off the bottles, and the bottles were then lettered MUNZINGER & GERLINGER. Bottles during that period were deep amber, deep olive amber, and aqua colored.
In 1895 Munzinger & Gerlinger produced weissbier, soda, mineral waters, cider, ginger ale, and Wisconsin birch beer. It is not known exactly how many barrels the company produced each year, but the Register of U.S. Breweries of 1876-1976, states that the company produced somewhere between 1 and 500 barrels per year. In December 1896, Gerlinger sold back his half share of the company to Munzinger for the original amount of $1,000.


By 1900 Munzinger's company was know as C. H. Munzinger, and employed five people. According to Ron Winkler, in a September 2007 Bay View Historian article, the brewery used spring water that flowed under the property. Bottles used by Munzinger during this period are marked WF&S, an acronym for the William Franzen & Son glass company in Milwaukee.
In October 1892, Munzinger took out a $3,000 mortgage, held by Olive H. Lewis, with terms of five years for repayment at 6% interest. Munzinger defaulted on this mortgage and Lewis sued Munzinger in Wisconsin Superior Court in December 1899. Lewis won a judgment of $3,225 for principal and interest. A sheriff's sale took place on September 23, 1901, at which time the brewery was sold for $2,700, with Munzinger responsible for the paying the shortfall. According to Munzinger's nephew, John Munzinger, the Graf Beverages Company bought out the Munzinger Brewery inventory. The old brewery building on Burrell Street was torn down in 1905, and two buildings are now at that site, a duplex built in 1906 and a single-family home in 1926.
City directories show that Munzinger worked as a carpenter and a concrete worker from 1906 to 1910 and during that time was living at various locations on Burrell, Austin, and Smith streets. Munzinger died Sept 9, 1915, at the age of 59. He never married. His nephew John Munzinger and niece Kitty Munzinger Dinauer both reside in the area.
Weissbier
Weissbier is a type of a malt liquor made of wheat, barley, and malt. It was first produced in England and became popular in Germany in the 16th Century. In the first half of the 19th century many U.S. breweries produced it, but output was small and most was bottled beer. Today a number of American microbreweries produce weissbier, with local Sprecher Brewery producing Hefe Weiss. According to Mike Roman, owner of Bay View's Romans' Pub, unlike their German counterparts, American brewers add lemon to their weissbier.
Bottle Making in Chase Valley
In 1880 Enoch Chase opened the Chase Valley Glass on Lincoln Avenue, near the Kinnickinnic River and made bottles for Milwaukee's breweries. A year later Chase sold the company, and it became the Wisconsin Glass Company, which also produced drug bottles and window glass. Over the years the company changed hands, becoming Cream City Glass Company from 1886 to 1892, the Northern Glass Company from 1892 to 1893, and the William Franzen & Sons Company from 1893 to 1920.
©2011 Bay View Compass. Reprinted courtesy of Bay View Compass (bayviewcompass.com)
12/31/2010
The Legend
12/31/2010
The Legend - Don Mericle by Steven Libbey
Where does anything start? For one of the most incredible South Eastern Wisconsin antique bottle and stoneware collections the starting point is a pinpoint in time. The beginning was in 1830 when a New Yorker decided to join so many Americans heading west into the Frontier seeking a new and better life... Maybe. Or it might be 1839... Yes... 1839 for sure. In 1839 a home was built in downtown Milwaukee on Commerce Street. (Now Canal) Really though, how could THAT be the beginning of a modern collection? It has to have been 1848 when Levi Blossom, became the owner of Milwaukee's Eagle Brewery. Or, was the beginning of this awe inspiring collection the Hindenburg disaster coupled with the completion of construction of the Golden Gate Bridge in 1937? The birth of the curator of this mighty collection in 1937 ascribes particular significance to 1937.
Maybe the origin of this collection is 1944 while America was deep in the despair of World War II. A boy of just seven years of age would later recall first noticing that 1839 constructed home in 1944. Our beloved collector curator recalled an attraction to something old of cultural significance for Milwaukee and Wisconsin in 1944... At just seven years of age! Interesting to note; in 1944 most of our curator's entire collection would not have been technically antique with only the house making the 100 year old definition of 'antique' mark. There can be no mistake of the absolute significance of 1951 with the premier of "I Love Lucy" bringing television to the cultural forefront in America. Even more important to the origin of this collection; in 1951 our curator recalled his irresistible attraction to old stoneware first awakened as he walked past a Milwaukee Antique store.
While the origin of this magnificent collection may or may not be perfectly clear, those years and so many between and after are forever significant to this collection and therefore all Wisconsin stoneware and bottle aficionados. What are collections but for people? In spite of morbid rumors started by one famous Wisconsin bottle collector, you can't take them with you. We are all just caretakers for our point in time.
Don Mericle fancied becoming one of those old eccentric New England codgers. To know just a piece of Don's collecting history is to know he was a success at that and in many regards. Moving a 130 year old house to preserve a piece of Wisconsin's history puts our curator at the absolute finial top of the eccentric Wisconsin collector list. The house Don noticed when he was a seven year old boy was moved to where Don admired it, for the first time, after being foreclosed on by one of Milwaukee's founding fathers, Byron Kilbourn. As a child Don found his future home near the Best House just blocks from the Pabst Brewery. (All interesting twists on Don's story when you see his collection.) The 1844 move was significant in giving the house a vital reprieve out of the way of development for another 125 years. In 1969 while all of Wisconsin and America focused skyward hoping to catch a glimpse of a man on the moon, Don quietly prepared and implemented a move of individually epic proportions. With just three months to spare before a wrecking ball would bring it down Don moved that same house a second time nearly thirty miles west to the Village of Summit. By 1969 Don was an advanced collector of the earliest period of Wisconsin's 'settled' history. This 'collectable home' was destined to become the setting and maybe again an inspiration for a historic lifetime accumulation of whatever bits and pieces of Wisconsin's past Don found interesting.
Wisconsin Stoneware and bottle collectors who have seen it are well aware of the improbability of the collection Don assembled. For Don collecting was never about money or investment. Don collected whatever he found interesting or desirable. It is impossible to ignore the huge favor people like Don have done for the preservation of the history of Wisconsin and Milwaukee. Many of Wisconsin's earliest buildings have been demolished to make room for structures destined to eventually be nothing more than footnotes in the history of the space they occupy.
To walk through the old home is to take a step back in time. So many artifacts of Milwaukee's, Wisconsin's and America's past adorn the space. Early (period) Wisconsin and American artwork, wonderful one time utilitarian objects, now historic decorative art, catch the eye with every glance. One can imagine Byron Kilbourn grabbing an oil lamp off the kitchen table and making the narrow turn ducking his head to avoid the low ceiling as he descended into the basement inspecting his newly acquired foreclosed property in 1844. For a Wisconsin stoneware collector the same descent is made with the aid electrical lighting. Interestingly, the inner historian in Don took great care to be sure any modern improvements could be reversed should someone someday wish to completely restore the property to its originally constructed state. Don's collection occupies a great deal of the basement. If such a wondrous grouping has "features", Don's collection features many extremely rare artifacts. Even an Old Cottage Inn addressed packing crate used in original construction was put right back where it was originally installed. The Old Cottage Inn burned down three years before Wisconsin became a state in 1845!
That same descent Kilbourn likely made 166 years ago takes a Wisconsin stoneware collector to nirvana. Nowhere else are so many ancient and unique Wisconsin pieces amassed. One of a kind bottles sit in center shelves in a room so full of antique Wisconsin stoneware the collection cannot all be viewed without removing contents from the room. Many of the pieces have been handled or seen by just a few people in their 150 year existence. By simply collecting what he found interesting or liked Don preserved a significant piece of all known antique Wisconsin decorative art and Wisconsin utilitarian art for future generations to find interesting and enjoy in their time.
What would a curator of a collection who is so motivated he moved an antique house thirty miles tell you about collecting? What piece of advice might you expect from Don if you could pin him down for information? Don would tell you, 'Collect what you like. Monetary value is not the key to a truly enjoyable collection.' Don would tell you, 'Learning and knowing the history of the objects is what truly gives them and collecting value.' The catalyst for Don's collection never was acquiring the rarest or most valuable object. Don wanted to preserve and protect the history the objects represent. To Don the objects were a foothold into documenting, recording and preserving the history of the society and people who produced and utilized the objects.
Don had joked about being taxidermied and put in a prized antique rocking chair for posterities sake. Of course the chair would need to be 'gently' and likely 'reversibly' modified to have a motor. Don didn't like to sit still. Don was also rumored to have said he would be buried with what I call the Holy Grail for Wisconsin antique bottle collectors, The Blossom's Badger Ale. Seems Don loved to gently tease the people desirous of his unique, historic treasures. Don cherished his family and family history. The home Don moved, he moved just a few miles from the land his great grandfather migrated from New York for in 1830. Don now resides In the Summit Wisconsin cemetery on the very edge of the land his great grandfather inhabited 180 years ago. Having succumbed to acute leukemia Don passed on December 3rd 2010.
Included in Don's legacy are a family he dearly loved, a collection that should it ever be disassembled will likely never be rebuilt and the rediscovery coupled with the sharing of so much information to the benefit of everyone who shares his passion for the information the objects hold secrets of.
If you want to see pieces of Don's collection go to the galleries of mrbottles.com. Don graciously showed and allowed pictures of many unique collectables so that others could experience them too. I will always be personally grateful for the gracious trust in handing over what could not be replaced for an unknown and inexperienced collector to examine, understand and feel the history emanating from.
12/30/2010
BOTTLES HEEYA
12/30/2010
BOTTLES HEEYA... GET YOUR BOTTLES HEEYA... BEAUTIFUL, RARE COLORED BOTTLES HEEYA... by Steven Libbey
That cry will resonate the walls of Paul Auction Co of Kewaskum, Wisconsin January 15th and 16th 2011. 9am until???
In search of the enlightenment I believed only the most experienced bottle collectors could bestow, I have asked a few curators of very advanced Wisconsin antique bottle collections who I am or was close enough at the time to ask such a question, "What are you amassing all this stuff for,,, I mean, what happens to it all when you are done collecting?" No one has ever given me a substantive answer I can dig my fingers into and disseminate any real meaning. One said, my kids aren't interested and laughed, another simply avoided the question altogether, repeatedly. One of my favorite bottle collectors of all time told me he does not like the, "Collect it protect it, you only own it till you die" slogan on the mrbottles T-shirts. It is the truth though, isn't it? We only own 'it' till we die. In the case of one super collector, John Lauber, we only own them until we decide to let them go.
John has always been an enigma to me. John is a VERY nice man to meet. Having asked multiple times to see his collection or even pieces of it and being flatly turned down and/or having asked him permission to photograph bottles he brought to the Milwaukee Antique Bottle and Advertising show and then being told, no way no how, I wondered at his reasoning, logic and motivation. John wanted to share them BUT only with people who paid three bucks to attend the bottle show? For me the opportunity to share information and to inspire other collectors has always been a major component and a driving force of collecting. What is the point of having a treasure if you are the only person who knows? Is it even treasure if you are the only person who knows? Obviously yes, yet the question seem metaphorically linked to if a tree falls in the woods does it make any sound if there is nobody there to hear it? How dark is the cobalt in a bottle buried in a box in a basement with no light or eyes? The point would be and the point is??? After all, the value of treasure is ascribed by society in general or at least by subsets of society, right? Then, I talked to Christina Mericle about Don and his collecting. Don didn't care what anyone thought the value of his objects were, he cared about what they represented in the period of time in the place he held most dear. Don valued what the objects have carried forward for people today and in the future to experience.
Suddenly, I have a greater understanding of John Lauber. John doesn't need me or anyone else to affirm what he values in his collection and he certainly doesn't need the inconvenience of showing his bottles to an upstart bottle junky. John is a private guy who was rumored to have collected three of each extreme rarity... One for each of his son's. Turns out, his sons have little or no interest and he collected for him not them.
The reality is, the sheer magnitude and size of John Lauber's collection make simply showing it to anyone an undertaking all but the most swarthy of collectors would not be willing to endure. John has seen his collection, the excitement isn't in displaying or showing it, the excitement is in possessing and squirreling it away from the outside world for eternity. Or is it?
John has made the decision to part with the vast majority of his collection while he is alive and well. While a cynic might call it cashing in, it is the most selfless thing such an advanced collector could do. Imagine it from your perspective.
Having maybe less than one fifth of the time into acquiring, learning, collecting learning, refining my collection and learning, I don't know that I could make the decision to put my collection up for auction and watch it go. My collection is some fifty bottles. Some pieces define points in time of my life, some exemplify the refinement of knowledge and collecting skills. Some are the fulfillment of acquisition quests. A few are the result of hard labor treasure hunts. All are beautiful, colorful pieces of art glass with history that have brightened my mornings that provided a rainbow of color every sunny afternoon. Every piece of my collection has provided countless hours of wonder and fascination.
After holding back on displaying and showing his collection for so many years, John is making up for time lost by allowing other collectors to enjoy the fruits of his decades of experience and collecting aptitude while he is still around for us to discuss with him and thank him.
I for one am grateful for the opportunity to purchase one or two pieces I think are beautiful, historic and representative of one of the greatest Wisconsin antique bottle collections ever amassed. John, I sincerely hope you are willing to take a minute to tell me where they came from and what makes them special from your perspective.
Milwaukee and Wisconsin Antique bottle enthusiasts, I hope to see you at the auction. Thank John for making your collecting dreams come true in 2011 by bidding with steadfast resolve to win. Let's break some sale price records for John! Judging by the few bottles up on the Paul Auction Co. site (www.paulauction.com) there are enough great bottles we can all fight hard for and leave happy with a few new cornerstones for our collections. GOOD LUCK bidding!
If you do acquire a monumental piece for your collection be sure to make note of where it came from and thank John for making it possible.
LOCATION: Hwy 45 or 28 to Kewaskum, East on Hwy 28 to Hwy "S", then north 1.5 miles to hall.
AUCTIONEER'S NOTE: At long last, John Lauber has decided to part with his extensive collection of over 2,100 Wisconsin beer bottles and other Waukesha advertising items. This will be the largest private collection of WI bottles to ever come up at public, unreserved auction. For most guys, it will also be the first time that his collection has been seen. There are some fantastic pieces in this sale and we're working on getting a complete list together. Please visit http://www.paulauction.com/ closer to the sale date for a complete listing of merchandise.
Charbroiled Brats, Hamburgers & Refreshments
TERMS: Cash or good checks.
Out of state, 2 forms of ID required.
D/L required for bid number.
REGISTERED WISCONSIN AUCTIONEER,
Mike Paul No 28
BOTTLE AUCTION
LOCATION: Hwy 45 or 28 to Kewaskum, East on Hwy 28 to Hwy "S", then north 1.5 miles to hall.
9/28/2010
Wisconsin Pontiled Bottles. by: Steven Libbey
9/28/2010
Wisconsin Pontiled Bottles by: Steven Libbey
Virtually all Wisconsin pontiled bottles are among the rarest antique bottles from the state. There were only an approximate 300,000 people in Wisconsin at the time American pontiled bottle manufacturing came to an end. With Wisconsin being frontier wilderness in the 1820's and only being ratified as a state in 1848, the beginning of real commerce for Wisconsin arrived at the end of an established 100 year American glass blowing tradition. For Wisconsin druggists, brewers and bottlers precious few years existed in which the population and the infrastructure to support commerce allowed for the order, production and delivery of bottles before advancements in American glass making techniques sounded the end of American pontiled bottle manufacturing.
In 1847, when the first Wisconsin railroad was chartered, the southern half of the Wisconsin territory was a primitive agricultural area connected by a tenuous system of dirt roads and waterways; the northern half was wilderness. By 1860 Wisconsin had 905 miles of track. The railroads were critical for the reliable delivery of glass containers from East Coast and Ohio River Valley glass works.
The earliest known pontiled Wisconsin bottles push the very logistical limits of possibility for a Wisconsin business to have placed the order then received their proprietary mold bottles for use. The Blossoms Badger Ale is singularly the only pontiled beer bottle from the state. Is the Blossoms Badger Ale Wisconsin's oldest embossed bottle? With bottles like the mysterious Uncle Sam's Cough Syrup from Oconomowoc that showed up in posterity only a few years ago and the Fess Druggist bottles from Milwaukie, it is virtually impossible to say. While one company was certainly in business before the others, it seems extremely unlikely bulk orders for bottles were being placed and fulfilled before the arrival of the railroad in 1847.
Two Milwaukee businesses stand as Wisconsin's most prolific pontiled era bottlers. Saying they seem to have used more bottles because more have been rediscovered than other Wisconsin pontil bottles does not diminish the rarity of Hopkins or Fess bottles. Henry Fess was bottling bitters in various sizes of both open and iron pontil bottle as early as 1845. The Hopkins Mineral water factory surely pushed the bottom line limit of earliest Wisconsin bottle.
Right now, counting mold varieties, notable color variations and verifiable size variations we are at approximately 25 different pontiled Wisconsin bottles known. Counting only bottles with whole example known there are 18. Counting all whole examples of each known Wisconsin pontil bottle rediscovered so far, the tally is less than 150 with most being heavy duty soda bottles. There can be no doubt more Wisconsin pontil era bottles are out there waiting to be rediscovered.
Beer and soda bottles were built to withstand the pre pasteurization pressures of fermentation. Built to withstand pressure seems to have helped more early soda bottles survive in greater numbers than much more fragile bitters and medicine bottles. Bliss in Racine, Hickey in Milwaukee, Hopkins in Milwaukee, Lindestram in Madison, Eaton in Whitewater, Zwietusch in Milwaukee and Taylor Brothers in Milwaukee bottled water and soda water during Wisconsin's brief pontiled era. Why the Blossom Ale bottles didn't survive or at least don't show up at the same rate pains many Wisconsin antique bottle collectors. (Like this one)
Bitters, rumored to be a great way to bring medicinal alcohol into the house during temperance, provide some of our largest and most unique Wisconsin pontil bottles. Toser Monopol bitters Milwaukee, Bourbon's Aromatic Forest Bitters Madison, Botanical Herb Bitters Lacrosse and the legendary Henry Fess Jaundice Bitters Milwaukie. So few of these early bitters have been rediscovered, the number of examples known for the most common variety can be counted on one hand.
There are even precious fewer pontiled Wisconsin druggist or medicine bottles than bitters. In the fledgling years of Wisconsin, most medicine bottles were very likely paper labeled. So many pontiled puff bottles turn up label free. Paper labels simply have an extremely limited chance to survive more than 150 years attached to a disposable item. Maybe the few embossed pontiled medicine bottles were not produced in numbers sufficient to survive their fragile nature, hopefully it is we just haven't found them yet that makes them so rare. Only one example of an undamaged embossed pontiled Wisconsin druggist bottle, Fess Druggist Milwaukie, is known from the entire state. Only one other embossed Wisconsin pontil medicine bottle is known to exist. The Uncle Sam's Cough Syrup from Oconomowoc features a beautiful open pontil. Sadly Uncle Sam is missing the neck and blob.
No matter the categories of Wisconsin bottles you collect or how you ascribe desirability there are hundreds of very desirable bottles to choose from in every Wisconsin antique bottle collecting category. You might love color, embossing, verbiage, product, use or??? Pontiled bottles tend to be more primitive and less uniform adding general visual appeal. A pontiled Wisconsin beer would be a nice centerpiece or side light to any Wisconsin antique bottle collection. Pontiled Wisconsin bottles in their own right make up an interesting collecting category. Wisconsin pontils are some of the most difficult bottles to find making the hunt even more challenging.
The following is a list of known Wisconsin pontiled bottles. You can find information about most of them right here on mrbottles.com. Simply search for the word pontil. If you know of others not listed please let me know. Steve@mrbottles.com
BLOSSOMS BADGER ALE Milwaukee Black glass - broken examples known in other colors. Iron pontil
C.F. Bliss Racine Mineral water cobalt Iron Pontil, Racine, Wiss
Hickey, Milwaukee, Wisconsin - Aqua iron pontil
Hopkins Milwaukee Wisconsin Pontiled cobalt Blue 6 different mold varieties
J. & A. Lindestram Madison green aqua iron pontil.
J. & A. Lindestram Madison green aqua iron pontil - coiled spring stopper - Not verified
I.A. Lindestram Madison Wis Misspelled cobalt blue - iron pontil
James E. Eaton Whitewater Wis iron pontil Aqua
O. Zwietusch Milwaukee Iron Pontil Coiled Spring Stopper - Broken only
Taylor & Brothers Milwaukee Wis - Cobalt Iron Pontil - Only Sided Wisconsin pontiled bottle
Dr. Bourbon's Aromatic Forest Bitters Madison, Wis. Aqua iron pontil
Botanic Herb Bitters - LaCrosse open pontil - Rare paper label
F. Dohman Company open pontil
Uncle Sam's Cough Cure Oconomowoc open pontil Aqua - Broken only
H. Fess Jr. Jaundice Bitters Milwaukie - Two sizes both iron and open pontil
Henry Fess Jr. Druggist Milwaukie Small aqua open pontil
CHAS. H. BRITTON DRUGGIST ELKHORN, WISCONSIN - Paper label
Monopole Bitters - Herman Toser Milwaukee - amber massive iron pontil
Wm. Gehrke Druggist Watertown - Paper label open pontil
Nanschwen & White Waukesha Wi OIL LEMON OP puff label only
5/1/2010
Why Your Wisconsin Antique Bottle is THAT Color
5/1/2010
Early glass derived its color from impurities present when the glass was formed. For example, 'black bottle glass' was a dark brown or green glass, first produced in 17th Century England. Black bottle glass was dark due to the effects of the iron impurities in the sand used to make the glass and the sulfur from the smoke of the burning coal used to melt the glass. While there are a number of Black glass Wisconsin antique bottles one perfect example of a black glass Wisconsin bottle is the legendary Blossoms Badger Ale.
In addition to natural impurities, glass is colored by purposely introducing minerals or purified metal salts (pigments). Examples of popular colored glasses include ruby glass (invented in 1679, using gold chloride) and uranium glass (invented in the 1830s, glass that glows in the dark, made using uranium oxide). I can only think of one antique Wisconsin bottle with an exceptionally red tint. That being Dale Smart's Borchert quart beer from Milwaukee. As for uranium glass Wisconsin unfortunately has no known examples. Imagine having a backlit shelves by simply putting your uranium.
Sometimes it is necessary to remove unwanted color caused by impurities to make clear glass or to prepare it for coloring. Decolorizers are used to precipitate out iron and sulfur compounds. Manganese dioxide and cerium oxide are common decolorizers.
Special Effects
Many special effects can be applied to glass to affect its color and overall appearance. Iridescent glass, sometimes called iris glass, is made by adding metallic compounds to the glass or by spraying the surface with stannous chloride or lead chloride and reheating it in a reducing atmosphere. Ancient glasses appear iridescent from the reflection of light off of many layers of weathering.
Diachronic glass is an iridescent effect in which the glass appears to be different colors, depending on the angle from which it is viewed. This effect is caused by applying very thin layers of colloidal metals (e.g., gold or silver) to the glass. The thin layers are usually coated with clear glass to protect them from wear or oxidation.
Glass Pigments

Compounds
Colors
iron oxides
greens, browns
manganese oxides
deep amber, amethyst, de-colorizer
cobalt oxide
deep blue
gold chloride
ruby red
selenium compounds
reds
carbon oxides
amber/brown
mix of manganese, cobalt, iron
black
antimony oxides
white
uranium oxides
yellow green (glows!)
sulfur compounds
amber/brown
copper compounds
light blue, red
tin compounds
white
lead with antimony
yellow
opaque whiteness: calcined tin (putty), calcined antimony, arsenic, calcined horns or bones and sometimes common salt.
red: gold, iron, copper, magnesia or antimony.
blue: zaffer (impure oxide of cobalt) and copper.
yellow: silver, iron, antimony and magnesia with tartar.
greens: copper, Bohemian granite and those that will produce yellow and blue.
purple: such as will produce red and blue.
orange: antimony, and all those which will produce red and yellow.
black: Zaffer, magnesia, copper and iron in various combinations.
9/30/2009
FRAUD on Craigslist Bottle Collectors Beware
9/30/2009
FRAUD on Craigslist Bottle Collectors Beware by Steven Libbey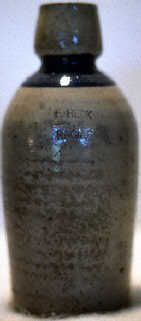 Watch out for fakes, frauds and felons when buying unique items on line. One seller using Craigslist is listing photo shop edited images of antique bottles, then using them to convince unsuspecting antique bottle collectors to send money. While feedback systems and accountability of a credit card on file keep fraud at many web sales venues somewhat subdued, more 'open format', slight or no oversight venues like Craigslist are coming on line every day. Social networking and forum sites where people can create whatever persona they choose are becoming more and more the venue of thieves, frauds and miscreants. The fact a Google or yahoo mail account can be set up and abandoned virtually anonymously at a moment's notice makes ferreting out who these people are even tougher.
Bottle fraud returns to Wisconsin. The fake Heck Racine clay beers are almost cartoonish in their unrealistic nature. So much so, the person who made the fakes and sold them as antiques cannot be held accountable for any buyer willing to believe miss-shaped, wrong-glazed, unglazed interior stoneware bottles are even possibly authentic 19th century stoneware. Today, YES right now today on Craigslist, antique bottle collectors are faced with a far more insidious fraud. An antique bottle seller from Minnesota actually has taken photos of real bottles off of a website, altered them with photo editing software and listed them for sale at substantial flat rates It is certain this culprit is not limiting themselves to online sales of fake antique bottles in their fraud.
The person actually used images from the http://www.mrbottles.com// photo galleries to make his fake bottles. Playing on the impetuous nature of collectors who have missed out on opportunities to get a great bottle by hesitating on making a purchase long enough for another collector to step in and whisk away the target of their adoration. Having received a call from a collector friend only a few hours after a listing for a previously unknown quart sapphire blue Hutchinson soda bottle was put on Craig's list I jumped all over it. Seconds into viewing the listing and then a second listing that looked like it was from the same seller, the listings raised red flags. Undoubtedly, smarter people will try these frauds in the future and criminals like this one will learn from their mistakes. While I may not be the most experienced collector, I deal with a lot of collectors and novices from all over the country through mrbottles.com. This person's listings and method just weren't right.
I decided to accept the seller's price and even offered an extra hundred dollars to lock me in as his purchaser. My contingency was the bottle must be sent to me for inspection. If the bottle was in great condition and truly the color he represented it, I would send one hundred more than the seller was asking. Nearly $1000. If I didn't like the bottle I would send him a check for $50 for the inconvenience. The seller didn't respond to my email for a full day via email or phone. I wanted to get a phone number and as many emails as possible to track the seller. When the seller finally did respond, they indicated via email their phone had recently been disconnected. Very likely a ruse, YET it is interesting to note the listings and emails were generated from an IP address of a library in Minnesota. Having compared the first colored bottle to my gallery image in mrbottles.com it was perfectly clear the seller was using a 'Photo-Shopped' image of a friend's antique bottle in their listing. With the help of Roger Peters we were able to track down five false auctions that were utilizing photo-shopped images from http://www.mrbottles.com//.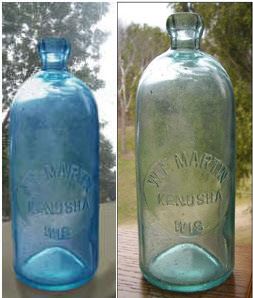 Owning the web company developing and hosting www.mrbottles.com where the images were taken to be photo-shopped allows the unique opportunity to have a network engineer track this person. While not absolutely finished on our part, it is very likely the staff at www.iNET-web.com will be able to provide authorities with evidence pointing directly to the culprit. Whether or not they are prosecuted remains to be seen. It will depend on if they actually succeed in defrauding people and how willing to pursue the culprit those people are and if the authorities take this seriously. Still, it provides a great lesson to people who buy online, especially collectors of unique antique items or art. With image editing software, anyone can "create" anything. With no-accountability listing services like Craigslist, people looking to steal can list images of things that don't exist and/or they don't have and take advantage of people who appreciate the historic or artistic value of those fictitious or ethereal items.
What is an internet surfing collector to do when opportunity (seemingly too good to be true) knocks, enticing with the impossible improvement of an antique bottle collection or stamp collection or coin collection or to buy a rare piece of art? You simply need to have the 'bottle' in hand before you pay for it, unless there is way to undo the transaction if the antique bottle you are buying turns out to be a fraud. For a venue like Craigslist, if you can't pick the item up in person and pay for it after personally inspecting it, my recommendation is to simply take a pass on the item even if it is THE one you always wanted or right up your alley. With the murders and robberies that have been set up on Craigslist, extreme caution should be used even when you can go to inspect, buy/refuse and pick up the item.
Members of the small, niche interest communities like antique bottle collectors need to step up, educate and protect each other from people like this. Making others aware of this scam is why I took the time to write this article. Earlier in my antique bottle collecting days, yet not so long ago, I was bidding on eBay for an item that if it were real would have been a great find. A fellow collector sent an email letting me know he was certain the bottle was a fake. He was right and I am still grateful. Upon discovering this Craigslist scam, I notified a lot of collectors who might have a desire to chase the fake antique bottles this person was listing. For my part, I will be dedicating the time and resources to find out who this is and report them. If they were successful in sticking it to a collector, iNET Web may just be able to provide the evidence to get this person caught and prosecuted or at least get the victim refunded.
If good standing members of the general public don't stand up and stifle liars, cheats and frauds who use social forums and internet sales venues to victimize others, we stand to lose more than our money to occasional fraud. We stand to lose the freedom and the wide open reach the internet provides in communication and connection for collectors, as government perceives and reacts to a need to protect us from the worst of us.
9/7/2009
The Chippewa Spring Water Company
9/7/2009
The Chippewa Spring Water Company by Tim Wolter
The story of the Chippewa Springs, and the company that bottled its water, is long and untidy. Long, in that it in a sense stretches from 1700 to the current day; and untidy, in that the financial fortunes of the companies involved in it have been rather mixed.
It was way back in September of 1700 that Pierre Le Sueur first reached the falls of the Chippewa River, site of present day Chippewa Falls. He recorded large numbers of game animals, and mentions that: "It was at the point of the falls and spring, located up river about 20 leagues that I heard the legend of the greatest Indian brave of all.."
To clarify, the 20 leagues was presumably from the confluence of the Chippewa and Mississippi rivers, and the story of the Indian brave was an early version of the "Song of Hiawatha", later put to verse by the poet Longfellow in 1855.

Hiawatha, his sweetheart Minnehaha, and another, lesser poet, turn up in our story by and by.
Civilization, or at least the white man's version of it, reached the falls in the mid 19th century, with a sawmill established by the 1840s, and a modest settlement before the Civil War. Arriving in 1856 was an energetic 24-year-old named Thaddeus Pound. He was a storekeeper, lumberman and politician, eventually holding office as Lieutenant Governor of, and later Congressman from, Wisconsin.
A public life is far from risk free, and in the mid 1880s Pound had a run of bad luck. He fell out of favor in politics and lost his business to a rival lumbar baron.
So, in 1887 he moved to the other side of town and set up a dairy farm with a trout pond and vineyards. Evidently the water from a spring on the property was of good quality, and he organized a company in 1889 to bottle it.
The venture was initially known as "The Chippewa Health Club", and the product as Pound's Mineral Spring Water. What I believe to be the earliest versions of the Pound's product are the cylinder shaped bottles with the nice embossed Indian, and the monogram T.C.H.C. A perhaps slightly later version spells the letters out. The closure of these bottles is not known.
The Indian depicted is of somewhat ambiguous gender, but the headband usually says Minnehaha, so it is likely the gal in question, unless Hiawatha was trying to make some sort of fashion statement.
The Chippewa Spring Water Company was headquartered in Chippewa Falls from 1889 to 1891, at which point they moved the office to Chicago, continuing to bottle the product at the original site. This seems to have roughly coincided with their gaining a contract to furnish all bottled water on the Wisconsin Central Railroad's line from Chicago to Portland, Oregon. No doubt the wide area from which Chippewa Spring bottles turn up is in part accounted for by the rail trade.
The company went bankrupt in 1893, but quickly found new financing. They also had a fire in 1895, which destroyed their original bottling plant. It was rebuilt promptly, and the mid 90's structure still exists inside their much larger, entirely boring square metal building.
In 1903 a Harry Hunter was taken on as a partner, and the name was subtly changed to Chippewa Springs Water Company. Some porcelain stoppers with this designation can be found on the blob top versions of their bottles and are a help in dating. At some point circa 1910 the corporate headquarters were moved to Minneapolis.
Bottles of this company pose challenges, as only the early versions name Chippewa Falls.I have seen variants that are embossed with Chicago, Ill., either alone or in combination with the name Morand Bros. Sole Distributors.As can be seen in the bottle galleries, there are numerous Chippewa Springs bottles that list no city at all.
The Hutchinson soda embossed simply, Chippewa, is without question from this company. They are found around Chippewa Falls with some frequency, and a crown top version was unearthed in some quantity when roadwork was done next to the Chippewa Springs plant. I suspect it was put up in this returnable bottle for local use. In this regard they also appear to have made conventional beverages such as ginger ale.
Later, paper labeled versions of the product are not uncommon. Interestingly the apparent female Indian has been replaced by what appears to be a male with a Mohawk haircut. Although to be entirely fair, perhaps Minnehaha went through a punk phase.
Chippewa Springs is still in business, but no longer locally owned. The Pound family has been gone from these parts for many years. In fact, the son of Thaddeus Pound, a certain Ezra Pound, became an eccentric poet. He wrote his own, not particularly good, version of the Hiawatha-Minnehaha story, somehow found himself in Italy during World War Two making propaganda broadcasts against the Allies and capitalism in general, and was later declared mentally unfit to stand trial for treason and was committed to an asylum.
9/6/2009
History of the Muetz's and the Soda Bottle as told by Otto Muetz
9/6/2009
History of the Muetz's and the Soda Bottle as told by Otto Muetz
By Mike Muetz
History of the Muetz's and the Soda Bottle as told by Otto Muetz. We taped Otto telling these two stories. Otto Muetz was my great uncle. He told me the story himself when he was in his early 90's.
His dad Fritz would get very angry at all his young sons because they would not take care of his wagons, each with 4 horses, at the end of the day. They tried stopping at taverns on the way home with a wagon full of empty bottles. In the winter the horse manure would freeze and build up into piles that made moving the wagons more than difficult. So they tried sending the wagons home with no drivers while they went to the tavern. Fritz would find four wagons each with 4 horses out at his front door in the snow. Fritz had to put everything away.
Otto, one late afternoon, didn't want to be out in the dark in the winter weather so he took the wagon, full of bottles, and four horses on a short cut across the frozen lake. The ice broke through. The wagon and horses were lost in the lake. He doesn't remember how he saved himself because Fritz almost killed him for the whole mess.
Fritz, William, Otto, Fred, Frank and more Muetz's built a barn in Northern Iowa and using wind power had a 36 volt electric lighting system. To publicize this new enterprise they had a barn dance. They hired the 13 piece band of Rudy Valle. The band traveled by train from Chicago. The Muetz boys met them at the station in their Rio automobile. They fit all the instruments and 13 band members into the car. The dance celebrated the first electrically lighted dance in the State.
The photograph of the Lakeside Hotel has Fritz in the center, his wife on his right and his son Frank on his left. In the photo the lady on the right, Fritz's wife, is Dorothea. Fritz came to the US in 1874 from Germany and shortly after that Dorothea came over. Attached is a photo of Lakeside Hotel. I believe there is a crate of bottles centered behind the hitching rail. Fritz sold beer along with the soda until prohibition.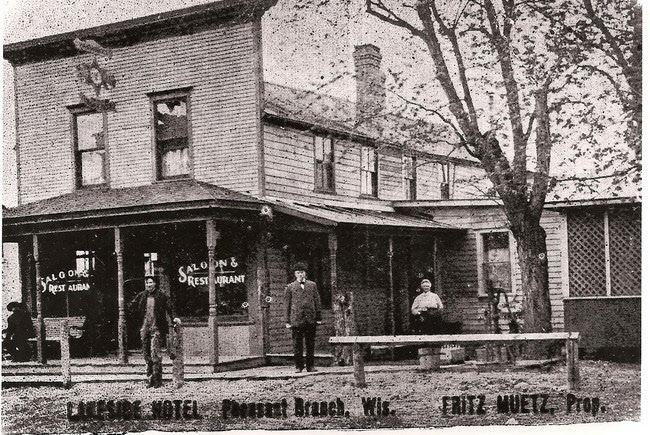 If you come up with more than one bottle that would be great. I have a cousin in Madison who is related to the "W" and my daughter got to stay with cousins in Anaheim Calif where we met Otto and found out the story of the bottles.
Mike
8/3/2009
RORK'S BADGER LINIMENT by Tim Wolter
8/3/2009
RORK'S BADGER LINIMENT
by Tim Wolter

One of the fun things about collecting patent medicines is that you rather often find oddball items, specimens that seem to defy common sense.
Rork's Badger Liniment appears to qualify. I mean, how many miniscule rural medicine companies even had embossed bottles, to say nothing of one with an attractive animal figure on it!
James Rork was an early settler near Eau Claire. I find first mention of him in association with the brief, comical "Indian Scare" that gripped Eau Claire in 1862. I am afraid that Rork added to the panic a bit, riding in from his place north of town with news that he had seen smoke, perhaps from marauders setting fire to farmsteads.
Of his later years I have found little. He was said to be a miller and farmer, and to be popular with his fellow rustics. I have no idea why he decided in the early 1890s to get into patent medicines.
I have a copy of his United States patent, dated October 3, 1893, for a product called RORK'S Badger Liniment. The application itself is a rather dry read, but does show a depiction of his trade mark.
Remarkably he spent the money to have this blown into his bottles.
These are rare. I am aware of one damaged specimen, and had the good fortune to recently dig the first intact specimen.
Rork passed away in 1900, which would seem to set an end date to this bottle. I suspect that it was a small time product, probably put up on his farm and marketed with the assistance of one of the Eau Claire druggists.
Tim Wolter
7/19/2009
THE PATENT MEDICINES OF W. TOWNS
7/19/2009
THE PATENT MEDICINES OF W. TOWNS by Tim Wolter
Although the bottles of W.Towns are not especially rare, researching this company has been frustrating. It is odd that an enterprise that was clearly carried out on a very large scale left so few "footprints".
I can't even clearly say when the company started. Some of their later ads claim that they got their start in 1874, but city directories in Fond Du Lac, and their own testimonials, seem to go back no farther than the 1880s. From some oblique references I suspect that the company's founder, Wyman Towns, may have practiced medicine in Canada before moving to Wisconsin. When the company later ran afoul of the Pure Food and Drug Act, investigators claimed that Towns moved to Fond Du Lac in 1893, having acquired a medical degree from a diploma mill and setting himself up as a practicing physician.
The earliest bottle from W.Towns seems to be the side embossed W.TOWNS/BLOOD PURIFIER. Not a common bottle at all, the specimen I have came from an 1880s privy here in Chippewa Falls.
This product, as well as Towns' Cough Killer, Towns' Healing Snuff, and Towns' Rheumatic Liniment all appear in an 1897 wholesale drug catalog.
So, you may be asking, where do the epilepsy medicines come from?
Around the turn of the century the W. Towns Medical Company seems to have been reorganized as a mail order business. Towns claimed to be specializing in "Chronic Nervous and Private Diseases", and sent out questionnaires full of all sorts of nosy questions. Apparently most any symptom would mean you had potential epilepsy, and the main, perhaps sole, product of the new Towns company was a medication for this condition.
At some point the company moved from Fond Du Lac to Baltimore, Maryland. This was around 1910, as an inquiry from the American Medical Association in 1912 got the following response from the local medical society: "Wyman Towns has no medical education, is not licensed, has no place in the American Medical Association Directory, and has gone to Baltimore, Maryland, where he goes about from town to town as a street faker claiming to cure fits."
This actually seems to be a bit of sour grapes, as the nationwide distribution of Towns' products suggests a fair degree of success.
For reasons unclear, the company moved back to Wisconsin in 1914, setting up shop in Milwaukee. They lingered on in some form until at least 1939, with the business being sort of adrift between Milwaukee, Baltimore and Puerto Rico.
The bottles of W.Towns challenge a few assumptions. They are very diverse, reflecting the mass marketing and large volume of a mail order operation. The Epilepsy product comes in both Cure and Remedy versions, presumably reflecting the pressure of the Pure Food and Drug Act of 1906. Oddly, the 1914 or later Milwaukee Epilepsy Treatment bottles all have applied lips, and in fact, usually look older than the earlier Baltimore versions!
Wyman Towns passed away in 1915 and was buried in Fond Du Lac. The leadership of the company passed to his children, and the move of the company back to Milwaukee at about that time may be related to his passing.
Tim Wolter
7/6/2009
Mr. Bottles takes on tales and treasures of local lakes By DONNA FRAKE
7/6/2009
Mr. Bottles takes on tales and treasures of local lakes By DONNA FRAKE
Posted: July 6, 2009
Typically, when you think of hunting in Wisconsin, it conjures up certain images, none of which apply to the kind of hunting Steven Libbey does.
Libbey, of Delafield, hunts for the treasure on the floor of area lakes. Specifically, he scuba dives in search of antique bottles, and is known in collectors' circles as Mr. Bottles, after his Web site devoted to the hobby, www.mrbottles.com.
"A group of us started in 1996. It's been 12, 13 years, and we've seen everything possible to see underwater," Libbey said.
"They used the lakes as a dump back then; they didn't have municipal services.
"From garbage to fascinating 'treasure,' divers in Pewaukee Lake do a lot of cleanup while we explore. Removing rusty metal and broken glass hazards from the shallows is part of the deal for artifact divers. Lead pipe, lead anchors, car batteries and a great many more things obviously destructive or dangerous to people or the Pewaukee Lake ecosystem are taken home, or at least back to Smokey's Bait Shop, to be properly disposed of," he explained.
Libbey said there are legends about what can be found on the bottom of area lakes, but so far no evidence has been found to support the more popular myths.
On Pewaukee Lake, one of the most enduring stories centers on a paddle wheel steamer that supposedly sunk there in the late 1800s.
"That's the rumor, but every lake has its mystical beast," Libbey said.
"Fishermen have said they see something huge on the depth finder, and we dive the spot they point out and we find nothing," he said.
"There are bird's-eye views and documented accounts of people touring Pewaukee Lake on the paddle wheel steamer dating to the 1870s.There is no documentation of where it went, or of it being raised, just a legend of it being down there.
"The weird thing on this is people say it is there, like they have seen it, but when I press for how they know, they never can even recall how they know," he added.
For bottle aficionados, another storied treasure is the Oakton Springs mineral water bottle.
"There were two famous mineral water springs on Pewaukee Lake as early as the late 1860s. There are ads documenting the springs bottled mineral water, yet only one example broken or whole has ever been found, and it wasn't in Pewaukee Lake. Typically when a bottling works was close to a body of water, we find the bottles in that body of water," Libbey explained.
Another myth of a ferris wheel buried at the bottom of the lake also does not prove true.
"There's nothing that resembles a ferris wheel," Libbey said.
Other "treasure" rumors include slot machines loaded with silver dollars that were confiscated from a bar and tossed into Okauchee Lake during the Prohibition period, and a bronze Civil War cannon that allegedly sits on the bottom on Lac La Belle.
"The cannon broke through the ice when kids took it out to the middle of the lake and fired off a shot to celebrate New Year's in 1840. The old-timers say you can still hear the ghost echo of that New Year's shot if you press your head against the ice at exactly midnight on New Year's Eve," Libbey noted.
But despite the myths and legends, the area lakes have provided a number of interesting finds.
Libbey tells of a bottle that was recovered from Pewaukee Lake that had what looked like a note inside it.
Upon further investigation using a high-powered light, it was discovered to be a ticket for a rail line from Milwaukee to Pewaukee.
"It was a punch ticket from the 1890s," he said.
"We've found these glass balls with feathers in it," that Libbey said were used for target shooting.
"You hit it, and the feathers go flying," he explained.
Libbey said none of the finds predates the 1880s. "There just wasn't people here then," he surmised.
Personally, for Libbey, his most valuable find in Pewaukee Lake is a Jos. Wolf and Seward cobalt blue antique soda bottle.
"One sold for $800 on eBay before I found this. For the kind of bottle it is (Hutchinson), the color is extremely rare and very sought after by collectors," he said.
Libbey thinks the bottle could fetch $1,000.
Going by the value of something newer, Libbey found an ice boat worth about $2,000 when it was lost, and was still in workable condition when he found it.
The original owner of the boat was reunited with the vessel for a $100 salvage fee.
Diving for lake treasures can surely lead to some interesting experiences, and Libbey recalled one that really had him "hooked."
"I had a guy fishing troll right over me. I heard the boat so close, I actually dug into the bottom to avoid a propeller," he said.
"I was in 8-foot-deep water and couldn't be sure of the size of the boat. As the boat was getting farther away, I felt something grab my right side and roll me. The guy had actually run a huge muskie lure into my back just below my armpit. He hooked my gear," Libbey explained.
"A minute later, I heard the boat come right back over me. The motor shut off and felt someone yanking my float. I swam up my flat line and surfaced with my face a foot from the face of a drunken fisherman who immediately accused me of stealing his fishing lure. At the time I didn't even know it was stuck to me," Libbey said.
But the discoveries awaiting divers keep them coming back.
"As an experienced underwater Pewaukee Lake explorer, you know every escent into her murky depths is a chance to rediscover something lost or discarded the week before or any of the 7,000 weeks prior," Libbey said.
"Over the years, some of the more interesting objects I personally have 'rediscovered' include beautiful antique bottles, a solid brass outboard motor, multiple sails complete with mast and rigging and tons of fishing gear," he added.
Other finds included a full set of scuba gear, a hand-carved antique toy boat, brass fixtures, china, a brass coin purse with 11 silver coins in it, antique steel clothing irons as well as a lot of general pollution and garbage have been hauled out of the lake.
"Looking back, it is impossible to accurately count all the pounds of debris the group of people I dive with have removed from the lake. People years ago, and some now, simply didn't realize or care they were polluting the lake,"
Libbey said.
10/20/2008
Your antique Wisconsin bottle and...by Steven Libbey
10/20/2008
An antique Wisconsin bottle 'go with' can be anything you picked up because it is from or related to one of the bottles or bottlers you have collected. Or, like me, it can be the other way. I acquired this beautiful yellow amber blob Schlitz beer bottle after finding this Schlitz "Globe" scuba diving In the Milwaukee River. They make quite a pair. Both are more interesting in association with each other. Please send in your Go Withs photo with a basic explanation of how they belong together for every Wisconsin antique bottle collector to enjoy.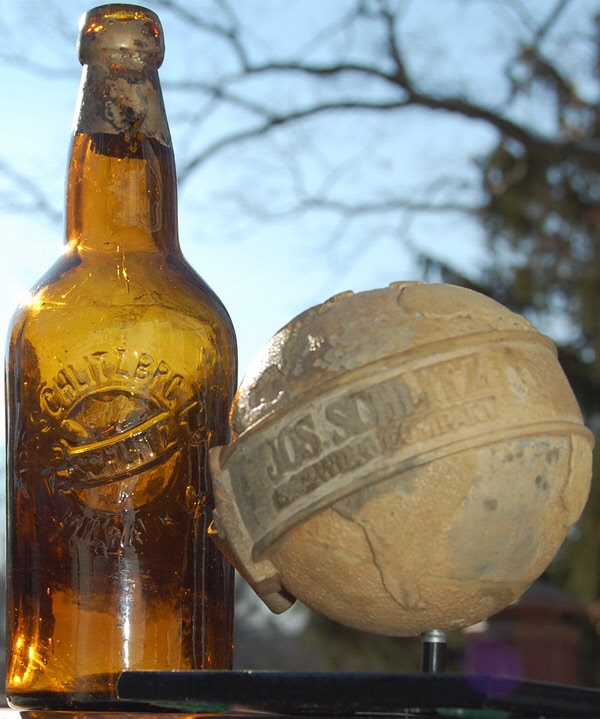 3/15/2008
History of New Ulm Stoneware by Dennis Johnson
3/15/2008
The Stonewares of New Ulm,Mn.
Being born and raised in New Ulm,Minnesota, I was oblivious to the stoneware that was made by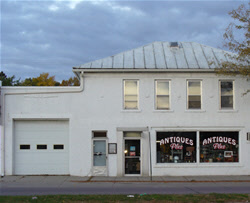 the various pottery firms in New Ulm during the later half of the nineteenth century. That all changed two years ago,when my "New Ulm Stoneware" collection started.
I had already started a Red Wing Stoneware collection at the time, when a person standing next to me at an auction pointed at a crock and said, "It could be New Ulm Stoneware." Looking back, that crock was not a New Ulm crock, but the comment the guy had made, stuck in my head and stirred my curiosity about this "New Ulm Stoneware". That started a quest for me to learn more about this rare stoneware from New Ulm.
A couple months passed after learning of the stoneware. I was constantly on the look out for any sign of a piece of New Ulm stoneware, and I was asking a lot of questions. Finally while visiting an antique shop in New Ulm, my quest was over. There, sitting on a shelf, was a one quart J.Stoeckert New Ulm stoneware beer bottle. I immediately bought it, and that was the start of my New Ulm Stoneware collection.
The purchase of the bottle made my curiosity even greater. I had to learn more. I was fortunate to find a copy of the 1978 book " Potters and Pottery of New Ulm, Minnesota " by George Tyrrell. This book was very helpful in learning about the different potteries of New Ulm. The different firms that operated in New Ulm, from 1861 to 1900, made various pieces of stoneware including crocks, bottles, butter churns, roasting pans, jugs, mugs, pitchers and various preserve jars, along with brick production in later years. After reading this book, I wanted to own a decorated piece of stoneware from New Ulm even more.
Then on September 8,2007 a piece of New Ulm Stoneware came up for sale at an auction in New Ulm, MN. It was a front stamped J.Stoeckert New Ulm four gallon butter churn. I had to have it. There weren't any pictures of the butter churn on the sale bill, and it left me wondering what it would look like. I made plans for the auction, and I was quite anxious waiting for the date of the auction to arrive. All I could think about was that butter churn.
Finally, the day of the auction was here. I was at the auction walking swiftly towards the hay wagon that was supposed to have the New Ulm butter churn on it. There it was. But what?! To my surprise the butter churn was painted! You could clearly see the J.Stoeckert stamp, and the number 4 embossed in the clay. But it was painted. Was it decorated? I held the churn up to the sunlight at an angle and I thought I could make out some type of brush work under the paint. But I was not sure. I ended up having the winning bid,and quickly made my way home with my new butter churn. Upon my arrival at home, I immediately applied paint remover to the front of the churn. After about fifteen minutes I had my answer to my question of it being decorated or not. After scraping back some of the paint remover, there on the front of the churn was a cobalt blue tulip design! The "J.Stoeckert New Ulm 4" stamp was also done in cobalt blue and there was a nice salt glaze finish on it......the gamble had paid off. It took several more hours to completely strip the paint from the churn. After revealing the decoration under the paint, I was very proud of my new purchase.
Learning about the New Ulm potters and their products, has been a fun and exciting experience. The most exciting moment was when I was looking through some old Red Wing Collectors Society newsletters. On the front cover of Feb/Mar 1989 edition of the newsletter, is a picture of a stoneware pitcher or stein, that is absolutely stunning. Next to it is the caption "A Minnesota Made Pitcher." My first thought was "Could that be a New Ulm piece? "I turned to the article inside the newsletter and to my astonishment, this beautiful stoneware pitcher is attributed to Christian Dauffenbach, one of the early New Ulm potters. I was stunned by it's details. I was happy that such an extraordinary piece had survived through the years, and it is probably the most elaborate piece of New Ulm Stoneware known to exist.
Another interesting note, is the fact that the New Ulm potters made advertising soda and beer bottles for various firms around the area. These bottles where made in pint and quart sizes. The most common bottle is the J.Stoeckert New Ulm quart bottle. These bottles contained "J.Stoeckerts Lemon Beer". The only thing known about this business is the evidence of the wooden cases that survive today, which are marked "J.Stoeckerts Lemon Beer Works, New Ulm, Minn.". It is quite strange to see a potter making a beverage to fill the stoneware bottles that he made. These are two completely different businesses.
Other known "advertising" stoneware bottles made by the potters in New Ulm include: "Dauffenbach Steckert & Co New Ulm, Minn",(note different spelling for Stoeckert); "Dauffenbach & Co, New Ulm " "Dauffenbach & Giesecke, New Ulm"; J.Schmucker, a New Ulm brewer; a scratch signed bottle marked Sch in stylized script, which is very similar to the early Schell's Beer labels(could also be Schmucker); " A.Cook Souht Bend MINN." (note spelling of South); "R NAUER MinnEapolis" (note capital E in Minneapolis) who manufactured soda, lemon beer and cider; "J. Altstadt, Minneapolis", marked in an oval and bottles marked "J.Altstadt Minneapolis" in two straight lines, manufactures of lemon beer and soda water; G Karl, Lacrosse (Lacrosse,WI.) "J.H. Bivins & Co SWEET CIDER St PAUL." These are some of the known bottles made in New Ulm for various beverage companies. I'm sure that there may be more advertising stoneware bottles out there, waiting to be discovered.
New Ulm stoneware is typically a salt glaze finish, with some pieces being done in an Albany slip glaze(brown). Other pieces have been found with a bisque finish,or no salt glaze. The color can vary greatly on the salt glaze pieces, ranging from a tan (similar to Red Wing Stoneware) to a buff-tan-gray to all gray color. You can see this variation of color often on a single piece of stoneware. UN-glazed bottoms of New Ulm crocks typically have a reddish-pinkish gray color to them. Jugs are known to be straight sided, and not ovoid shaped. Cobalt decorations were typically brushed, with some decorations being slip applied. Only floral and slip applied line patterns are known to exist. There are not any known bird or animal designs on New Ulm pottery pieces. Two gallon crocks and smaller do not have handles while the larger crocks that do have handles, have thick protruding type ear handles. The underside of these handles will have a "cup" for your finger tips.
I have included a brief history of the pottery firms that operated in New Ulm, starting in 1861 and ending in 1900.
New Ulm Pottery 1861 - 1862, 1866 - 1869 (closed four years 1862-1866, due to the Indian uprising) Friedrich Forster & Friedrich Gommel - owners. Forster migrated to New Ulm from New York in 1858, Gommel formed a partnership with Forster in 1861 and migrated from Cincinnati, Ohio (where he had worked as a potter for four years.) The building located at 117 North Broadway still stands, that housed the potters that worked at this pottery. There are not any known marked pieces from this firm.
Dauffenbach, Steckert & Co. 1867-1870 Christian Dauffenbach, John Stoeckert & Frank Friedmann - owners. Christian Dauffenbach migrated to New Ulm in 1867 from Milwaukee, WI where he worked for the Charles Hermann Co. as a potter. John Stoeckert migrated to New Ulm in 1867 from Milwaukee after living there three years. (His name is spelled differently on this stamp, omitting the "O".) Frank Freidmann migrated to New Ulm in 1867, from Cedar Falls, Iowa where he worked as a potter. He had also worked at various potteries throughout the US. He is the "& Co." in the company's name.
Dauffenbach & Co. 1870 C. Dauffenbach doing business alone or with Frank Freidmann. The stamp used by this firm omits the word Steckert. It appears to have been hastily removed from the stamp.
Dauffenbach & Geisecke 1870-1873 C. Daffenbach partners with William Giesecke, who at the time was county sheriff. He is thought to have been a financial investor only.
Dauffenbach & Winklemann 1873-1875 C. Daffenbach partnered with William Winkelmann, a local brick maker. The only known marked piece is a brick, marked D.W.
William Winklemann 1875-1879 Operated the old Daffenbach and Stoeckert pottery site alone. In 1879 Winklemann sold the site to a "Mr. Hallum", who may be the same David Hallum that made pottery in Red Wing, Minnesota, prior to 1870. Nothing is known about the Mr. Hallum after he purchased the site from Winklemann other than the fact that he defaulted on a contract for deed with Winklemann. There are not any known marked Winklemann examples. (Winklemann's brickyard became New Ulm Brick and Tile Yard.
Mr Hallum 1879 Nothing is known about this man, other than he bought the pottery site from Winklemann in 1879 and owned it for a short period. There are no known stoneware examples from this UN-known man.
John Stoeckert's City Pottery 1870 - 1900 John Stoeckert and son Edward, worked together making stoneware's and brick. It is thought that more brick than pottery was being made in the later years of business. The firm made a wide variety of wares including roasting pans, mugs, pitchers, jugs, crocks and butter churns. Pieces were marked with "J. Stoeckert New Ulm"; "J. Stoeckert New Ulm Minn", and an oval stamp "City Pottery New Ulm".
1/9/2008
Matt Johannes by Tim Wolter
1/9/2008
The squat blob soda bottle embossed simply, M.J gave me quite a few fits years ago. When my brother and I dug it in the late 1980's there was simply not enough information available to draw definite conclusions on its identity.
Clearly it was an older bottle, notably old for the western part of Wisconsin. The A & D.H.C. glass works marking confirmed it, but was not a narrow enough time frame to help all that much.
Context helps, but unfortunately the privy we dug it out of was one of those puzzlers with a wide age range. There were 1890's patent medicines near the top, 1880's-ish fruit jar fragments farther down, and a broken Union Clasped Hands flask down in the lowest level where the soda was found.
I suppose I should be fair and mention that my specimen is a pile of fragments, but a nice intact specimen can be seen in the blob soda gallery of this site.
So, somewhere in the time frame of 1865 to the later 1870's based on context and glass works. Not a big help.
Our first assumption was that is was local to the Eau Claire area, as soda bottles do not travel as much as other types. This would seem to narrow the suspects to either Massolt & Johannes, or Mathias Johannes. The initials would of course fit either.
William Massolt and Matt Johannes appear to be the first soda bottlers in Eau Claire and environs. A newspaper ad from May, 1867 states:
"Pop! Pop! Massolt and Johonnas have their machine in good running order for the manufacture of pop beer, or mineral water. They have already put up about a thousand bottles, which are receiving a very rapid sale. This mineral water is a very pleasant summer drink, and will meet with ready sale at all the restaurants in town, and costing but a trifle when purchased by the box, private families will find it a delightful beverage to be kept in the cellar. Massolt and Johonnas are the only firm in the Chippewa Valley that manufactures this article of drink, and will undoubtedly receive extensive patronage from the neighboring towns."
Additional ads in the same year state that their products were for sale at "saloons, restaurants, groceries & c. supplied by wholesale at Milwaukee prices."
When you read enough old newspapers you sort of learn to decipher the language. In general short articles of this sort are run at the launch of an enterprise, and the mention that their products "will" receive extensive patronage is additional evidence that Massolt and Johannes started operations in the spring of 1867. Some sources do quote other dates, but I think this is pretty solid evidence.
A couple of side notes. The variable spelling of Johannes is typical of German diction of that era, and need not be considered typo errors. And, 1867 is significant in that it is also the year the Massolt left Eau Claire to start the first (?) pop bottling company in Minneapolis. Perhaps he retained some business connection with Johannes after relocating.
The soda business does not seem to get the degree of attention that other enterprises enjoyed in the 19th century. Railroads, lumber and flour mills, these were the economic super stars of the day.
But after going solo Matt Johannes seemed to do well. He had a gravitating soda with his own name on it in the 1870's, and a base only embossed transitional soda with MJ EC on it. As to the man himself the only clue I found was this:
In 1869 Mathias Johannes was also keeping a saloon. It seems like a good move for one in the rather seasonal business of bottling soda pop. A young man refused to pay for his drinks and fled the premises. Johannes took after him in hot pursuit and fired three shots at him! All missed, but the local constable was alerted and took the deadbeat into custody. As would not be the case today, our friend Matt just went back to his bar, where one assumes accounts receivable showed an immediate improvement.
Johannes died in 1903, his obituary expressing much sadness for the passage of a community pioneer. It adds only a little more real information, that he had been born in Prussia in 1838, that he came to Eau Claire in 1860, and that he had been the sole bottler in the area for about 15 years. In later years, say the early 1880's, he got out of the soda business and retired as a gentleman farmer and horse breeder.
As time has passed a few more of the M.J sodas have shown up. And information from around the state on similar bottles has become more available. So based on style alone I would place the M.J bottle somewhere in the 1870's, i.e. solidly in the Matt Johannes era. That Massolt and Johannes must still be out there somewhere waiting for me.
1/8/2008
Take an Art Glass Class by Tim Koutsoures
1/8/2008
It's been a very boring winter break so far. I sat in my office and dug through the many pages of things to do and then I came across an article I tore out of the Evanston Review (IL) about Chaos Glass Studio Inc. I have wanted to take a glass blowing class for over twenty-five years but there never seemed to be enough time or money to take it. I leave a message and finally talk to the owner, Kelly McGowan. Come on down the day after Christmas she says, at noon.
As an avid bottle collector I had many holes in my knowledge of how bottles are made. We collectors all read the same books and catalogs and we rub our hands all over the bottles we cross paths with but sometimes there are voids. How big and how long they linger depends on how serious you are about your bottle collecting. I'm thirsty and my problem solving skills kick in.
Of course I arrive over an hour early and ask to help. Not needed............so I explore the neighborhood and return. The noon hour comes and it turns out that I am the only student! No problem, this is better than I could ever plan. (And the way I recommend, whatever the cost)
Four hours later and we are done! What you say, that all your going to talk about?
There is so much I leave with that the details are minor in comparison to the whole picture. I now have actual experiences that combine with my bottle collecting that result in a synergetic understanding. Many of the voids got filled and a new insight has taken me to the next level of my hobby.
Working glass is an art. It takes great skills to get great results. Learning to appreciate both takes effort and an open mind. The Zen of it: Three-dimensional is higher than two. Four-dimensional is higher than three!
If you want to further you bottle lust then seek out a glass art class. There are many tiny studios all over WI and IL. Focus on the knowledge and not on the result.........your first glass projects may not have bragging rights. But the next time you handle a pontiled bottle you will have something in common with its maker.
1/8/2008
E.R. Hantzsch by Tim Wolter
1/8/2008
Directly across the street from the Eau Claire Public Library there is a drive up bank facility. It's not all that busy a place, downtown Eau Claire has suffered the fate of many urban cores in our shopping mall economy. But that same site was much livelier in the years just prior to the Civil War, when it was occupied by an establishment called The Sign of the Two Barrels, run by E. Robert Hantzsch.
A native of Germany, Hantzsch came to Eau Claire in 1859. He built his saloon on the corner of Farwell and Eau Claire Streets. Early advertisements list an amazing array of items for sale including many varieties of whiskey, brandy, gin, rum and wines; 900 boxes of cigars, cheese, sardines, oysters, herrings, candies, almonds, raisins, glassware to supply hotels and saloons, decanters, flasks, liquor and water tumblers, beer mugs, drainers and strap bottles.....
Hantzsch clearly believed in diversification, which probably encouraged him to add a distillery in 1861 on a nearby site; and a brewery in later years.
1862 was an anxious time for residents of small towns all across the Midwest. Many of the able bodied men were away at war, and frightening rumors of Indian depredations came filtering in from the Minnesota frontier. In August of that year there was an Indian panic in Eau Claire, with the fear being that the local Chippewa would rise up in sympathy with their Sioux brethren. Of course, the Chippewa actually hated the Sioux and had no such intentions, but the nature of panic is irrational.
On the basis of military training he had received back in Germany young Hantzsch was appointed "Colonel" of the East Side volunteer militia. It was a motley bunch of troops, those lacking firearms were issued lightening rods with sharpened tips. Fortunately for all concerned there was no action, but there were tense moments. Rumors flew about a war party on the road between Chippewa Falls and Eau Claire. A report arrived from the outlying community of Elk Mound that Indians were burning the crops. And in what seemed an imminent threat, a man claimed to have seen a group of armed braves in the river bottoms just below Eau Claire. This fellow was known to be something of a rascal, so the militia rode out to the site with the man and a rope with which to hang him if the report turned out to be false. No Indians were found, and the prophet of doom had the good sense to leg it out of there when backs were turned.
Readers of the Caddie Woodlawn series of books can find there another account of the Indian Panic of 1862.
Hantzsch's business prospered, perhaps aided by a certain casual attitude towards paying taxes. By 1870 he appears to have been involved in brewing beer. An ad from August of that year announces:
"ALE! ALE! XXX cream and stock brewed by L. Parish and Co. This Company also manufactures POP BEER and their brewery is located on the site of the distillery formerly owned by E.R. Hantzsch, and Ale will be furnished by the bottle, ½ kegs, ¼ kegs or 1/8 kegs. Orders from country and from private families will receive prompt attention."
The business relationship between Hantzsch and Parish was never fully explained, but later ads refer to Hantzsch and Parrish as brewers of XXX Cream Ale.
Hantzsch was a busy fellow in the early 1870's. He excavated a large cave to age his beer, and constructed "Hantzsch's Hall", a two story establishment with a saloon and a stage for entertainments of the day. Ads from the era are scarce, but in 1873 he was still claiming to have connected with his store a "first class Brewery", that produced Pale Ale, Cream Ale and Beer.
But he did not in the end prosper. He seems to have had at least one fire in the early '70s, and also got into some kind of tax trouble. By 1880 his brewery is listed as having an output of only 300 barrels per year, and his wife Emily is the proprietor of record.
E.R. himself was said to have moved to Minneapolis, where he died in 1882 at the relatively young age of 46. Sadly, this pioneer and early leader of the community was by that point forgotten to the point that he has no local obituary.
1/8/2008
Moritz Krembs by Steve Treanor
1/8/2008
Moritz KREMBS was born 21 Sep 1837 in Württemberg, Germany. He died May 1907 in Chicago, Illinois and was buried 127 in Rosehill Cemetery, Chicago, Illinois.
Moritz was the 6th of 15 children. His father was a pharmacist to the German royalty. The Krembs family had a tradition of serving the German royal courts for many years. His mother, Louisa Von Grimm was of royal birth and a member of the same "Grimm" family that produced the Grimm Fairy Tales.
Moritz came to the U.S. with his family in December 1854. As a young man he studied pharmacy and chemistry. He started his business life in Fond Du Lac, Wisconsin. In the 1860's he was a bottler of soda and mineral water. Clean water was an issue during this era and Moritz apparently capitalized on the need by selling bottled beverages. Bottles with his name from that era are highly prized by collectors. In 1872 he is found in the Fond Du Lac city directory as importer of drugs, paints, oils and glass etc.
He was the only member of his family to move from Wisconsin. He located in Chicago some time between 1874 and 1876 and was well-known druggist and chemist in that city. Moritz' business seems to have evolved over the years from the pharmacy into a chemical manufacturing and metals business that was operated by his sons.
He had a drug store in at 183 West Randolph Street in Chicago in 1877. On Sunday, September 23, 1877 a man came into Moritz' store to find something to treat a head wound. Apparently an argument ensued and Moritz hit the man over the head with a pestle and inflicted a severe wound. Per a report in the Chicago Tribune on September 26, 1877 the case was heard by Justice Kaufmann. The outcome of the case is not known but it does not appear to have impacted Moritz's stature in the community.
A defining moment in Moritz' life was the marriage of his daughter Leone to a German national named Erich Muenter. Erich taught college-level German in Chicago and then Kansas. He eventually landed a job as a part-time instructor at Harvard. Erich and Leone had two children together.
During the second pregnancy, Erich poisoned his wife, Leone, with cyanide over a sustained period of time resulting in her death shortly after the birth. Erich was an immediate suspect, but he left Boston for Chicago after the death. He dropped his two children off with Moritz and Jeannette and disappeared without attempting to collect the life insurance he had taken out on his wife. The Boston officials found cyanide in Leone's body and began the search for Erich. Moritz initially came to the defense of his son-in-law. As the information unfolded and Erich continued to be a fugitive, Moritz realized his misplaced loyalty. Moritz died nearly 8 years prior to the apprehension of Muenter.
The Leone's children were initially taken in by Moritz and Jeanette after the murder of Leone. The name of Muenter was dropped from both of the girls and they were raised as Krembs children. Another daughter, Louise, took the children from the aging grandparents and raised them as part of her family.
9/25/2007
Weber Revived by Bob Libbey
9/25/2007
A few years back, we began to develop a reputation for finding great bottles. When we decided to dive right near shore one spring, a small audience of friends wanted to come see what we were doing. They planned to overlook our near shore dives and to be the first to see any old bottles we might pull out. It was still fairly early in the year (March), but once we decided to go hunting, we wouldn't let a few little things like the temperature or the weather stop us. Steve and I planned a shallow two-tank dive in a lake near Oconomowoc, Wisconsin. As were searching for a good spot in the icy water, I found a pint amber blob beer embossed, "P. BINZEL / OCONOMOWOC / WIS." This is a great bottle. Now that we knew that there were bottles here, it was just a matter of finding more of them.
Not too long after we began searching in earnest, Steve found a quart bottle. Because the water was murky, he did not know what it was. He surfaced, pulled his mask up and off of his face while keeping the bottle submerged. With the audience from shore looking on, he gradually lifted it out. A blob emerged that was aqua in color. As the long thin neck became visible, a loose Putnam stopper appeared. Bottle experts will recognize that this usually means that the bottle is old. This style of stopper was primarily used in the 1860s and 1870s. The neck surfaced curving into the shoulders in a long sloping arc. Finally, Steve exposed the embossing. It read, "PETER BINZEL / BREWER / OCONOMOWOC, WIS." A very cool and early piece of glass! Although I secretly thought that it was a little confident to put on a show to spectators BEFORE he knew that the bottle was any good, I was forced to admit to myself that the bottle was indeed, very good. The variants where the word "PETER" is spelled out are quite rare. I don't think any of us had ever seen one like it before. So, I resolved to find something myself and to put on my own little show...
As I was searching, I finally bumped a bottle. I grabbed it and felt up and down the sides. It felt smooth with a thick and heavy blob. It was a Hutchinson soda. I could not see the brand name underwater. If I had to hazard a guess, I would have said that it was most likely one from "F. LUGVIEL" or "E. SCHERMERHORN". Those were known names of bottlers that had used hutch bottles from Oconomowoc. I knew that it was not a "JOHN GRAF" (a more common hutch) because it did not have a mug (or faceted) base. There was a chance that it was from another town - you can't control what you find, but I was still thinking that it was from Oconomowoc. I surfaced holding the hutch underwater. Next, I said, "Here's one for my collection." Everyone there knew that I collected Hutchinson soda bottles from Wisconsin. I matched Steve's earlier drama by gradually revealing the blob, the neck, and the embossing. But wait! It said, "OCONOMOWOC", but the bottler was neither "LUGVIEL" nor "SCHERMERHORN". As soon as I realized this, I announced to the bystanders that I had found an unknown variant. I think I said that it was a "new one" and that I had found an unlisted bottle. They wanted to see it pronto. In my excitement, I wanted to show it to Steve first. After I brought him up from the bottom and he had a chance to view it, I began to make my way towards shore. Gary and Tom guessed that it might be a "MICHELS" bottle. There were known sodas from "H. MICHELS" but they were earlier than Hutchinson bottles. I took another look. Nope. It says, "M. WEBER & CO / BOTTLERS / OCONOMOWOC, WIS." I took it to shore where it was passed around with amazement. It's not every day that you find a bottle that rare. And oddly enough, it was on a day that we had an audience waiting. Maybe we should have invited them along on more dives?
As we unsuited and dried off, we continued to speculate about the Weber bottle. We thought that maybe Weber was a known bottler but that no examples had been found in modern times. When we got home and checked the books, we could not find a single reference to an M. Weber from Oconomowoc! I had found the first known modern example! And this was not just an unknown variant. This was an unknown variant from an unknown bottler located in a small town. Amazing! I had found one of the ultimate bottles for my own collection.
The condition of the bottle was pretty good but not mint. It had some typical case-wear around the hub that is frequently seen on returnable old bottles. It was also heavily opalized. Nonetheless, I loved it. You can't control the condition of the bottles that you find. The wear you find them with is part of the history and legacy of that particular bottle. You can only do your best to make sure that no further damage occurs to them.
As time went by, and we searched the area more thoroughly, a few more of these bottles turned up. Steve found the second modern example in near mint condition. He does not collect hutches, so, he generously offered me the chance to trade mine for his. He next planned to wheel and deal it to get something in trade for his own collection. The bottle was still so rare that people would give up great value to obtain it even with some case wear. However, I was pretty emotionally attached to my example. It now had a rainbow of opalization, and it was the first one ever found, and it was the exact example that I had found. It was history in the making (at least for me). I set the two bottles side by side on a table. I cleared my thoughts and tried to set aside my attachment to that first example. Now, I asked myself if I were buying this bottle, which one would I rather purchase? The answer was obvious. The near mint bottle was better. I thanked Steve and left with an upgrade. That's unbelievable. Thanks again, Steve.
At the next bottle show, I took the bottle over to Roger Peters. Roger has written one of the best guides to collecting Hutchinson sodas called Wisconsin Soda Water Bottles (1845-1910) (1996). At the beginning of the book, he has a forward where he thanks some of the many collectors who have helped him by sharing information with him and by allowing him access to their collections. I approached Roger and asked him if he would add my name to the list of people in the forward in his next edition if I showed him a Hutchinson soda that he had never before seen or heard of. He agreed that he could do that. I pulled the bottle out and handed it over. I think it would be fair to say that Roger had never seen it. So, Roger, if you read this, the last name is spelled with an "E-Y". That's "L-I-B-B-E-Y". As fate would have it, I eventually acquired a second example of this bottle. That one now resides in Roger's collection.
4/28/2007
Wisconsin Whiskey Companies and Their Brands by Peter Maas
4/28/2007
Following is a list of the brand names used by various companies in Wisconsin before prohibition. They were gathered from advertising, collectible items like bottles and shot glasses and various other sources. If you are aware of other please let us know so we can expand the database.
| | |
| --- | --- |
| Company | Brand |
| Allmeyer, Fred | |
| Altenhoefen, B. M. | |
| Andrzejewski, A. & Son | |
| Averill | |
| Barth, John | Volunteer Whiskey |
| Barth, Peter | Patrick Henry Whiskey |
| Barth, Peter | Beaver |
| Baum & Loeb Co. | Haverhill Whiskey |
| Bergenthal, William | Shamrock Rye Whiskey |
| Bergenthal, William | Old Lexington |
| Best, Jacob & Co. | Monona Club |
| Black, John & Co | |
| Blade, A. & Son | |
| Bloch, Emil | |
| Block, M. & Co. | |
| Breslauer, A. & Co. | Old Hickory |
| Breslauer, A. & Co. | Graham Rye |
| Breslauer, A. & Co. | Standard Club |
| Brodresser | |
| Brunst & Caspari | |
| Burbach, Mathias | |
| California Wine & Liquor Co. | |
| Chaumette, Edward | |
| Cocrane & Fardy | |
| Cochrane, James | |
| Dillman, Adam | Atlas Rye |
| Dillman, Adam | Atlas Whiskey |
| Dillman, Adam | Atlas Bitters |
| Donally, William J. | |
| Dudenhoefer, Jacob | Bonfield Whiskey |
| Dudenhoefer, Jacob | Hunting & Fishing Club |
| Dudenhoefer, Jacob | Three Star Brandy |
| Dudenhoefer, Jacob | Monogram Whiskey |
| Dudenhoefer, Jacob | Sunny Castle |
| Dudenhoefer, Jacob | Tara's Hall |
| Dudenhoefer, Jacob | Elmbrook Whiskey |
| Dudenhoefer, Jacob | Kara Tonic |
| Erz, J. | |
| Figge-Doyle Co. | Foster Pure Rye |
| Figge-Doyle Co. | Baker Bourbon |
| Filtz, Richard | |
| Flohr, Adolph | |
| Freudenfeld, & Co. | |
| Frisch, J. P. & Co. | K.O.R. Sourmash |
| Fuldner, Herman | |
| Fuldner, Louis | M & G |
| Fuldner, Louis | Balanced Rock |
| Fuldner, Louis | Old Rye |
| Fuldner, Louis | Oak Creek Whiskey |
| Fuldner, Louis | Rolling Fork |
| Goetz, Henry | |
| Greulich, August & Co. | Jockey Club Sour Mash |
| Greulich, August & Son | |
| Hadley Gerber Co | |
| Hartmann, F. W. & Co. | |
| Heinemann, Fred | |
| Henderer, J. A. & Co. | |
| Herbst, S. C. | Benson Creek |
| Herbst, S. C. | Old Judge |
| Herbst, S. C. | Old John |
| Herbst, S. C. | Old Fitzgerald Rye |
| Herbst, S. C. | Clifton Springs |
| Dudenhorfer, Joseph | Blue River |
| Dudenhoefer, Joseph | Tara's Hall |
| Hoffman & Brodresser | |
| Hoffman | |
| Hoyt, E. S. & Co. | |
| Imbusch, J. & Bros. | |
| Isham & Co. | |
| Jung, Herman | |
| Jung, S. & Co | Mountain King Rye |
| Jung, S. & Co | Old Bull Bourbon |
| Jung, S. & Co | Homer Club Whiskey |
| Juress, John | |
| Karrer, E. H. & Co. | |
| Keller, Fred | |
| Kiewert, Emil Co. | Everett Rye |
| Kissenger, John P. Co. | Monadnock Rye |
| Kissenger, John P. Co. | Arbutus Bourbon |
| Kissenger, John P. Co. | Cabinet Rye |
| Kissenger, John P. Co. | Old Veteran |
| Kissenger, John P. Co. | Unexcelled |
| Kissenger, John P. Co. | Harvester Bourbon |
| Nunnemacher, Jacob | |
| Koefler Bros. | |
| Koerb, Wm. Co. | |
| Kraus, Herman | |
| Kroll Reinhold | Green Bell |
| Kunze, August | |
| Lakeside Distilling | |
| Lewinsky, Julius & Co. | Big River |
| Lewinsky, Julius & Co. | Owl Club |
| Lienemann-Warnken Co. | Old Nyak |
| Lienemann-Warnken Co. | Riverview |
| Lienemann-Warnken Co. | 3 Star Brandy |
| Lienemann-Warnken Co. | Enola |
| Lienemann-Warnken Co. | Mentholated Rock & Malt |
| Mahler & Wendt | |
| Marks, R. & Co. | |
| Mc Laughlen, Peter A. | |
| Meadow Spring Distillery | |
| Meiner, John | |
| Meiner & Vilter | |
| Menomonie Valley Distillery | |
| Miller, Henry | |
| National Distillery | |
| Newman & Frisch (J.H & A.L.) | |
| O'Niell, Thomas | |
| O'Niell & Reynolds | |
| Oschwald, Peter | Sunny Castle |
| Pleasant Valley Distillery | |
| Pommer, E. & Co. | |
| Pheil (see Wendt) | |
| Purity Supply Co. | |
| Rafenstein, Geo.. | |
| Rathe, Hass, & Wadtke | |
| Rindtschopf & Son | |
| Salentine, Chris | |
| Schlitz, Charles | |
| Schlitz, Victor | |
| Schmitt, John | |
| Ritmeier, William | California Wine Bitters |
| Fess, H. Jr. | Jaundice Bitters |
| Schneider, Emil & Co. | |
| Schram, J.B. | |
| Schuckmann & Seligmann | Prince William |
| Schuckmann & Waldeck | |
| Schulteis, P.J. Co. | |
| Seligmann, M. & Co. | |
| Smith, E.H. & Co. | |
| Snyder, Fred | |
| Spring Street Distillery | |
| Steinmeyer, William | Doctor |
| Stolz, Michael | |
| Tobin & Donnelly | |
| Toser, Herman | Old Abe |
| Toser, Herman | Tosco Club |
| Verfurth, G. | |
| Waldeck, Jacob & Son | |
| Webster & Averill | |
| Webster Bros. | |
| Webster, Nelson | |
| Weimer, Phillip | |
| Weiner & Jung | |
| Wiener, M. | Wiener Bitters |
| Wiener, M. | Policy Rye |
| Wiener, M. | Elite Club Rye |
| Weis Brothers | Old Norman |
| Weis Brothers | Mountain Cave |
| Weis Brothers | Crawford |
| Weis Brothers | Fox Lake |
| Weis Brothers | Knickerbocker Stomach Bitters |
| Wendt & Pfeil | |
| Witte, Fredrick | |
| Young, P. | |
| Zacher & Jensen | Davey Crockett Rye |
| Zeimer, F. | |
| Zien Brothers | Berliner Magen Bitters |
| Zien Brothers | Alter Bismarck Magen Bitters |
| Jung, Herman | Rivoli Rye |
| Blade, A. & Son | Old Dave Jones |
| Barth, John | Blue Bell Rye |
| Barth, John | White House Club |
| Barth, John | Nonpareil |
| Toser, Herman | Cal. Brandy |
| Kissenger, John P. Co. | Washita Rye |
| Toser, Herman | Old Waveland |
| Weis Brothers | Balmoral Club |
| Bade, Sheets & Warnken | White Eagle Club |
| Barth, John | Orzel Baily Wodka |
| Barth, John | Magan Bitters |
| Unknown | Bell of Wisconsin Pure Rye |
| Breslauer, A. & Co. | Florida Bitters |
| Breslauer, A. & Co. | Waldorf Club |
| Schlitz, Charles | German Wine Bitters |
| Dudenhoefer, Jacob | Night Hawk |
| Ritz | Juniper & Wild Lemon Bitters |
| Toser, Herman | Hoffmann House Pure Rye |
| Toser, Herman | Monopole Bitters |
| Barth, Peter | Mandarin Bitters |
| | Waldron |
| | Bung Hole Whiskey |
| Mampe, Dr. | Herb Stomach Bitters |
| Newmann & Frisch | Old Reserve Sour Mash |
| Newmann & Frisch | Old Reserve Rye |
| Newmann & Frisch | Elkhorn |
| Newmann & Frisch | Monogram |
| Newmann & Frisch | Red Seal Rye |
| Watertown ? | Roland Rye |
| ? Milwaukee | S & S Der Dockter Bitters |
| Jung, S. | Underhill |
| Kissenger, John P. Co. | Velvet Finish |
| Kissenger, John P. Co. | Washita Rye |
| Dudenhoefer, Jacob | Tonical Herb Bitters |
| Dudenhoefer, Jacob | Yellow Springs |
| Frisch, J. P. & Co. | Patrick Henry |
| Fuldner, Louis | Pythian |
| Fuldner, Louis | Pythian Boquet |
| Schoenfeld Importing Co | General Sheridan |
| Breslauer, A. & Co. | Cheddington |
| Breslauer, A. & Co. | Connet |
| Breslauer, A. & Co. | Henry Van Eerden Gin |
| Breslauer, A. & Co. | Kilbourn |
| Breslauer, A. & Co. | La Belle |
| Breslauer, A. & Co. | Old Chesly |
| Breslauer, A. & Co. | Palm |
| Breslauer, A. & Co. | Standard Club |
| Breslauer, A. & Co. | Topcliffe Gin |
| Schuckmann & Seligmann | Eremite |
| Schuckmann & Seligmann | Maryland Club |
| Greulich, August & Co. | Montrex Rye |
| Greulich, August & Co. | White Eagle Rye |
| Weis Brothers | Old Bedford |
| Weis Brothers | Policy |
| Weis Brothers | Tom Cooper |
| Weiner, M. | Old Tenyson |
| Weiner, M. | Sprucewood Whiskey |
4/28/2007
Berliner Magen Bitters Co. by Peter Maas
4/28/2007
There are a number of bottles and advertising pieces with the name "Zien" or "Berliner Magen Bitters" from Milwaukee, St. Paul and Duluth Minnesota, as well as from the west coast. Tim Wolter and I researched the topic to identify the connections among them. We found that several businesses and spin-off companies flourished for only about ten years just prior to prohibition, then disappeared like many similar businesses. Here is what we learned.
The Zien Brothers
Jacob D. Zien started in a liquor business in 1889 in Duluth, Minnesota when he opened a saloon with a man by the name of J. R. Duff. Not much is known about this business, except that after six years the partnership ended when Mr. Duff left the firm. A few years later the 1898 the city directory shows that Jacob's business had graduated from a saloon to a wholesale liquor dealer. A Duluth bitters bottle identifies the firm name as "Berliner Magen Bitters Company", although city directories list it as the J. D. Zien Co.
Around 1900 Jacob started a new venture with his brothers in Milwaukee while still living in Duluth. Jacob and his younger brother Isaac called their firm the "Zien Brothers Co." Their younger brother Louis worked as a shipping clerk and half-brother Morris was a traveling salesman. Isaac had come to the United States from Germany in 1882 and initially settled in Hampton, Iowa. Later he moved to Minneapolis, then back to Hampton to run a dry goods store for five years and finally to Milwaukee where he co-founded the wholesale liquor business about 1900. Isaac's son Solomon initially worked as a clerk for the firm.
It appears that Morris left the Zien Brothers Co. to start a new wholesale liquor business with William P. Berdie in Milwaukee in 1903. They called the company "Berdie & Zien". A dose glass from the firm advertises a brand called Alter Bismarck Bitters, but no bottles or other items have turned up yet. By 1907 Morris had left the firm, probably moving to Duluth. The business eventually became the Maryland Liquor Co. under different ownership.
Another Jacob Zien spin-off was created in 1903 in St. Paul called Metzger, Zien & Co. with Jacob as an absentee principal. Morris's son Izadore appears in a 1903 St. Paul city directory as a clerk, possibly looking after his uncle's interests. This partnership appears only in the 1903 directory. A jug advertising "Dr. Bopps Hamburger Stomach Bitters" exists from the Metzger, Zien & Co, as well as a similar one from the later Lewis Metzger Co.
In 1909, Jacob died at the age of 52 in Duluth leaving behind a successful business there. Jacob's half-brother Morris came from Milwaukee, and Morris's son Izadore came from St. Paul to take over the Duluth operation.
The Milwaukee branch of the Zien family businesses seemed to be the most prosperous of all. Zien Bros. grew steadily after opening and by 1907 had outgrown its original quarters at 300 N.Third Street. The company moved to a new location three blocks to the north, near the Schlitz brewery. Curiously, Isaac's wife Ella is listed as President of the Zien Brothers Co. from Jacob's death in 1909 until the firm closed. Isaac is listed a Vice President and son Solomon is listed variously as Vice President, Secretary, rectifier (blending whiskeys), "compounder" (mixing ingredients), and traveling salesman. Louis left the firm in 1911 to run a hotel in Milwaukee.
Solomon's son Herbert lives in Milwaukee. He remembers that Berliner Magen Bitters was the primary brand sold by the Zien Bros. Herbert recalls another popular product called "Rainbow-Luvit." It consisted of three liqueurs, each a different color, that came in a three part bottle. When poured into a glass they settled into layers, creating a rainbow effect. Although there were probably other brands associated with Zien Brothers, none have yet surfaced.
Like many liquor businesses, prohibition spelled doom for all of the ventures started by the Zien family. Probably the only family member who kept his ties to the liquor trade was Solomon, who after repeal worked as publisher of trade journals for the liquor and beverage industries until his death in 1968. These publications included the "Wisconsin Tavern News", the "Northwest Beverage Journal" and the "Wisconsin Beverage Journal." Solomon's son Herbert worked for his father and later became managing editor of the publications until his retirement.
Berliner Magen Bitters
Berliner Magen Bitters, which translates to "Berlin-style stomach bitters", had a German origin. A 1902 Zien Bros. brochure states that it was used for over 100 years and had hundreds of imitations, although advertising claims were often exaggerated, as they are now. Is It possible that Berliner Magen Bitters was imported in bulk from Germany and bottled in Duluth, or Jacob could have distilled the bitters, since the firm advertised itself as both an importer and a distiller. Jacob probably bottled the bitters in Duluth for both the Milwaukee and Duluth locations. Both Zien Brothers in Milwaukee and Berliner Magen Bitters Co. in Duluth used identical bottles embossed with "Berliner Magen / Bitters Co." The paper labels are the same too except for the company name. The advertisements state that the bitters were available in bottle came in $1 size and a 50 cent size but no embossed or paper label bottles of the 50 cent size are known today.
An interesting similarity exists between this product and one by the same name sold by Sara B. Rothenberg of Oakland, California. In 1895 she registered a trademark for "Berliner Magen Bitters" with a logo that is very similar to the one later used by Jacob Zien. There are several possible explanations for the similarity. She may have later sold the rights to Zien. The Zien clan was very mobile and they may have crossed paths with Ms. Rothenberg. It is also possible that if indeed an original German product existed, both logos were derived from a similar German product. Sara states that her trademark is used in commerce with the Empire of Germany, which suggests that she imported the bitters. Another possibility was that the names originated independently, despite the trademark registration, since trademark enforcement was lax at the time, and especially because the products sold in different markets.
The Berliner Magen Bitters brand appeared to be very successful. Like most bitters of the time, Zien promoted them as having medicinal value for stomach troubles, women's problems, constipation, and liver and kidney ailments (which is interesting considering its 23% alcohol content).
Berliner Magen Bitters were sold in the upper Midwest, including Wisconsin, Minnesota, Iowa, Nebraska, and South Dakota, leveraging of the large number of German immigrants living in this region. Herbert remembers his father's description of how products were sold. Solomon traveled from town to town, usually by train. He rented a horse and buggy and recruited a local person who knew the farmers in the area to travel with him. They went to farms and Sol made his pitch and took orders. Sol only had samples with him. The product was delivered by mail.
At least five different Berliner Magen advertising dose glasses exist from Milwaukee and one from Duluth. They used several advertising slogans, among them: "The road to health is assured by taking..", "Preserve your health with..", and "Try them and convince yourself". The dose glasses provide evidence that the Berliner Magen brand was sold at least from 1903 thru 1909, because varieties exist under both the Zien Bros. and for Zien Bros. Co., which was the firm's new name as of 1909.
My thanks to several people who contributed research information for this article: Tim Wolter, Herbert Zien, Fred Wolter, and Patricia Maus.
4/21/2007
From The Bottom to Fame - One Beer Bottle's Story by Sid Hatch
4/21/2007
Originally published 1975
On the bottom of Pewaukee Lake, empty and discarded, lay a lonely beer bottle. During the early 1890's this bottle was possibly emptied by a fisherman while serenely sitting in his boat and waiting for a fish to bite, or by a picnicker while eating lunch and watching the swimmers and boaters. But alas, after the bottle was emptied it was tossed in the lake to slowly sink and settle on the bottom in complete rejection.
However, the fate of this bottle was not to spend thousands of years unknown and disintegrating in the mud on the lake bottom. In a sunny, warm summer afternoon, this bottle suddenly felt the grasp of five gloved fingers. In the darkness of the cold and murky water it felt itself being lifted and then placed into a collection bag with other bottles. After traveling around in the bag near the bottom of the lake, the bottle then found it was being taken to the surface. The water had become warmer and lighter and the bag broke the surface of the lake and was lifted into a boat. Imagine the joy the bottle felt after spending more than eighty years on the bottom of Pewaukee Lake!
This was the beginning of a trip down the road to fame and glory for this bottle. The gloved fingers belonged to Sid Hatch. After being cleaned and having its letters painted it was placed on a shelf. The road to fame was not a short one; in fact, it appeared that the bottle's future was to sit on a shelf as part of a collection of Wisconsin beer bottles in Sid's basement. The bottle settled into this home and rested comfortably with its friends for eight years when fate decided to shine its face on this bottle again.
This new turn of events began in early December, 1984, when Sid received a phone call from a lady who worked for the Fred Miller Brewing Company. She was looking for clear, embossed bottles and paper labeled bottles from the Brewery. Sid stated that he had some embossed Miller bottles and that she could view the collection.
The following Saturday she came to Sid's house to see his collection, especially the Miller bottles. Well, it so happened the beer bottle was a Miller, and the lady immediately showed a real interest in it. She stated she was from the creative arts department at Miller, and asked if she could send the bottle to Chicago to have it photographed, saying she would pay for the use.
This is where the story almost ended. Sid wasn't too wild about having the bottle leave his home and being mailed to Chicago. No mention was made of how much would be paid, but it just didn't seem a good idea. Sid conveyed these doubts to the woman, but she asked him to think about it and also asked if he knew where she could find some Miller paper labeled bottles. Sid gave her the name of another collector and suggested she check with him. She thanked Sid and left, and both Sid and the bottle figured that was the end of it. But it wasn't!
The day after Christmas Sid received another call from the lady. She stated Miller was moving ahead with the advertising campaign and they'd like to use Sid's bottle. They wanted to fly it to New York where it would be photographed by an ad agency, as well as four paper-labeled bottles from the other collector. They were planning to use the bottles for magazine and newspaper ads. A large sum would be paid to use the bottle, the bottle would be insured for a huge dollar total while being used, and a generous amount paid as royalties every month the ads run. They would fly the bottle to and from New York on a company jet.
Well, I can tell you both Sid and the bottle found this pretty exciting! Sid would make a real good chunk of money and the bottle was not only going for a jet ride, but would appear in national advertising. Sid signed on the dotted line and the bottle was on its way.
The woman returned the bottle several weeks later, and showed Sid a copy of a color ad that would appear in national magazines. Included were three paper labeled bottles and two embossed bottles, one of which was Sid's. She said the bottle would appear in newspaper ads also. She expected the newspaper ads to appear in late February, and the magazine ads in March or April.
So just what does this beer bottle look like, you're probably asking? It is a clear pint with center embossing on a slug plate. The embossing looks like this:
The bottle also has "This Bottle Not To Be Sold" embossed on the back. It has no makers mark. It is a blob top bottle, but I just know after it sees itself in the magazines and newspapers, its blob will swell right up.
4/21/2007
I would like to find some Menasha stoneware from Bachelder pottery by Cheryl Degner
4/21/2007
from Form Post @ Mrbottles.com; PICTURES WILL BE ADDED SOON!!!
My great-great-great grandfather Luther C. Batchelder sold his ME pottery in 1845 and moved his sons, Calvin, Cleveland, and Carlton to Neenah and Menasha. When Luther died in 1850 his sons carried on in the pottery business. Cleveland was my great-great grandfather. Carlton, I understand expanded the line of products.
Luther Cleveland Batchelder was born in 1804 to Jacob Bachelder and Mary (Polly) Cleveland in Concord, NH. He married Jane Polly Whittemore, daughter of a NH pottery family in 1824. Three boys were born in Concord- Cleveland 1823, Calvin B 1824, and Carlton 1827. In 1831, the family moved to Exeter Mills in ME where Luther established a pottery- which he kept until 1845. Jane Polly died in 1832; Luther remarried in `84` to Hannah Bean (nee French) Clifford in Montville, ME.
In 1847, he moved with boys (unsure about Hannah) to Neenah and Menasha, WI. where they established a pottery specializing in stoneware. All three brothers appeared to have worked as potters. Luther died 28 Oct. 1850. By late 1860's, Cleveland, his wife Helen Soule, and son Luther Cleveland (1852) had moved to CA. Calvin took over the pottery and expanded it to include other items, a freighting business, a partner. Calvin's son Oscar became famous in NC as an art potter, whose works demand high prices today.
I will have to find my notes on the actual business facts of Calvin's enterprises. Ads can be found in historic Appleton papers.
Carlton Bachelder had wholesale firm C. Bachelder and Fisher in Neenah and Menasha dealing in wholesale crockery and glassware 1884-1898 Appleton Directory. Myron C Fisher had quit firm by 1890's. Bachelder was dealing in coal by then. Cleveland was listed as pottery manufacturer and Carlton was listed as potter in 1860 Census Menasha, WI. C Bachelder was cited as having business on Commercial Ave, NC. and NWRR depot. Apparently the Menasha Historical Society was looking for pictures and items of pottery in 1960 for a display 20 July 1960 Appleton Post Crescent. They displayed a 1872 map marking the spot of the pottery.
Here are Bachelder pictures of Cleveland-listed as pottery manufacturer 1860 Menasha Census and Carlton -listed as potter in 1860 Menasha Census. Pictures probably from that time. Couldn't find Calvin's picture.
Wisconsin collectors; If you have Bachelder pottery you are willing to sell contact me. I will put you in touch with Cheryl.
12/24/2006
Bottle Ethics
12/24/2006
Bottle Ethics by Bob Libbey
How often has a seemingly normal and honest person changed from Dr. Jekyll to Mr. Hyde when a rare bottle was at stake? Shouldn't we all strive to be the same conscientious person we always are even when we are involved in a bottle transaction? This article is an attempt to shed light on some of the specific ethical dilemmas that can occur when we are dealing with rare (and not so rare) bottles. It is hoped that this can open some discussion as to what is fair, reasonable, and ethical behavior. Maybe just thinking about some of these issues ahead of time can save you stress and disagreements down the road. I have included examples of scenarios with multiple choice answers. After the questions, I offer suggested solutions. I hope you will find the article entertaining.
Before I begin, I would like to suggest that the golden rule applies to bottles as well as anywhere else. You should deal with others in a bottle transaction as you would want to be treated yourself. That is; with respect, dignity, and honesty. Some of the questions and dilemmas presented will seem simple and easily resolved. Others are more difficult…
You buy a five dollar bottle with a ten dollar bill. The seller gives you a twenty dollar bill in change. You?
Do the math and count your winnings!
Look around for more items to buy with big bills.
Tell the person they gave you the wrong change.
Okay. I started a little easy. Obviously, the correct answer is 'c'. You give the person their twenty back and get the correct change. They'll appreciate your honesty and probably think highly of you. You'll also sleep better. Here's a harder one…
You and your digging partner find one (but only one) unbelievably phenomenal bottle. This is a bottle you've both always wanted. You?
Tell your digging partner that it's yours. If (s)he can't deal with it, (s)he will not be your digging partner anymore.
Split the bottle.
Let your shovel accidentally slip into the back of your digging partner's head. This should give you (at the least) a running start.
The correct answer is 'b'. You should "split" the bottle. This is meant in a figurative way. With any luck, you do not actually split the glass in two. This is a very tough dilemma that is best solved with advance planning. One way to do that is to discuss what will happen with your digging partner before you start to dig. You could set up a system where one person gets first pick on a certain type of bottle. For example, if one person collects bitters and whiskeys, they could get the first pick if the rare bottle is one of those. Conversely, the other person who collects beers and sodas gets the first pick if it's one of those. Subsequently, the person that didn't get the rare find gets half the value of the phenomenal bottle from their digging partner. This can be accomplished by giving the other digger all of bottles until things even out value-wise or by giving them half of the bottle's value in glass or cash.
However, if you cannot decide who gets the bottle, you may want to just sell it outright. That way, you can split the proceeds evenly. This works as long as you both can part with it. If neither can part with it, and neither will let the other buy out their portion, I suggest a time-share. Seriously. Each person gets the bottle for a period of time and then turns it over to the other. The intervals should be short at first, maybe a week, but then lengthen over time. If this option is chosen, be careful transporting that bottle. Also, consider going out again together to find another one to simplify your life.
An extremely rare, one of a kind bottle, identifiable by distinctive markings, goes missing from a major collector. This is a bottle you've always wanted. An unscrupulous person tells you that you can have it for enough cash. One look confirms that it is the very example that has gone missing. You?
Ask how much cash you are talking about.
Tell him that it would be wrong for you to buy stolen goods.
Contact the authorities and the rightful owner.
While this bottle might be one you've always wanted, you cannot get it like this. It is illegal and wrong. Don't be tempted. Answer 'b' has problems as well. It alerts this unscrupulous person that you are onto their scheme. We've established that the person has low character but we don't know how they will react against you. They may be angry or violent. They may also better cover the evidence against them if they know that people are aware of their actions. I think answer 'c' is better. By contacting the police and the original owner, you stand the best chance of getting the bottle back into the hands of the rightful owner and perhaps getting justice for the unscrupulous criminal.
You have promised to hold a bottle for someone, but an offer too good to refuse comes up. You?
Tell the new person that you must contact the person that you were holding it for (even if it makes you lose the deal).
Take the offer. It's too good to refuse!
Tell the new person that you regret that you cannot take their offer.
The key to this question is that you promised to hold the bottle for another person. You gave your word, your bond, your oath. (Am I getting through?) By making this promise, you have guaranteed that you will not do exactly what you are now tempted to do. This means that you cannot just take the offer. However, the other two answers are better. Ideally, you would keep the bottle for the person to whom you promised it. That would be honoring your promise. As a practical matter, the least you should do is contact the original person and give them the chance to match the offer. They may want to do so, or they may give you permission to accept the generous new offer. This way, you've at least given the person a choice. However, if you've already agreed on a lower price, the original person that you were holding the bottle for is likely to (properly) feel extorted. You should consider honoring the original deal short of other unusual extenuating circumstances. (One example might be that the original person misrepresented the value to get you to agree to an unfairly lowered price).
Somebody asks you for an honest appraisal of the monetary value of a bottle. You;
Intentionally downplay its' worth in order to buy it cheaper.
Tell them what you really think the fair market value is.
Tell them that value is subjective and give them a lowball offer.
The main point of this question is that you were asked for an honest appraisal, not a lowball offer. To give an honest answer, you cannot misrepresent the value. Additionally, the person has asked you to put on a different hat. Not a buyer's cap, but an appraiser's one. By asking for an appraisal, the person is asking you to draw a line between your own self-interest in owning the bottle, and their interest in knowing what it is worth. If you think that telling them the real value will destroy your chances of buying the bottle, tell the person that you cannot give them an appraisal (because you have a conflict of interest).
Consider this when telling someone the value. If this person repeats your appraisal to another serious collector, how does it reflect on you? Does the other person laugh and tell them that it's worth ten times that much? If so, you have not offered the fair market value. If you insist on bidding on the bottle, be sure to appraise (at the least) a range of prices that will include the actual fair market value. For example, if you think the bottle is worth one hundred dollars (but you are too cheap to pay that much), you could say that the bottle is worth somewhere between fifty to one hundred and fifty depending on how things go at auction. Then, if you offer them fifty, at least you haven't lied to them.
You see a bottle that you don't even want at a rummage sale way under-priced. You?
Buy it and re-sell it for the profit.
Tell the person that's selling it that it's worth a ton more.
Call somebody that might want it on your cell phone and tell them to come over.
God bless America! The answer is 'a'. This is where you can capitalize on your knowledge and experience if you want. You are paying the person exactly what they asked for. You know it's worth more and you can reap the benefit with a clean conscience. Answers 'b' and 'c' are both very nice things to do but I do not think that they are ethically required.
As a small side note, I do find it in bad taste to try to bargain the price down when you know that you are going to be making out nicely on it.
You drop and damage a bottle from somebody's table when they weren't looking. You?
Run.
Make a comment about how much the tables wobble in this place.
Pick up the bottle and pay for it.
Another easy question. You should pay for the bottle that you damaged. If you are not willing to pay for things that you break, take your mother's advice from childhood and, "Don't touch anything." Collecting is about enjoying people's bottles. People love to touch and hold them. So, don't wreck it for everyone by forcing sellers to put up "Don't touch" signs.
Additionally, you might have noticed that 'run' has not yet been the correct answer.
You cannot get digging permission in a great old lot despite your best efforts. You?
Forget about it and dig elsewhere.
Spy on the homeowners to determine their daily habits. This should help you find a digging time when they are not home.
Get imitation electric company uniforms and tell them that you are digging underground cables.
The answer is 'a'. The other two answers, 'stalking' and 'trespassing' both sound criminal. This is not your property. Can you imagine someone digging up your yard without your permission? Outrageous. If you really want another chance, wait for the for-sale sign to go up. When the new owners move in, you can try again. Until then, dig elsewhere.
You can take a chipped bottle and make it look better (and more valuable) by strategically placing a price tag. You?
Hide the damage and cash in.
Put the price tag in a different spot that does not cover the damage.
Place the tag over the damage but tell people that you did it.
Never ever conceal damage. The buyer will find the damage soon enough and they will (rightfully) feel cheated. Telling people about the damage will help, but they will still think that you were trying to pull something over. Don't hide damage ever. In fact, if there is latent damage, you should tell a buyer up front. It's what you would want to know if you were buying.
Conversely, you buy a bottle on ebay that has understated or mis-represented damage. You?
Give the person a negative feedback right away.
Discuss it with the seller.
Demand a refund including the shipping fees.
You should never give negative feedback without discussing things with the seller first. They might make things right. You must decide for yourself in this scenario if you still want the bottle despite the damage. If the answer is "Yes" then ask yourself if it was worth the price you paid. If the answer is still "Yes", then I think that you keep the bottle, post positive feedback, and politely inform the seller that they should consider being more specific about the damage on a bottle in the future because it can affect the value. If you feel that you would not have paid this much for the bottle anymore, contact the seller and ask for either compensation for the mis-representation or a refund. Save the negative feedback for a seller who is not cooperative and will not remedy the situation.
A friend tells you he can turn any bottle dark red through a new process where he works. You try it, giving him a common bottle to see what happens. It comes back in a color that was never originally manufactured. You're thinking this bottle might go crazy on ebay. You?
Post a photo in the listing but don't say anything about how it got that color.
Mention in the listing that sunlight can naturally turn bottles certain colors such as purple, red, and amethyst.
Mention in the listing that the color of the bottle was modified from the original.
Any modification that you know of must be listed up front every time. Any repair, rework, remold, or change should be mentioned. If people still want to bid on it, at least they know what they are getting.
As a side note, there is some debate in the bottle community as to whether or not these bottles are damaged or enhanced. Any irreversible change should be carefully considered. If you are against modifying the bottles, do not support those who do it by purchasing their wares.
You think you can convince a novice collector that a valuable and rare bottle (that you really want) is not that good. You?
Warn them that they should figure out the value of what they've got before they try to sell it.
Take advantage of this unique opportunity to get the bottle on the cheap.
Let them learn their own lessons about value the hard way.
You should always treat others, even novice collectors, with respect. Tell them to make sure of what they've got before they try to sell it. If you do try to buy it, be fair in your offer. It's how you would want to be treated.
A certain person has a great source that comes up with a ton of old glass. You find out the name of the source. You also discover that the current buyer is paying a fair price. Nonetheless, you want the source to come to you. You think that by telling the source that the other collector is ripping them off, the source might come to you. You?
Avoid the source. The other collector found them first.
Try to convince the source that the collector is cheating them.
Tell the source to give you a chance to bid on the next great bottle that turns up.
Answer 'b' is out. You know the story about gossip. It damages other people and it is almost impossible to take back or repair. Don't lie about others. If you want to avoid the source as a courtesy to the other collector, that is a nice thing to do. However, I do not think that you are ethically required to do so. It is fair to ask to bid on the bottles next time. The other collector is not going to like it and in fact, may be angry. Ultimately, the source would decide who gets the bottles and for what price. While the other collector might not want the competition, the source will be paid fairly and you may have a chance at some rare bottles.
A total beginner shows you an antique, but relatively common, bottle that they just found. Excitedly, they ask you your opinion of it. You?
Tell them to get lost. It's a dime a dozen.
Call them 'Newby' and laugh.
Tell them that it's old and collectable but not that rare.
This is more a question of etiquette than ethics. However, it is nice to be nice to the nice. Remember when you found your first old bottles? You didn't know how good they were. Why not encourage new collectors to get out and carry the banner high? They'll appreciate it and you may have made a new collecting friend.
You think that it's highway robbery that a show charges a table fee for early admission. You?
Sneak in when no one is looking.
Pay the early entrance fee.
Wait until the regular public gets in at the show price.
The answer is either 'b' or 'c'. Either it's worth extra money to you to get one of the first cracks at the bottles or it's not. If you decide that it is, pay up partner. If not, wait in line. Answer 'a' is just another form of theft.
In one lucky spot, you find a whole bunch of examples of the same rare bottle. If word gets out, you fear that the bottle will be considered less rare and hence, less valuable. You?
Tell potential buyers that this is probably their only shot at such a rare bottle.
Admit up front in any negotiation that you found a lot of them.
Admit that you found a whole bunch when specifically asked.
Answer 'a' is outright lying to a potential buyer. Sooner or later they are going to find out you lied and they are going to feel justly hoodwinked and angry. The other two answers are tougher. While it isn't a bad thing to be honest with a buyer, I don't think that you automatically have to tell a buyer everything up front. For example, I think it is okay to list the bottle on eBay with a description without any commentary about its rarity. Remember though, that if you keep listing them, it's going to become apparent to serious collectors that the bottle is not as rare as it once was.
Another thing to consider is that to everyone else, except you, the bottle still has the same rarity. Unless you flood the market, they will remain rare. My advice is to sell them selectively and gradually. Most serious collectors that don't have the bottle are going to want it even if you are honest. You can help safeguard the value by assuring them that you will not flood the market and that you are giving them a crude or nice example. They'll appreciate both your honesty, and that they ended up with one of the best examples.
You are going to trade a bottle with another collector. You honestly think that your bottle has better condition but that theirs is older and more rare. You?
Downplay the rarity and age of their bottle.
Explain how much better your bottle is because condition is everything.
Give your honest assessment of the relative condition, age, and value up front.
Another question of etiquette over ethics. Can't we all skip the step where we pooh pooh the other collector's bottles while singing the praise of our own? Obviously, we want the bottle they are trading, or we wouldn't be trading for it. Don't insult them by telling them that you are doing them a favor by taking it off their hands. Try this as an example. What you have is older and more rare but mine has better condition. How about an even exchange? It's at least a starting point for negotiation that is not insulting.
Well. That's about all of the ethical situations I can think of right now. If you'd like the pope of pontil to address your specific ethical dilemma, feel free to ask questions in the bottle talk forum. I think it would be wonderful to have open, honest, and frank discussions as to what we collectors think is appropriate behavior towards others. You can also open up any topic I discussed in this article in the forum. Feel free to disagree where you think it is needed. Remember to deal with others as you would want to be treated yourself and you will generally be doing the right thing. God bless America. God bless bottle collectors. Amen
Since posting the article, I have had the chance to discuss it with a few collectors. One really great point that came up is that the bottle collecting community is quite small. If you cheat one collector, word will get around and you may actually be harming your reputation in the long run. Thus, your perceived short term gain may be a long term loss when others mis-trust you in the future.
Another comment came up about buying bottles. I suggested always paying a fair price. Some collectors consider themselves 'dealers' and they believe that in order to make a profit on a bottle, they will typically pay someone only a fraction of the actual fair market price at auction. In business terms, they are buying it wholesale rather than retail. If you are offering someone a dealer's price, I think you should inform them of that fact.
Another comment came up about promises to sell someone a bottle. Legally, if you want a promise to be binding, you can exchange anything of value. For example, if someone says, "I'll sell you this bottle", you can hand them a buck as a down payment and you have a contract (as long as you agree to terms). Not a bad investment. A proper contract should be written but that is getting beyond the scope of this article. Once again, if you promise someone a bottle, you should stick to your word or the word might get out about you!
3/27/2006
Top 10 Reasons Why We LOVE Antique Bottles by Wil Martendale
3/27/2006
Top 10 Reasons Why We LOVE Antique Bottles: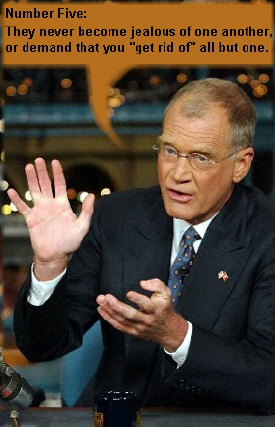 10) They never complain, talk back or argue.
9) You only pay for them one time.
8) The older they get, the better they look.

7) They appreciate in value every year.
6) You cannot contract a disease from loving them.
5) They never become jealous of one another, or demand that you "get rid of" all but one.
4) They don't require "romantic sunsets" or "long walks on the beach".
3) They never get drunk, fat or ugly.
2) They never hire an attorney to sue you,
And the number one reason why we love antique bottles:...
1) They will never legally "own" half of each other . . .
3/27/2006
Treatment and Counseling by Will Martindale
3/27/2006
We now provide treatment and counseling for individuals (and their affected family members) afflicted with the obsessive/compulsive disorders related to the antique bottle acquisition addiction.
For many years we have seen the effects of these disorders wreak havoc on families and individuals, even though recognition of the illness within the mental health community has only recently been forthcoming. To date, psychiatric professionals have recognized the following specific disorders related to the disease:
1) AOD (acquisitional obsession disorder)
This extremely destructive disorder is often thought to be the root cause of most all related disorders. Similar to the effects of gambling or alcoholism, the victim is obsessed with the acquisition of a particular bottle or group of bottles and exhibits compulsive behaviors toward this end. Sufferers have been known to lie, cheat or steal, empty savings accounts and harass former friends or collectors in the pursuit of the object(s) of their obsession.
2)Manic-Depressive Auction Anxiety
Characterized by extreme emotional highs and lows, this disorder can be traced to the auction activities both on eBay and at the major antique bottle auctions. Victims display wild exhilaration at the prospect of acquiring a desirable bottle, followed by anxiety and despair when outbid. After a short period of reconciliation, this process can repeat itself several times, until a given auction ends. In some cases, this period can be followed by post-auction depression.
3)PSC (post-sniping catatonia)
A specific malady following the final few moments of an eBay auction, whereby the sufferer is exhilarated at the prospect of winning a rare and desirable bottle at below market value, only to have it "sniped" away in the last 20 seconds by a stealth bidder or "sniper". Victims have been known to stare blankly at their computer monitors in a catatonic trance for days following this activity.
4)Millicoddophobia
Though not as destructive as the aforementioned maladies, sufferers display apathy and moodiness at the prospect of having to sell a rare mineral water (in order to pay for their addiction) and have an acute fear of having their auction listing appear buried in the middle of five pages of British Codds. If this happens, victim displays the same symptoms as post-sniping catatonia.
5)Bottle Envy
Similar to penis-envy, though not gender specific, this malady presents itself among collectors who feel they have acquired the best possible example of a specific bottle, only to learn that someone else has acquired an example in a rare color or unlisted mold variation in equal or better condition. Bottle envy can be the precursor to a more advanced stage of AOD.
6)Digger's Frenzy
A psychotic disorder similar to alcoholic "binging". Victims disappear for weekends at a time, converging at some secret location where a large hole is dug and then filled back in, in what appears to be a shared psychotic ritual. The afflicted return home with severe back pain--often unable to resume work on Monday. In some cases, victims are incarcerated for trespassing. In rare instances, antique bottles are derived from this activity, but bottle envy can ensue due to disagreements over "first pick".
Dr. Emil Schoefhausen of the AOD Clinic in Gainesville, FL. "Treatment is conditional upon forfeiture only."Obviously, this is an incomplete list of the problems associated with the hobby, and the list grows daily.
Fortunately, through a grant funded in part by the F.S.U. School of Psychiatric Medicine, we have at our disposal the nationally recognized expert in AOD Therapy and Treatment, Doctor Emil Schoefhausen, of the AOD clinic in Gainesville, Florida. Dr. Schoefhausen has been assigned to administer online therapy through the Bottle Den Chat Room on an appointment basis for the remainder of the year.
As with all psychiatric disorders, treatment can only be administered upon acceptance of and admission of the problem. The next critical step to recovery, is "total forfeiture" of all bottles and bottle related items. Says Dr. Schoefhausen, "the cathartic effect of complete forfeiture has been shown to be so successful in the treatment of AOD, that patients will only be accepted when this important first step has already been taken."
In an effort to further this cause, and in conjunction with the Institute, the Bottle Den will be warehousing the former collections of the afflicted on a continual basis. You should carefully wrap each of the offending articles in bubble wrap and ship them to:
The Bottle Den
34127 Venice Park Road
Delafield/Summit, Wisconsin
53018
As with alcohol or tobacco addiction, we realize that in some cases the act of forfeiture may be difficult, and that is why we encourage the spouses or other affected family members to initiate this all important first step (if the victim is unable to). So often, it is the loved ones of the afflicted who suffer the tragic affects of AOD even more so than the afflicted.
We urge you to put an end to the misery now and begin the healing.
Julie M*** of Hartland, Wisconsin writes to us, "As I carefully wrapped each of Peter's rare clay beer bottles in bubble wrap, I could feel a great weight being lifted off my shoulders. Now that his collection is gone, we can spend quality time together. Thank You, Bottle Den !"
Says Sara ***bey of South Milwaukee, Wisconsin "I was so disgusted with Bob's bottle infatuation and uncontrolled spending that I was tempted to smash them all. But as I gently wrapped each of his rare colored Hutchinson, I felt a cathartic and peaceful mood wash over me. I'm sure he'll come to understand the wisdom of my decision. God Bless You, Dr. Schoefhausen, and many thanks to the Bottle Den."
Again, our shipping address is:
The Bottle Den
34127 Venice Park Road
Delafield/Summit, Wisconsin
53018
Act now, before it's too late !
Obviously, the "article" above is an attempt at bottle collecting humor. The facts and names are purely fictitious, though you may find a bit of truth in them. I'm sure that site visitors will recognize and send us more descriptive "disorders" for future publication. And . . . If you still want to send me your rare antique bottles, call or email me for my real address--I will accept them. -Wil
3/26/2006
History of Wisconsin Antique Hutchinson Bottles by Bob Libbey
3/26/2006
Hutchinson soda bottles are a unique type of antique bottle that had a wire stopper inside the neck and blob of the bottle. We collectors often refer to them simply as "Hutches". The wire piece that makes up the stopper on the bottle is slightly hourglass shaped. It is made out of one piece of wire (bent in half) to form this shape. On one end, there is a rubber gasket (held in place by washers welded to the wire). Once the stopper is placed inside the bottle, the rubber gasket winds up on the inside (where the contents are). The gasket is designed to seal the bottle below the neck at the shoulder of the bottle from the inside. The rest of the wire loops upward and allows the bottle to be opened or resealed by the part of the stopper that extends up and out of the blob. The hourglass shape creates tension against the inside of the blob holding the stopper in position. It cannot be pushed completely inside the bottle when the metal wire is not corroded. Likewise, it is very difficult to pull the rubber gasket back out of the bottle because it is a very tight fit. The name "Hutchinson" refers to the original inventor of this type of stopper.
The bottle today is essentially named after the stopper. The bottles were designed to be cleaned and re-used by the bottler. This partially explains why many examples found today have 'case wear'. Original patents were issued in 1879, however, widespread use did not occur until into the 1880s. The bottle then had nationwide acceptance until the 19 teens. At this time, automatic bottle making machines appeared and crown-topped bottles effectively replaced hutches. Hutchinson bottles were originally shipped in crates upside-down. These crates or cases had odd sized holes in them. This may be why so many bottles have the bottler's initials embossed on the bottom. They would be easier to identify in the crate without having to remove every bottle. It may also partially explain why you see so much case wear at the base of these bottles (where they were unprotected).
Hutchinson sodas typically feature a strong (rounded) shoulder with a small neck. Earlier bottles in the evolution of bottle form often had longer necks with more sloping shoulders. (Please see the blob soda gallery for examples). In Wisconsin, there are three general sizes of Hutches. The most common is pint sized but there are over sized examples (usually taller and thicker) and quart sized bottles as well. The bottles are usually aqua in color with a green or blue tint. There are some examples in clear glass, and others in unusual colors such as cobalt, saphire, amber, olive green or citron (yellowish green). The bottles were hand-blown by glassblowers and at times (if you are lucky) they can be found crudely formed. They can have whittle marks, bubbles, swirls of slag glass, thickly blown bottoms, sunken in blobs or they can lean to one side. There are many different bottlers who used Hutchinson soda bottles scattered throughout the entire state.
The day of the Hutchinson bottle was a different era without expansive shipping networks or preservatives to extend the shelf life of the contents. When Hutchies were first used, sterilization through pasteurization had not yet been discovered! One odd myth about Hutchinson soda bottles is that the phrase "soda pop" originated with these bottles. This is ostensibly because of the popping sound made when the bottles were sprung open. While these bottles may have popped, the term 'pop' was used in print and advertising earlier than the invention of this bottle type. Thus, the term probably originated alongside carbonated beverages in closed containers.
If you have bottles or bottlers from Wisconsin that are not shown in this gallery, I would love to hear from you. There are many bottles both rare and not so rare that are not shown because I don't have them and no-one has sent me photos. If you could add to the gallery, I will post and accredit your photos if desired. I have already uploaded the bulk of my Hutchinson collection but I will add new bottles as I get them. Once again, if YOU can fill some of the many gaps in the gallery, I would appreciate it. Any questions, comments, feedback, or other input is also appreciated. I can be reached via email. I hope you enjoy the gallery and that you love collecting these beauties as much as I do! Thanks, Bob
3/15/2006
Glass Bottle Manufacturing In Milwaukee by Marty and Donna Kupferschmidt
3/15/2006
Several glass factories, mostly along the Fox River and Lake Michigan, where sand was available to make the "gummy metal," were started...and failed in Wisconsin. One such small factory, that made window glass, sprouted up in Omro in 1876. It failed the following year.
No other glass factories were in existence in Wisconsin until the beginning of 1880, when Enoch Chase set up plans to build a factory in Bay View to produce bottles for local breweries. He built The Bay View Works, which housed two melting units, on his farm near the southern limits of Milwaukee, which was at Lincoln Ave. Dr. Chase retained full ownership of the smaller furnace, while the Chase Valley Glass Co. No2, a corporation, owned the larger. Capitalization of the firm was $24,000. The corporation had authority to make glass and glassware of all kinds, as well as to sell and trade the products. Dr. Chase was president and held a controlling portion of The Bay View Works' stocks. By late August, skilled workers from the East started to arrive and management took out ads in The Sentinel, urging neighborhood children to bring in old and broken glass to The Bay View Works to glaze melting pots and quicken fusion of the glass batch. The first glass produced was on September 1, 1880, as large crowds gathered to watch. According to The Sentinel reports, 13,000 bottles were produced daily and, at the annual "fire" or blast, 3,000,000 bottles were produced. Though these numbers aren't great by today's standards, to get those numbers by hand-blowing, all workers had to work very hard under 2600 degrees of heat. Hard and hot work was rewarded with good pay, as glass workers received good wages compared to other occupations.
"Dr. Enos Chase, proprietor of the Chase Valley Glass-works, was mad yesterday. Mad hardly expresses it. Some of the workmen wanted a holiday and so they slyly put fresh sand in the working crucibles, which compelled a shutting down of the works until the additional sand melted." (#1)
After one year of operation, The Chase Valley Glass Co. #2 reorganized to become the Wisconsin Glass Co. with a capital investment of $30,000. With this reorganization, Guido Pfister, a well-known Milwaukee businessman, succeeded Chase as president.
"The buildings of the Wisconsin Glass Company, on Lincoln avenue, cover a large tract of ground and are very conveniently arranged near the railway tracks. Only three years ago, this same piece of land was a swamp, but now it has been graded and resounds with the hum of busy industry. The Company only manufactures bottles, but these bottles range all the way from a two-ounce apothecary's bottle to a sixteen-gallon carboy. With W.E. Slimm, a son of the superintendent, for a guide, a reporter for The Sentinel yesterday made a tour of the works.
The first thing done is the manufacture of the huge "melting pots" in which the glass is melted. They are made from German fire-clay and will hold one ton of molten glass. The clay is obtained from Germany and is carried as ballast by the vessels which bring it here. The clay is mixed with water until it has arrived at about the consistency of dough. It is then laid out upon the floor, which is kept scrupulously clean, and further mixing is done by boys who tramp upon it with their bare feet. This is kept up for about three days and then the clay is ready for molding. After the feet get through, the hands come in for their share of the work, for all of the molding is done by hand. The bottom is first laid on a layer of gravel, this being necessary as when it shrinks the gravel moves and the shrinkage is equal. When completely molded they are allowed to slowly dry, this drying process taking about four months. They are then placed in the furnaces by means of a huge machine with an iron tongue on which the pots are hung. The fires of the furnace are burning very low when the pots are first put in. The mixture of lime, soda, salt, etc., of which the glass is made is then put in and the fires are gradually increased. Hotter and hotter the fires become until everything in the furnace is at a white heat, until the temperature nearly approaches 3000 degrees, and in the shade at that. It is during the night time that the melting is done and at 7 o'clock in the morning the gang of glass-blowers come on. Each furnace contains ten pots and there are three large furnaces. Two men and one gathering boy work at each pot. The process of blowing the bottles is an interesting one. A number of long hollow iron tubes are arranged in a rack. The boy takes one of these and plunges it in the molten glass. A large chunk adheres to it and the boy then draws it out and wipes the tube with a sponge. The man then seizes the pipe and rolls the lump upon a stone in front of him. After rolling it until there is no air in the glass, he blows into the tube and then, after a few swings, drops it into an iron mold which is fastened at the bottom of a platform on which he works. With a lever, worked with his foot, he closes the mold and blows into the tube. The result is that the glass is blown out into the shape of the mold. With a motion of his foot he opens the mold and draws up the bottle, which is minus a neck. Another workman picks up the red-hot glass with a pair of large pincers, places the bottle in a last, and with a few turns, the neck is formed and a perfect bottle is rolling around in a hollow iron tablet, on which it is thrown. A dirt-begrimed boy, armed with a two-pronged fork, and looking like a miniature demon, rushes up, and in an instant the bottle is in the annealing oven. The fire in the annealing oven is kept at about the temperatures of the red-hot glass until evening, when it is allowed to die out, thus cooling the bottles gradually. The entire process of blowing and molding consumes but a fraction of a minute, and two men and a boy make about ninety-five dozen quart bottles in one day. The journeymen glass-blowers were all healthy-looking men, some old, others quite young, and seemed not to mind the heat in the least.
"What are the men paid per week?"
"Oh, they are down-trodden working men. They only make from $30 to $45 a week, and, they have got one of the strongest unions in the country. It made me tired to read Congressman Guenther's speech about any tariff on glass bottles coming out of the 'poor, down-trodden workingmen.' Why, German manufacturers can undersell us right here in Milwaukee, but," added the young man, "they can't make better bottles."
"Whom do you sell to?"
"We ship all over the Northwest and sell a great many in Milwaukee to the manufacturers of bottled beer." From which, taking everything into consideration, the works, the quality of the glass and prices, which are low, ranging according to the size of the bottles, it is to be inferred that Milwaukee may well congratulate herself on her glass manufacturing industry." (#2)
Under Pfister, capitalization grew, gradually, up to $150,000 in 1885. Pfister, during this period, added a third furnace. This furnace allowed the annual output to increase to 50,000 gross and expanded glass production to include table glassware, fruit jars, prescription, beer, cider and ink bottles, pocket flasks, carboys and window panes. Available colors were amber, dark, green or blue. At that time, blue glass was thought to possess special curative properties for plant and animal life and growth.
The diversification of product marked the start of The Wisconsin Glass Co.'s collapse. In order to be profitable, a glass company needed to specialize in a product. The second threat to the livelihood of The Wisconsin Glass Co. was its out-of-state competition's access to cheap fuel, natural gas, which allowed them to undersell The Wisconsin Glass Co. Thirdly, and most damaging, were a series of strikes about wage cuts and disagreements beginning in 1885 and culminating in the labor upheavals of 1886 in Bay View. As a result of the wage negotiations of the window glass workers, the window house was down for a part of the 1885 blast in September. After that, production slowed down considerably.
"About 100 glass-blowers find employment in Milwaukee and Bay View. The works of the Wisconsin Glass company on Lincoln avenue are primarily an American green-bottle concern, while the Standard Art Glass works in Bay View manufacture stained glass for windows and articles for the table. Green glass is less expensive than flint glass, which is absolutely colorless. The former, too, is without color when its density and mass is slight, but even in a common window pane the edge distinctly reveals the tint of the sea. It is principally blown into bottles of every variety and shape, beer bottles for the brewers predominating. The substances which form the basis of all varieties of common glass are silica as the acid element; soda or potash as the alkaline base, and lime and oxide of lead as the alkaline earths. To the latter ought to be added baryta and alumina, the former being used in the place of lead, and the latter being a common ingredient in certain kinds of glass.
The melting pots are made of the finest clay, great care being necessary in the selection, as the presence of any foreign particles will injure the crucible. A fine powder procured by grinding old pots is generally mixed with virgin clay. The ingredients are worked into a paste in a large trough, and afterwards trampled upon until the admixture becomes as tough as putty. It is then made into rolls and wrought, layer upon layer, into a solid and compact body, which shrinks about two inches in drying. In the construction of a furnace the principal objects to be kept in view are the production and maintenance of an intense heat, and its uniform distribution throughout the oven. The form is generally square or oblong and circular.
Bottle glass varies in tint from the dark green, almost black, to the semi-transparent claret bottles to clear and transparent qualities. The materials ordinarily employed are common sand, gas-lime, brick clay, common salt and soap-boilers' waste. In a common bottle house the furnace is oblong, and is erected in the center of the brick cone, above a cave, which admits the air to the grating. The working holes of this furnace, opposite each pot, for putting in the materials and taking out the liquid glass, are each about one foot in diameter. At each angle of the furnace there is also a hole about the same size communicating with the arch and admitting the flame from the main furnace.
After the metal has been skimmed, the person who begins the work is the gatherer, who, heating the pipe, gathers on it a small quantity of metal. This pipe or blowing tube is of iron about seven feet long. After allowing the first dip to cool a little, more is gathered until there is sufficient for one bottle. The gatherer then puts the metal into a brass or cast-iron mold of the shape of the bottle wanted, and, continuing to blow through the tube, brings it to the desired form. The blower then hands it to the finisher, who touches the neck of the bottle with a small piece of iron dipped in water, which cuts it completely off from the pipe. He next attaches the punty, on which is a little metal gathered from the pot, to the bottom of the bottle, and thereby gives it the shape which it usually presents. The finisher then warms the bottle at the furnace, and taking out a small quantity of metal on what is termed a ring iron, he turns it once round the mouth, forming the ring seen at the mouth of bottles. He then employs the shears to give shape to the neck. One of the blades of the shears has a piece of brass in the center, tapered like a common cork, which forms the inside mouth; to the other blade is attached a piece of brass, used to form the ring. The bottle is then lifted by the neck on a fork by a boy, and carried to the annealing arch, where the bottles are placed in bins above one another. This arch is kept a little below melting heat, till the whole quantity, which amounts to ten or twelve gross in each arch, is deposited, when the fire is allowed to die out.
Sheet-glass making involves the blowing of the cylinder and the opening and flattening of the glass. Radiating from the work holes and raised about seven feet above the floor, are long stages with an open space between each to allow the workman to swing about his long tube in forming the elongated cylinder of glass. When the metal is ready, the blowers take their stations, each having his own pot and also an assistant. After gathering about twenty pounds of metal, the workman places it in a horizontal position in the large hollow of a wooden block, and turns it into a solid cylindrical mass. In the meantime, the assistant, with a sponge in his hand, and a bucket of water by his side, lets a fine stream of water run into the block, which keeps the wood from burning, and also gives a brilliancy to the surface of the glass. The water, the moment it comes in contact with the glass, is raised to the boiling point, and in that state does no injury to the metal. But it is only when the metal is at a high temperature that such is the case; for whenever the glass is cooled to a certain degree, it immediately cracks upon coming in contact with water.
When the workman perceives that the mass of metal is sufficiently formed and cooled, he raises the pipe to his mouth at an angle of about 75 degrees, and commences blowing it, at the same time continuing to turn it in the wooden block, till he perceives the diameter to be of the requisite dimensions, which are usually from eleven to sixteen inches. The workman then reheats the cylindrical mass, and when it is sufficiently softened commences swinging it over his head, continuing to reheat and swing till he has made it the desired length. The ends of the cylinder are cut off, and then the tube is ready for flattening.
To accomplish this the practice is either to lay the cylinder horizontally on a bench, and draw a red-hot iron two or three times along the inner surface, or to split it with a diamond cutter fixed in the cleft of a stick and guided from end to end by a straight edge. The cylinder is then taken to the flattening kiln, and placed in the oven with the split side upwards. In a short time it becomes softened by the heat, and by its own weight falls out into a flat, square sheet. The flattener, with a piece of charred wood, rubs it until it is quite smooth, and then places it on edge in the annealing arch, where it remains about three days.
Colored glass is produced by adding small quantities of various metallic oxides and other mineral substances, while the ordinary materials are in the melting pot. Blue is obtained by the use of cobalt; yellow by uranium and salts of silver; green by oxide of chromium; red by cuprous oxide; ruby, carmine and pink by a compound of gold with a tin oxide. Colored sheet glass may be either composed of pot metal or it may be of "flashed colors." Pot metal consists of glass uniformly colored throughout, while in flashed colors the body of the glass is transparent sheet metal, covered on one surface only with colored glass. (#3) The labor tensions of 1886 shut The Wisconsin Glass Co. down completely.
In 1888, Arthur P. Ayling, an experienced glass maker from Ohio, became president of an entirely new corporation called Cream City Glass Co. The Cream City Glass Co. leased part of the factory for the specializing in beer bottle production, with capitalization at $20,000. In 1891, its capitalization stood at $50,000. By 1892, Cream City Glass Co. enjoyed much success. It's output of glass bottles and fruit jars had a market value of $237,000. Cream City Glass Co. employed 260 people, with total wages of $117,000.
Success died, however, in 1893 with the Depression. The Depression caused a sharp decline in all phases of glass manufacturing in Milwaukee. The Cream City Glass Co., despite its boom years of 1888 through 1892, could not recover and was taken over in 1894 by the Northern Glass Co. Former president Ayling became the treasurer. This new firm, incorporated at $200,000, could purchase, sell or lease formulas and processes for glass making, as well as actually manufacture and sell glassware. This corporation lasted only two years, however, because of inferior or worthless bottle manufacturing due to the use of iron slag as a batch ingredient. This problem, pondered by Mrs. Ayling, was brought to William R. Franzen.
Franzen became president of Northern Glass Works on June 18, 1896 with a capitalization of only $10,000. Arthur and Cora Ayling were co-incorporators. To become successful, Franzen enlisted the help of glass makers to produce a quality product of "soft metal" (glass). No more iron slag was used to produce glass.
Under Franzen, Northern Glass Works soon exceeded the success of any of its predecessors. When it was reincorporated in 1900 as Wm. Franzen & Son, the firm's capitalization rose to $300,000. Although skilled hand gatherers increased the production costs, the use of cullet in the batch reduced operation costs. Through the use of semiautomatic machines and recently developed tank furnaces, the annual output of bottles reached 300,000 gross. Milwaukee brewers were the largest purchasers of Franzen bottles; other brewers bought them as well.
Unfortunately, Prohibition put an end to Wm. Franzen & Son. Makers of near beer and soda and contractors of home brew could not keep them afloat. Dissolution of Wm. Franzen & Son, by a unanimous vote of 600 shares, came on December 24, 1921. The glass bottle industry of Milwaukee came to an end.
Bibliography
Historical Messenger of the Milwaukee County Historical Society, September 1962, "The Glass Bottle Industry of Milwaukee, A Sketch," by Edward Noyes, pages 2-7.
The Sentinel: Milwaukee, December 2, 1881
The Sentinel: Milwaukee, February 10, 1883
The Sentinel: Milwaukee, April 11, 1886
12/18/2005
History of Wisconsin Antique Stoneware Bottles by Peter Maas
12/18/2005
Stoneware bottles were among the first bottles produced for Wisconsin brewers and merchants. The earliest were made in the 1850's, and more began to appear in the 1860's. The use of stoneware bottles peaked in the 1870's, and by the 1880's they began to fall out of favor. It appears that some were still being used even in the 1890's, but by the turn of the century they had become obsolete.
Stoneware bottles were made by hand, mostly turned on a potter's wheel using imported clay. Some were made in plaster molds. Wet liquid clay, about the consistency of syrup, was poured into a mold. The plaster absorbed the moisture at the point of contact with the mold creating solid walls. The remaining liquid was pored out and when the mold was opened the bottle was formed. The formed bottles were then glazed on the inside only with an Albany slip glaze, and then were side stamped with the proprietor's name or the business name.
Most bottles were "salt glazed" by being fired in a kiln. The temperature increased to a point that was sufficient to vaporize salt thrown thru an opening in the kiln. This created a durable and attractive clear coating with a texture that sometimes resembles an orange peel. The glazing process was somewhat difficult to control. Factors such as temperature, location of the bottles in the kiln, the amount of salt added, the amount of time in the kiln, among others caused distinct differences in the glaze, so color varied greatly from batch to batch. It is also common to find flaws such as scorch marks, turkey eyes, thin or thick glazes. Some stoneware bottles had a glaze on the outside such as Wolf, Schinz, Lockwood and others.
The stamping process was also problematic. Clay bottles with weak, crooked, or inverted stamps are not uncommon. Stamps were sometimes obscured by the glaze. Some bottles were marked more than once. One apparently successful Wisconsin potter was either illiterate, had bad eyesight or both. Nearly every bottle he made had spelling errors in the proprietors name or used the wrong letters, such as an "8" instead of "&" (Menk, Simonds, Grisbaum & Kehrein).
Some bottles were earthenware, which is a lower temperature firing process. Earthenware bottles were less durable than stoneware and the glaze tended to flake off. The potters in Whitewater, Wisconsin made earthen wares exclusively. Their bottles were not incised however. A bottle from Schlachter in Sheboygan appears to have been made in Whitewater.
Clay bottles were not decorated but case markers were commonly used. Cobalt was added to the shoulder or lip to enable a bottler to spot his bottles from among others in a case without pulling them out to read the name. Markings used include a blue band around the shoulder (Husting and Gipfel), a blue lip (Werrbach, Liebscher), an "x" (Gray), vertical stripe (Henk), or a blue lip and shoulder (Munzinger). Graf & Madlener even used a cobalt flower as a case marker. Some bottlers enhanced the readability of their stamps by adding cobalt to them in the 1860's. This practice ended by the 1870's.
The shapes of Wisconsin stoneware bottles are distinctly different from bottles from other parts of the US and evolved over time. The shoulders were rounded rather than square as commonly seen in eastern stoneware bottles, and the necks tended to be longer and more tapered. The style of the lip evolved over the years, from a mushroom shape on the earliest bottles to a tall square style in later years. They were closed with corks and most used a serpentine wire bail that would swing up and over the cork to hold it in place, indicating that the contents were under pressure. Most held about 12 oz. of liquid, while a small number were made in a larger 32 oz. size.
We may never be sure what products were sold in many of the stoneware bottles. Markings rarely identify the contents. However, it appears that most contained beer or soda, since most of the bottlers who used stoneware bottles made those products. It seems possible that many if not most stoneware bottles were used for non-alcoholic drinks like ginger ale, root beer, flavored sodas and mineral waters. Many bottles from other parts of the US identify the contents as non-alcoholic products. There is a Root Beer from Wm Ehrman, a Ginger Ale from Zink & Rabidaeu, a mineral water from Henk, and an ale from Sanders. Clearly stoneware bottles were used for a variety of products. Clearly stoneware bottles were used for a variety of products.
Most of the stoneware bottles used in Wisconsin for beer and soda were stamped with the bottler's name. This was done because clay bottles were expensive so they were refilled as many times as possible. Unlike stoneware bottles from the eastern United States, Wisconsin bottlers usually also included the name of the town/city and state along with the proprietor's name. It is not known if paper labels were used on stoneware bottles. It seems likely that at least some did, but the only example I am aware of is a whiskey from Watertown, Wis.
There were many Wisconsin potters that produced salt glazed wares that probably also made bottles. Evidence suggests that the Charles Hermann factory in Milwaukee produced many of Wisconsin's stoneware bottles. They were undoubtedly many other potters as well. The only known potter signed bottle is from GUNTHER & BERNS of Sheboygan.
The main advantage that stoneware bottles offered was that they were readily available. A small operator could deal directly with a local potter, could order in small quantities, and could get them made quickly. The alternative was to order glass bottles from an out-of-state glass manufacturer, where minimum order quantities were higher, lead times longer, and freight cost more. It appears that none of the large Milwaukee brewers like Best, Pabst, Schlitz, Blatz, or Jung used stoneware bottles, although there is a Blatz branch bottle from St. Paul, Minnesota.
Why did people stop using stoneware bottles for beer and soda? There are several apparent reasons. Glass bottles were becoming more readily available and less expensive, especially after 1880 when the Chase Valley Glass Company opened. Consumers could see what they were about to drink from glass bottles and it was easier for bottlers to make sure they were clean before refilling. Glass offered the advantages of less weight and more consistent capacity.
Stoneware bottles reflect of the primitive existence lived by early settlers. They were simple utilitarian vessels, yet they were extremely tough and durable. They could be used over and over, and often would not break even if dropped on a hard floor. Each bottle has unique characteristics of glaze, color, and form. They are not widely collected, are relatively available, and new varieties are constantly turning up. There are over 100 different varieties known from Wisconsin alone, far more if you include variants such as double stamps, color differences and other differences. Stoneware bottles have always been one of my favorite categories.
Following is a list of all of the Wisconsin companies that I am aware of that used stoneware bottles.
Phillip Altpeter - Milwaukee
G. Banse Co. - Cedarburg
John Berg - Milwaukee
Blatz - Milwaukee (St. Paul Minn.)
Chatfield - LaCrosse
N. Eberl - Wisconsin Rapids (Grand Rapids, Wis.)
John Enes - Milwaukee
J.B. Ferstl - Ashland
Dr. Fricke - Cedarburg
Charles Gipfel - Milwaukee
Graf & Madlener - Milwaukee
John Graf - Milwaukee
C. Gray - Janesville
W.H. Gray - Milwaukee
Grisbaum & Kehrein - Milwaukee
H. Grove - Madison
Gunther & Berns – Sheboygan (stoneware manufacturers)
E.R. Hantzsch - Eau Claire
A.C. Henk – Waukesha
Henk & Co. - Milwaukee
F. Hens - ?
S. Hickey - Milwaukee
A.J.H. - Racine?
Hopkins & Co - Milwaukee
Huchting Brothers - Madison
E.L. Husting - Milwaukee
G. Karl – LaCrosse (Gustav Carl)
S. B. Kupfer - Kenosha
L. Liebscher - Milwaukee
Liebscher & Berg - Milwaukee
Lobb & Bond - ?
J.H. Lockwood - Fond Du Lac
Meeske & Hoch - Milwaukee
I.S. Meister - Milwaukee
F. Meixner - Milwaukee
Th. Menk – Watertown
Th Menk - Waterloo
Ch. Munzinger - Milwaukee
B. Niehoff - Eau Claire
North Lake Brewery -North Lake
Jos. Pantz - Milwaukee
R.P.S. (R.P. Sanders) - Milwaukee
A. Schiffmann - Oshkosh
L. Schiffmann – Oshkosh (son of Anton)
Henry Schinz - Milwaukee
Schlachter - Sheboygan
H & J. Schulkamp - Madison
R. Schwalbach - Newberg
F. Schwartz - Milwaukee
Simons - West Bend
P. Stamm - Fond Du Lac
Taylor & Bro. - Milwaukee
Wm. Weber - Racine
Wm. Weber - Grafton
John Weissenberger - Milwaukee
L. Werrbach - Milwaukee
Welms – Milwaukee (John Wilms, South Milwaukee)
Whitewater – various potters in Whitewater made bottles (unsigned)
Wolf & Seward - Milwaukee
Jos. Wolf - Milwaukee
O. Zwietusch - Milwaukee
A full catalog of as many Wisconsin stoneware bottles as possible is available here. If you have or know of one that is not listed please contact me with a description and photo if possible. We will credit you for the contribution.
11/26/2005
Chase Valley Glass Company by Peter Maas
11/26/2005
The opening Chase Valley Glass Company marked the beginning of a 30-year era of glass manufacturing in Milwaukee. Although the Chase Valley works operated only one brief season, four successive glass works operated at the same location. The Chase Valley glass works also left behind a rich legacy of bottles and flasks for collectors.
COMPANY HISTORY
When Vermont native Dr. Enoch Chase settled at the site of present day Milwaukee in 1835, he was one of the first whites in the area and was Milwaukee's first practicing physician. Dr. Chase lived in Milwaukee and practiced medicine until the 1870s when health problems forced him to give it up his medical practice. In 1876, he and his son George started a brick manufacturing business on his farm at the southern city limits making Milwaukee's famous cream-colored brick. About the same time, a former Pittsburgh glass factory manager approached Dr. Chase about starting a glass factory in Milwaukee. The proposition seemed to make a great deal of sense. There was tremendous demand for glass bottles and no local producers. The Chase farm was in an ideal location near rail and water transportation. In addition, the two key ingredients needed for glass production, sand and fuel, also happened to be key ingredients used in brick-making.
In March of 1880, Dr. Chase announced that an analysis of the sand found near the Milwaukee harbor showed that it consisted of 60% silica, making it suitable for glass making. He also announced that he had managed to build an experimental furnace and showed samples of clear glass bottles that he had produced using the local sand. Dr. Chase said that it was his intention to build a glass bottle factory on his property directly south of his brick works.
Dr. Chase's marketing strategy would be to target mainly the brewing industry. He estimated that the Milwaukee breweries alone purchased over 8 million bottles annually. While he believed that there was other potential business besides beer bottles, Dr. Chase felt that the brewing industry offered the greatest immediate opportunity. Milwaukee brewers had established highly effective marketing networks to sell bottled beer nationally and even internationally. With the recent adoption of pasteurization, the bottled beer business in Milwaukee was booming.
Construction began almost immediately, and by May of 1880 was nearing completion. The works consisted of two separate business entities housed in separate buildings. The first company was Chase Valley Glass Company No. 1. It was located in the south building and had a 4-pot furnace, which the Milwaukee Sentinel described as "experimental" in nature. Dr. Chase owned 100% of this company. Company No. 1 employed two of Enoch's sons, Clarence and Clifford, along with eight blowers and thirty other men and boys.
The second company was Chase Valley Glass Company No. 2, which was located to the north of Company 1. It had a coal-fired furnace with 8 pots, each with a capacity of 1800 to 2000 pounds of glass. It had a specially design that used less fuel than conventional furnaces of that time – an important competitive advantage.
Chase Valley Glass Company No. 2 incorporated on August 2, 1880. Dr. Chase owned a controlling interest in this firm. Other owners included Guido Pfister and Fred Vogel (co-owners of a nearby leather tanning business) and C. J. Meyer. The Plant Superintendent was Joseph Slimm, who had previously worked at the Pittsburgh based A. & D. H. Chambers glass works for a number of years. He had also served as superintendent of the A. J. Mansfield glass works in Lockport, New York. The Fireman was Joseph Jones. Company No. 2 employed 16 blowers and 35 others.
The typical glass blowing season, or "blast," ran from September thru June, because as the Sentinel puts it, "the blowers will not work during July and August." By the end of July, Joseph Slimm returned from a recruiting trip to the east (probably Pittsburgh) with the last of the experienced glass workers needed to start up the plants. Most of the experienced managers and blowers had already been hired and brought to Milwaukee.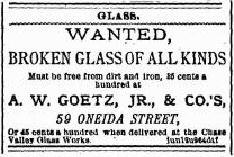 In August, an advertisement began to appear daily in the Milwaukee Sentinel, offering to pay 45 cents per hundred pounds of glass delivered to the Chase Valley works, to be used for cullet to glaze the new pots. Children were also encouraged to gather broken glass.
The opening of Dr. Chase's glass works on September 1 attracted hundreds of visitors, including local business representatives as well as many women and children. According to the Milwaukee Sentinel, "Not much real work was done on the first day of regular production as blowers spent much of their time entertaining visitors and creating souvenirs such as Jacob's Ladders, canes, soup ladles and other fancy items for visitors to take home with them."
The furnaces burned 24 hours a day, but bottles were produced only during the day, starting at 7:00 A.M. Blowers worked in pairs, one pair per pot. Standing on a platform, one worker would withdraw a small gather of glass with a 5- foot blowpipe. He would blow to expand the gather slightly, and then would roll it on a rough marble slab to shape it for the mold. The blower placed it into the mold, closed it, and then blew vigorously for a few seconds. The mold was opened and the bottle withdrawn. The lip was applied and the bottle was placed in the annealing oven, where it was gradually cooled over a 24-hour period.
Blowers were paid by the piece, and made an average of $6 to $7 per day, which at the time were excellent wages. The factory was extremely hot, and the workers were "wet as drowned rats" according to the Sentinel. Combined capacity for the glass works was about 13,000 bottles per day, or 3,000,000 per season. The bottles sold for between 6 and 8 cents each.
Company No. 1 brought its sand from Greenfield, Wisconsin, while Company No. 2 brought sand in ships from the opposite shore of Lake Michigan. The other necessary ingredients were imported from the east, including soda ash, salt lime, and colorizing agents.
When factories 1 and 2 opened, there were plans to immediately build a third bottle factory, and possibly a forth dedicated to window glass. Plans called for the third factory to be completed by October 1, 1880. However, for unknown reasons it did not materialize.
In early November, just three months after opening, Factory No. 1 closed temporarily pending resolution of a dispute over furnace design patent royalties with a Mr. Johnson. Dr. Chase settled the claim out of court and installed the new furnace technology in Factory 1. It was already used in Factory 2. By December 3, the remodeling was finished and Factory 1 was back in production.
The glass works operated without major incident through winter and spring. The Sentinel noted that there were many visitors to the plant, that production consisted mainly of beer bottles and fruit jars, and that it was running at full capacity. In May of 1881, Dr. Chase announced that the third factory would be build immediately, but again it did not happen.
In July of 1881, the Chase Valley works closed for the summer. Dr. Chase retired from the glass making business, selling Company 1 as well as his interest in Company 2. On August 16, after only one 9-month season of operation, the two companies reorganized, combining into a single entity called the Wisconsin Glass Company. The company's former vice president, Guido Pfister became president, and C. J. Meyer and Joseph Slimm stayed on as vice president and plant superintendent.
It is unclear if Dr. Chase's reasons for selling were personal, financial or otherwise. However, he was 72 years old, he was suffered from health problems, and had other business interests to attend to, so it is quite possible that he simply decided to retire. Evidence does not suggest that the venture had failed. The Wisconsin Glass Company continued in the same facilities, with the same management and initially produced mostly beer bottles, although they later diversified the product line. The only apparent difference between the old firm and the new was the new name and the absence of Dr. Chase.
COLLECTING THE BOTTLES
Many examples Chase Valley Glass bottles have survived. Most are bottom embossed, and the great majority of specimens include the "2" designation. Undoubtedly, many of the Chase Valley bottles were unmarked, such as fruit jars and turn mold bottles. Most Chase Valley bottles did not carry a mold number, which became a common practice of the Wisconsin Glass Company, probably for quality or inventory control purposes. The Wisconsin Glass Company may actually have produced some bottles marked Chase Valley, since it was a common practice for glass companies to continue using old molds, sometimes without reworking them.
Typical bottom embossing includes C.V. No, 2 MILW, C.V.G. Co. No. 1 MILW, C.V.G. Co. MILW, C Co. 2 MILW, and C MILW. Most also have a numeric or alpha mold identifier in the center on the bottom. Mold numbers for factory 2 range from 1 to 23, and I have seen letters as high as W.
The most common bottles from factory 1 are coffin flasks that usually found in aqua and light shades of green and olive green. These flasks tend to be very crude, including the mold markings. There are also some examples of amber beer bottles from Factory 1 (see illustration). Some Chase Valley bottles do not have a factory designation, and could have been produced by either factory. Examples include beer bottles from brewers Charles Gipfel, E. L. Husting, and Louis Werrbach.
A twenty-gallon display bottle was blown for the Milwaukee Chamber of Commerce. It is unlikely that this bottle survived, but it was undoubtedly free-blown and unmarked.
Most of the bottles were amber, aqua, or shades of olive green. A druggist-style cylinder is known in brilliant teal blue, and there is a cobalt Lomax hutch from Chicago.
The quality of the glass and the workmanship of most of the bottles are comparable with that of other glass works of the time. Some of the Chase Valley product did not live up to the quality standards of the company - a common problem in piecework shops. Fortunately for collectors, some of these imperfect examples survived.
Most Chase Valley bottles found today are beer bottles without a bottler names embossed. There are several varieties of whiskey flasks and several household or druggist bottles. There are very few soda or mineral water bottles known –Hutchinson sodas and a quart soda. This confirms that the firms' strategy was to target the brewing industry. Milwaukee's largest brewers, such as the Best, Blatz, and Schlitz breweries may have used many of the unembossed bottles. Interestingly, these companies used paper labels exclusively in the 1880's. There are no known embossed bottles from Milwaukee from Best (Pabst), Blatz or Schlitz from the 80's, while there are many embossed branch bottles from this era.
The market for Chase Valley Glass appears to have been primarily Wisconsin, Minnesota and Upper Michigan. There are very few marked examples from companies outside of this area. I would be interested to hear if anyone has seen Chase Valley bottles from any other states.
Today, the site of the Chase Valley Glass factories is vacant and has been extensively filled. Some years ago my wife earned big points when she called me at work to say that a backhoe was working on the Chase Valley Glass site. At lunchtime, she picked me up and drove me there. There was a large hole, about 10' deep by 10' by 30', shored up with boards. There was no one there was a ladder standing in the hole. I immediately saw glass, and moments later was picking thru a 12" layer of solid glass near the bottom of the hole, using a larger piece of glass as a trowel. It undoubtedly was a cullet pile, all broken and mostly unembossed glass from the early 1880's – virtually a was a who's who of glass works of the time - De Stieger, Chambers, Cunningham, McCully, and a very occasional Chase Valley. Unfortunately, I had only a few minutes. I got some very curious looks from the group construction workers just back from lunch when I emerged from the wet and muddy hole wearing a business suit. Unfortunately, when I returned two days later to dig I found that the hole was filled.
If anyone has new information about CVG or it's bottles I'd love to hear from you. Peter Maas pmaas@att.net or 262-966-3473.
11/18/2005
Kroll's Latest Gift For Wisconsin Collectors by Steven R. Libbey
11/18/2005
Wayne Kroll reasserts his super hero status for Wisconsin beer bottle collectors and brewery aficionados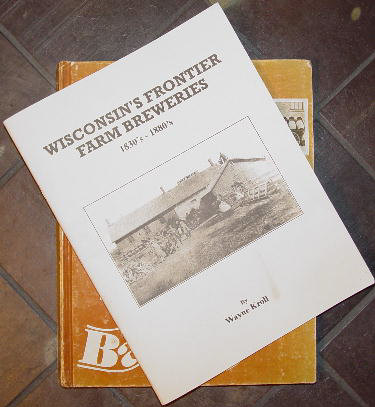 How quickly does hunting for and collecting artifacts evolve into a love for the history that makes the items more than just shiny/colorful knickknacks? Wisconsin's Frontier Farm Breweries is for all of us who have reached that point in collecting.
Wayne Kroll begins this book by defining what a Farm Brewery was. He rolls quickly into synapses of what it was to be European settler in rural Wisconsin when Wisconsin truly was on the edge of the known world. Sure people stare and wonder how the Druids built Stonehenge or how the Egyptians built the pyramids. They were great societies with tens of thousands of slave laborers. More impressive from the perspective of our beloved author would be a small group or family of German immigrants scouring the wilderness to find just the right artesian water supply, digging and stone lining of cavernous hill side caves for refrigeration and the mining of ice from frozen lakes by hand. According to the author these Frontier Brewers were some of our states most hearty and industrial pioneers.
Kroll follows the defining pages by charting early Wisconsin brewers by county as best he could. Kroll makes a disclaimer that this charting is by no means complete. From our experience with Kroll's accuracy in Badger Breweries Past and Present I think it's safe to say he probably documented every one there was. (Except for PH. ECKHART in his hometown)
Kroll goes on to detail market factors including taxation and competition with the larger city breweries that put tremendous strain on the Frontier Brewers.
When it comes to bottles and their history I LOVE to see what I'm reading or thinking about. Kroll hits a grand slam home run in this regard! Pictures of early beer tax stamps to early photos of breweries to early lithographs of the brewery sites to new images of Kroll and his merry band of explorers in the actual 150+ year old brew caves are everywhere. The imagery is incredible. Just to see these beer caves is worth the pittance Kroll charges for his latest masterwork alone! Each image is paired with a historical blurb documenting the significance.
Kroll's grand finally is a detailed Walk through of one early Wisconsin brewing family's history. Kroll documents the processes the Beck family used to build and maintain their farm brewery from settling in rural Waterford in 1867 to their forced end of production in 1920 at the hand of prohibition. The Beck history gives the reader a clear view of the process including formulas, engineering and architecture that Frontier Farm Breweries counted on for success.
Wisconsin's Frontier Farm Breweries 1830's - 1880's is both educational and entertaining. While it took Kroll 27 years after publishing Badger Breweries Past and Present to get this book done it was worth the wait. Still, only 47 pages? My goodness that's just two pages a year since the last book! Sure it's two more pages of book than all but a select few Wisconsin collectors have written in that time. It just seems a bit light! On the inside front cover Kroll indicates this is but a prequel to a more substantial two-volume history of all Wisconsin breweries. For the time being we will have to hold off on the picketing of Wayne's house and accept the slight stature of this invaluable information pact historically significant documentation with a smile.
Thanks Mr. Kroll.
For your copy please contact Wayne Kroll W3016 Green Isle Dr. Fort Atkinson, Wi 53538 262-593-2338 Kroll@centurytel.net
8/1/2004
I wonder what happened? by Dan Gross
8/1/2004
A few Saturdays ago I decided to go out and dig a privy pit. It was a great day for digging. Temperature was in the low 70's and there wasn't a lot of humidity. I had recently found a city that I had never dug in before and it had lots of old houses with plenty of age to them. So, I decided to go to that city and try my luck. I got there about 9:30 (I planned to be there sooner but over slept a bit). I proceeded to look for a "good" house. I tried a few but no one seemed to be home. After about 4 tries I finally found someone home. I began talking to the owner and at first I thought he was going to say no as he began to tell me "Well, the yard is so small I can't see how there can be any thing back there" After a bit more talking he agreed to let me try. Well, he was right, it was a small back yard. It was bout 12' by 25' and the garage covered the rest. But, I found 3 pits!!! Before I knew it, the owner was all excited to see what would be found and I had a place to dig. We were both happy.
Digging a pit is pretty much the same thing each time. Probe for dimensions, clear the area as needed, get out the tools, lay out the tarps, set the sod aside(if any), and then dig. This first pit was pretty much the same as the hundreds I have done in the past. A few inks, a medicine or two and a couple of beers. The contents of the first pit were not unusual. I did find a few house hold bottles, some perfumes, and even a couple of pharmacy bottles. I finished it in about 2 hours and moved on to the second pit.
Most of the time when you dig one pit and it has just a few bottles in it the other pits have similar numbers and types of items. In other words, one clean pit usually means the other pits will be clean or nearly clean. While this is not a guaranteed rule, in my experience, it is true more often than not. Since the first one only produced a dozen bottles, well, you know. However, this second pit was VERY different as it had LOTS of bottles. By the time I had reached the 18 inch level in the second pit I had almost a dozen whiskey style bottles! of various styles and sizes. On top of that they were all hand made J. The bad news was that with only two exceptions none of them were embossed L. By the time I hit the 2 ½ foot level I had well over 40 of these whiskey bottles and one or two quart blob beers. A few local pharmacy style bottles started to come out by this time. As I dug down into the pit the whiskey bottles stopped but now the blob beers started. By the time I hit the 4 foot level I had almost 40 quart blob beers. Some where aqua, some were amber, but every last one them was NOT embossed L. In addition to these finds the local pharmacy bottles had also become very numerous about the time the beers started. I had almost 50 of these small pharmacy bottles. Unfortunately, only one was embossed. By now I was beginning to wonder what happened here? The pit was loaded but the individual types of bottles seemed to be stacked together by type.
It started with the whiskeys then switched over to the beers and about the time the beers started the pharmacies started. As the beers ended the pharmacies continued for a short while and then, near the bottom, the patent medicines started. There were of course other items in the pit. These other items were more of what would be expected. Here is a list of some of the other items that popped out. Plain cathedral pickle (12 inch) and an embossed pickle, 3 intact masons and several broken ones, at the top mixed in with the whiskeys were some insulators (about 10), one hutch, and one clay jug (no embossing), 2 perfumes and a salt sampler. I even found a bunch of porcelain buttons, a clay pipe and various Other items. Although I was having fun, this pit seemed to have an unusual mixture of items. Then, near the bottom the items changed again. I found one lone broken doll head, then below that there where no more local pharmacies but this is where the patent medicines started and continued until on the very bottom, I found the one item that I think tied it all together. On the very bottom was a baby bottle. It was cracked but still in one piece.
I have often dug these pits and wondered when was the last time a person used this item I just found. How did the item come to be here and not in a trash dump. I felt I could often imagine my self living back then. Based on my experience these and other questions are often discussed when we diggers travel back in time as we head towards the bottom of a pit. Often it's just the digger taking his modern experiences and applying them to these artifacts. But, sometimes, the objects tell their own story. Not everyone may agree with me but here is the story as I see it using the order, age, and number of the items.
Sometime in the middle 1880's a young couple bought an existing house and moved in after digging a new privy pit. It was a normal house for the time period and life was good. Almost at the same time as they moved in they had there first child. They were very happy. They even bought a nice quality porcelain doll for her to play with when she got older. Things went along just fine for a while with occasional splurges for perfumes and special foods. Some of these items, when finished, found there way into the pit. Even the baby bottle that was dropped and cracked was tossed into the pit.
Then, sometime in the late 1880's the young child became ill. The parents sent for samples of some wonderful "cure all" medicines. If one seemed to work, they got the full size bottle, if it didn't seem to work they tried another one. Nothing helped for long and it began bothering the father very much. Those darn medicines were not helping! He found the situation eating at him like a worm through an apple. He would take an occasional drink to escape. Time continued and by the early 1890's the daughter was much worse. They had given up on the patent medicines by now. They learned the hard way these were all just snake oil. They were now using the local pharmacy exclusively as these local remedies seem to provide at least some relief. Also by this time the father had developed a real drinking problem. He would very often go to the local saloon and drink, then, taking a bottle with him, he headed home making one last stop in the privy to take care of business and then toss the empty bottle into the pit. This was his only escape from his problems.
By the middle to late 1890s the medicines from the local pharmacy had stopped showing up in the pit. A broken doll had been tossed in the pit one night. The daughter was gone. The father became very depressed. His drinking got worse. He had switched over to whiskey to help him forget. About this time the house was updated to modern wiring. This is about the time the old insulators were tossed into the pit. This is were the pit stopped.
Is this what happened? No one can know for sure. But I still think some pits tell a story more than others.
I wonder what really happened?
2/12/2003
Three Heroes of Wisconsin Collectors by Steven R. Libbey
2/12/2003
"Must have" information for Wisconsin bottle collectors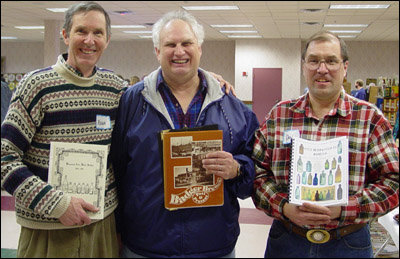 Wisconsin bottle collectors have three people to thank for a blueprint of what exists and of relative rarity/value when it comes to Wisconsin soda and beer bottles. Virtually every complex Wisconsin bottle collection is influenced by these books. A big part of fair market value is the rarity established by Roger Peters, Wayne Kroll and Dan Gross. I use Roger Peters' book as a reference in virtually every soda bottle purchase or sale I'm involved in. I use Kroll's book every time I find a beer bottle or consider buying one for trade or sale. I use Gross's book as a cross-reference and supplement to Roger Peters' book.
WISCONSIN SODA WATER BOTTLES 1845-1910 by Roger Peters Copyright 1996
Roger Peters' book is unbelievable in completeness and accuracy. The first dozen pages of WISCONSIN SODA WATER BOTTLES 1845-1910 do a remarkable job of describing different types of soda bottles and bottles soda water bottlers used. Don't fret beer bottle collectors! Roger Peters also includes hundreds of Weiss beer and pottery beer bottles.
The preface lays out a template for using this book as an informational source and collecting guide. WISCONSIN SODA WATER BOTTLES 1845-1910 features snippets of information about the actual bottling works in short text narratives preceding the posterized images of all the bottles Roger Peters could get pictures of before he published. Included in the narratives are dates bottlers were known to be in business, the proprietors, as well as a lot of different information that gives us a glimpse at to what soda water manufactures must have been like 100 to 150 years ago.
WISCONSIN SODA WATER BOTTLES 1845-1910 has a very good scale of rarity. Roger Peters went out on a limb and lists a dollar value for each individual bottle. Roger's values are a great base line. New collectors beware; bottles can sell for upwards of ten times estimated value! WISCONSIN SODA WATER BOTTLES 1845-1910 is an invaluable reference for every Wisconsin bottle collector. This book is a work-in-progress. Roger Peters is still collecting information for future editions. If you have information about a bottler or if you have a bottle that isn't listed, please send the information to us at Mr.Bottles, it will be promptly forwarded to Roger Peters.
WISCONSIN SODA WATER BOTTLES 1845-1910 is a bargain at about $30. If you don't have it get it! Contact Mr Peters at rpeters@facstaff.wisc.edu Or send $33.00 each, postpaid. Send money order or check to: Roger Peters 4333 DeVolis Pkwy Madison WI 53711
BADGER BREWERIES PAST & PRESENT by Wayne Kroll Copyright 1976
Wayne Kroll is truly the pioneer of Wisconsin bottle book authors. He published a full twenty years before either of the soda books. The preface of BADGER BREWERIES PAST & PRESENT has an excellent history of the packaging of beer in the state of Wisconsin as well as some helpful information for less experienced collectors of how to determine the age of bottles. The text of BADGER BREWERIES PAST & PRESENT goes into great detail about the histories of hundreds of individual beer bottlers in the State of Wisconsin dating back to the early nineteenth century. Wayne Kroll lists the dates the brewers were in business as well as the rarity of the known bottles in 1976. Although this book is twenty-seven years old, it still is significant to have a Wisconsin beer bottle not listed in BADGER BREWERIES PAST & PRESENT.
As a relatively new collector, I find it hard to imagine how thirty-year-old listings of rarity could still be so accurate. Wayne must have done an incredibly thorough job back then. Bottles are listed as rubbings of the embossing. Rarity is established by embossing, type of bottle and the glass company that manufactured the bottle. I collect soda bottles and I love this book. It has been another invaluable resource and reference for me while collecting.
Bad news… It hasn't been printed for twenty some odd years. You can occasionally find one for sale on eBay. Check your local library they may have one.
Good news… Wayne Kroll has been writing a new improved and updated edition for a number of years. We can only hope it goes to print soon. Wayne says it will be in two volumes. We will post any news of the release of this new version of BADGER BREWERIES PAST & PRESENT, as soon as we have it.
OLD WISCONSIN SODAS by Dan Gross Copyright 1996
Dan Gross does a very good job of defining the different types of bottles used to bottle soda water in the state of Wisconsin. The preface text of OLD WISCONSIN SODAS is a must-read for all Wisconsin soda bottle collectors.
Bottles are shown in different sections by type of bottle starting with Hutchinson and working through the different types of early soda bottles. Bottles are listed as rubbings of embossing. While I find the rubbings a little less satisfying than the, "posterized," images used in WISCONSIN SODA WATER BOTTLES 1845-1910, Mr. Gross supplements each section with actual photos of the bottles.
I have to say I love to really see the bottles and when I first started collecting I would look at the pictures in OLD WISCONSIN SODAS to see what the bottles I was searching for really looked like. Dan Gross asks for input for future editions in his text. It appears that he published so little that his book isn't available even on the secondary market. Let's hope Dan Gross republishes his old book or even redoes OLD WISCONSIN SODAS. I highly recommend this book for all Wisconsin bottle collectors. Good luck finding one.
The books are a breeze to read. The pictures, articles and illustrations are so simple to page through. If you've read these three books imagine the insurmountable task it must have appeared for the authors before they began their work on the book. Where would you even start? Wayne Kroll, Dan Gross and Roger Peters had the courage to take on the task and in all three instances did a thankless job to the benefit of every Wisconsin bottle collector. When you sell a bottle for a record price or find once that is extremely rare take the time to thank these guys. I've set a couple of record prices paid for Wisconsin soda bottles. To the people who sold them, you can thank these three authors. If it weren't for their books I wouldn't be a bottle collector. As a Wisconsin bottle collector, if you didn't read these books or at least look at the pictures you simply have to.
On behalf of every Wisconsin bottle collector thanks to Roger Peters for WISCONSIN SODA WATER BOTTLES 1845-1910. Thanks to Wayne Kroll for BADGER BREWERIES PAST & PRESENT. Thanks to Dan Gross for OLD WISCONSIN SODAS. We eagerly await the next versions of your books. You three are the heroes of everyone that collects Wisconsin bottles. We still need a Wisconsin milk bottle book and a Wisconsin medicine bottle book. How about it Mike Trost and Steve Hochhalter or anyone else?
1/1/1999
John Wilson Tumbling Instructions by John Wilson
1/1/1999
Editor opinion:
For those of you who don't know, John Wilson tumbled bottles as his full time job for over a decade. He knows what he's talking about and nobody can do a better job. He is so good people call bottles he has polished, "Wilsonized". If you have been cleaning your own bottles or if you intend to, take heed. I've seen some bottles of extreme rarity that were tragically over cut or over polished. My advice is, go easy tumble at slower speeds with less polish for a shorter period of time, or follow John's instructions to the letter. DO NOT OVERCUT!
John says about cutting with aluminum oxide or any other cutting agent, "Run on outside for a maximum of six hours." It's no joke, when cutting LESS IS BETTER! You can always re polish the bottle if you want. You can't go back and put the mold seams on or redo the embossing or put back the individual characteristics the mold left on the glass. A bottle with case wear and scratches is better than a bottle with no case wear, no scratches, no mold seams, reduced embossing and the overall soapy haze that over cleaned bottles have. When you over tumble you reduce the value of your bottle and alter an antiquity that it is your responsibility to preserve.
Thanks, Steven
LOADING INSTRUCTIONS
Pour copper into bottle.
Turn bottle horizontally and shake until copper is level.
Remove or add copper until bottle is half full as in fig. #1.
Turn bottle upright and shake until copper is level.
Pour compound slurry into bottle until copper is covered over ½" as in fig. #2.
Plug or tape mouth of bottle.
Wrap with foam or cloth until it fits snugly into the cylinder.
Put caps on the cylinder.
Put cylinder on machine and run for 3 to 6 days.
Rotate cylinder halfway through the run when doing multisided items.
OUTSIDE LOADING
Put bottle in cylinder making sure it is centered and sitting on all of the prongs.
See fig. #3.
Fill cylinder ½" to ¾" full of copper. Longer necked bottles require more copper. This process takes a little practice to get right every time.
Cover copper with slurry.
Take the plug apart.
Seat stopper and bottom part of the plug into the mouth of the bottle.
Assemble the rest of the plug and tighten the nut while pushing down on the plug to keep the bottle seated.
Use a nut driver or socket wrench.
Run for 3 to 4 days.
Rotate tube halfway through the run for sided items.
USING THE ALUMINUM OXIDE
P30 or 12 micron mix 1 tablespoon with 10 oz. water. 3 micron mix, 1 teaspoon with 10oz. water.
Mix slurry per instructions.
12 micron: Cover copper with slurry run on outside only for maximum of 6 hours.
Rotate after 3 hours if doing sided items.
When done, remove bottle and wash the bottle, tube and copper.
The bottle should appear frosted.
Replace bottle and copper and cover copper with P30 slurry.
Run for 3-4 days.
3 micron: Used as an inside cutter only. Run for 4-5 days. When done if the inside of the bottle appears to be a little hazy, rerun with P30 for a few days.
OTHER HELPFUL HINTS
When using the machine for the first time don't use an expensive bottle. Use cheap items until you are comfortable with the process. When doing any kind of polishing, make sure all dirt is removed from the bottle. One particle of sand will permanently scratch a bottle. Make sure your copper is kept free of contaminants. Make sure the slurry is shaken just before use. It will settle quickly. Once inside the tube or bottle, settling is OK. When it is run it will be stirred enough.
After the run is done, pour slurry and copper into a fine strainer and rinse with warm water. The copper is reused over and over. Just don't lose it down the drain. If the neck and top of the bottle don't come clean on the outside, add more copper. Use liquid toilet bowl cleaner to remove compound residue from the bottles. An old toothbrush works great to scrub the slurry off of the outside. Put cleaner, water and some copper in the bottle. Shake and rinse inside until clean.
1/1/1996
Otto Zwietusch by Peter Maas
1/1/1996
"As you enter the door, you sniff what seems to be the perfume of a thousand roses, but after becoming accustomed to the laden atmosphere the odors are easily traced to the bottles of sarsaparilla on the adjacent shelf. The proprietor was found a typical German; round faced, good-natured, and at once made the news hunter feel that he was welcome." Milwaukee Sentinel - July 5, 1878.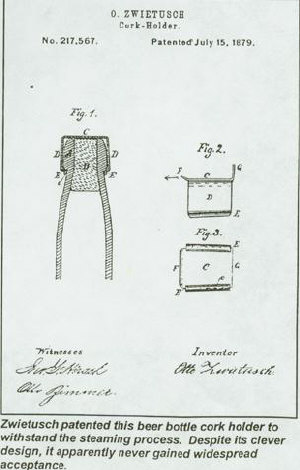 0. Zwietusch is a very familiar name to diggers and collectors in the Milwaukee area. We find soda bottles with his name regularly around here. Styles range from long neck blob sodas to early hutch - a span of 30 years. There are also some very unusual and interesting bottles from this company. Hoping to learn more about the man and his business, I did some research and the following is what I learned.
Otto came to Milwaukee from Germany in spring of 1856 at the age of 24 and worked in a machine shop for two years. In 1858 he started a brewery with Christian Forester, who had been a partner of brewer George Wehr since 1853. Zwietusch & Wehr were together until 1862. After that, Otto continued the business at the same location, but it is not known what became of Mr. Forster, and no bottles are known to exist from the partnership.
In the early 1860's city directories list Otto Zwietusch as a brewer. However, by 1864 Zwietusch stopped advertising beer, and instead advertised in the "Mineral Water Manufacturer" and the "Soda Water Manufacturer" sections of the Milwaukee city directories. Based on the size of these ads, he apparently sold more mineral water than soda. Most of the Zwietusch glass bottles from this period are traditional long neck blobs. It was reported that in 1866 a fire damaged part of his building. Aside from this report, there is little other information is available about the business in the 1860's.In December, 1872 Zwietusch started a $40,000 addition to his manufacturing and bottling plant. Besides adding capacity, new equipment was installed to enable him to bottle champagne and wine. Otto designed and built the bottling equipment used at his plant. The addition was completed in June, 1873. He invited a number of guests for a grand opening to see the new facility and introduce them to domestic champagne - a product formerly available only from foreign sources. According to the Sentinel, the guests "pronounced themselves highly delighted at the sparkle and vim of the Milwaukee imitation of a popular and fashionable exhilarant."
1872 also marked the first of over 50 patents eventually granted to him. This first patent was for equipment used to purify carbonic acid gas (carbon dioxide). Many of his later patents dealt with gas as well. It was said that he had a "decided genius for invention" and was a regular customer of the U.S. Patent office until about 1900. However, many of his later patents were related to the production of beer rather than soda. Designing, building and selling of bottlers' equipment was an important part of Zwietusch's business.
In 1873 he purchased the John Luddemann farm located two miles north of the soda works on the Milwaukee River for $9,000. His purpose was two-fold. The natural spring on the grounds which he called "Apollo Spring" provided a source for mineral water for the bottling operation. The resort also helped promote his products. He named the resort "Mineral Spring Park" and erected a 40' by 80' frame building on the site of the Luddemann home. It contained 16 apartments, parlors, a billiard room, and a restaurant. 480 trees were planted along the walkway to the river, which was also lined with "rustic seats, chairs, and tables."
In 1876 he purchased the Barstow Spring in Waukesha and opened a soda works in the basement of a building on Barstow's block to take advantage of the mineral spring water craze centered in Waukesha. Later that same year the building was destroyed by fire. His equipment was insured for $500, which suggests that the operation was rather limited in size. It is not known if this bottling works later reopened.
Zwietusch's business continued to grow,and by 1880 he employed 26 men. A large part of his business was the manufacture and sales of soda water fountains, drought and generating apparatus, patent beer preservers and other equipment. His soda fountain equipment was displayed at the Milwaukee Exposition and was widely used throughout the city. The 1881 "History of Milwaukee" noted that his manufactory is more complete than any west of New York, and that he supplies the trade throughout the Northwestern, Middle and Southwestern states. His wine cellar was originally used by the Blossom Brewery for beer storage in the late 1840's and early 1850's and was the first vault used for lager beer storage by the Phillip Best Brewing Company (later Pabst).
In 1880 Zwietusch was sued for $20,000 in damages by the G.H. Mumm & Co. Of Reim, France and the Appolinaris Co. of London for champagne and mineral water Trademark violations. He eventually won these cases.
Despite the fact that Zwietusch was a past President of the Anti-Prohibition Society, he recognized the potential of the growing temperance movement. In 1881 he purchased the patent rights to a non-alcoholic malt beverage from Dr. Charles H. Frings of Denver. The next year Otto founded a business called the New Era Brewing Company to market the product. In 1883 he founded the Milwaukee Malt Extract Company which purchased the rights to brew the product from the New Era Brewing Company, then purchased C. Muntzenberger Brewery in Kenosha to brew New Era Beer. Otto's brother Rudolph became the brewery superintendent and Dr. Frings was made general manager. The main sales office was located in Milwaukee with branch offices in Jacksonville, Florida and Philadelphia.

In the later 1880's Zwietusch founded or helped start several other businesses, including the Henry Schinz Bottling Company, the E. Griesbach Brewing Company, and the Joseph Shaver Granite & Marble Company.
Otto was active in local civic groups and politics. He served as the second ward assemblyman, trustee of the Milwaukee Turnverein and the Eintracht Society, and President of the Liberal Reform Union. He also served as the President of the Anti-Prohibition Society and as a delegate to the brewer's convention.
By 1890, Zwietusch had stopped bottling soda, ending a thirty year era of soda bottling in Milwaukee. Instead, he focused all of his attention to making and selling brewing and soda water bottling supplies and equipment. He continued to develop and patent processes and equipment for brewing until his death about 1904. His business was continued by his sons for a few years after his death.
Other than the old bottles that are found periodically, there is nothing left of his once-thriving business. The site of the business is now parking lot. Otto's most lasting achievement was the creation of Mineral Spring Park, which is now known as Riverside Park. It is one on Milwaukee's most charming parks. A small piece of flat land inside a bend of the Milwaukee River, it is completely cut off from the city by a hill and a limestone railroad trestle. There are no signs of the spring or resort, but it's not hard to imagine the nineteenth century visitors taking the Apollo Spring waters and enjoying this natural beauty of the park.
Zwietusch Bottles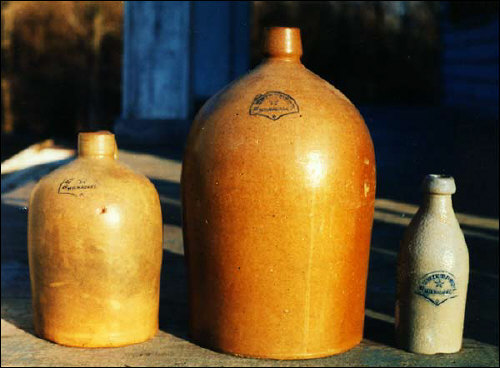 One of the earliest Zwietusch bottles is a salt glazed stoneware beer. It probably dates from the early 1860's when Zwietusch was primarily a brewer. There are also salt glazed jugs incised with the same stamp. This is interesting because some of the jugs were clearly made by the C. Hermann & Co. stoneware factory in Milwaukee. Local stoneware bottles are not marked by the maker so you can't tell who made them. The jug not only seems to prove that Hermann made the Zwietusch beer, but also suggests that Hermann made bottles for several other bottlers (such as Meister & Gipfel) based on the similarity of the stamps and glaze. The Jugs are probably the ones referred to in Zwietusch's 1870 newspaper ad as "original jugs". One of his patents was for a process for making stoneware impervious to acids. The glaze on the inside of stoneware containers often have pinholes that allow liquids to penetrate the glaze. The patented process involved immersing the jug in hot paraffin and some additives to seal the pores. It is possible that these jugs were treated in this fashion.
Stoneware jugs and beer bottle. Notice that the stamp is identical on all three. The jug in the center was made by C. Hermann & Co of Milwaukee which suggests that the bottle was also made by Hermann.
A very interesting Zwietusch bottle has a tall, tapered shape. The mold cutter had some trouble with the name. It is embossed Z. WIETUSCH / MILWAUKEE. There is only one known example of this bottle which was found in St. Louis. It is a smooth base, but it appears to date from the 1860's. It could have been used for either beer or soda.
Another unusual Zwietusch bottle is an aqua smooth base soda or mineral water with an abnormally large blob. It houses a coiled spring that rests on a ledge at the inside bottom of the blob. A rubber gasket is suspended from a wire attached to the top of the spring, which keeps the bottle sealed at all times unless the spring is depressed. The curious thing about the closure is that it would be nearly impossible to pour or drink from the bottle without some type of retainer to keep the spring depressed. It would also seem to be difficult to wash the bottle because the closure is not removable. This appears to be one of the first types of bottles that Zwietusch used. A Michigan digger found a topless green one and reported saw iron pontil marked fragments. Bottles with the same closure were used by J. & A. Lindestrom of Madison, Wisconsin. I've also seen an eastern American soda with a similar lip finish but no internal spring. Given Otto's creativity and tendency to design his own equipment it is possible that he designed the bottle and closure and sold it to other bottlers.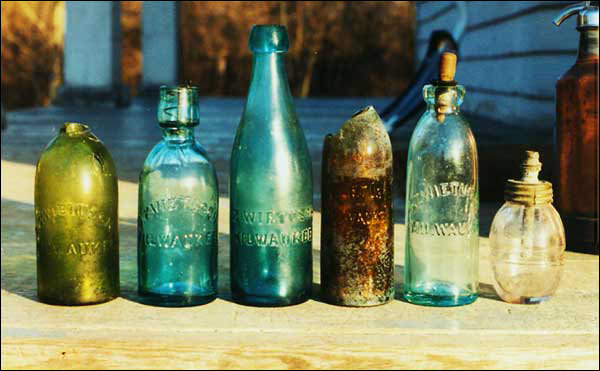 From left to right: The first two are early smooth base "coiled sprint" closure bottles. Number three has an extremely unusual shape and a spelling error - "Z. WIETUSCH" - This is the only known example. It could have been used for soda or beer. Number four is an amber Matthews, dug by Tim Wolter. No intact ones are known yet. Number five is a common aqua Matthews with a wooden stopper, the bottom is embossed "O.Z.". The clear grenade-shaped bottle was probably a component of some type of bottling or soda fountain apparatus. It is embossed "O.ZWIETUSCH" and is the only known example. In the background is a hammered copper seltzer water canister with new seltzer closure. It is incised with Zwietusch's name.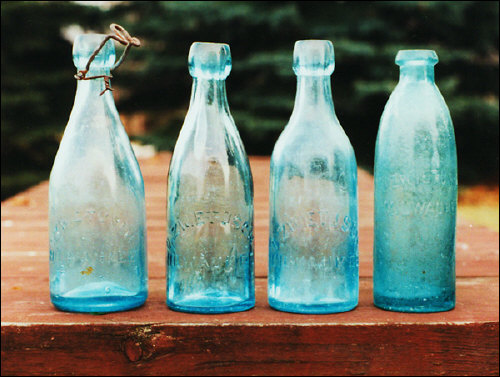 Most of the early soda and mineral bottles were the traditional long neck aqua blobs, although they tended to be somewhat more tapered than contemporary bottles. All are smooth base.
The first three are typical Zwietusch blob sodas showing the evolution of shapes over time from older to newer. At the far right is a John Matthews patent bottle. It has the usual Matthews bottom embossing and body style but a very unusual lip finish.
During the 1870's Zwietusch apparently mostly used bottles with the Matthews gravitating closure. They are very common in these parts and turn up consistently in 1870's period dumps and privies, a fact that attests to the popularity of his products. It is interesting to note that very few have the usual Matthews bottom embossing (most simply have an O.Z.) and that he apparently used mostly wooden Gravitating stoppers. Zwietusch was also one of only a handful of bottlers in the U.S to use an amber gravitating stopper bottle. In later years Zwietusch switched to Hutchinson style bottles which are also very common. The most recent of them appear to date from the late 1880's.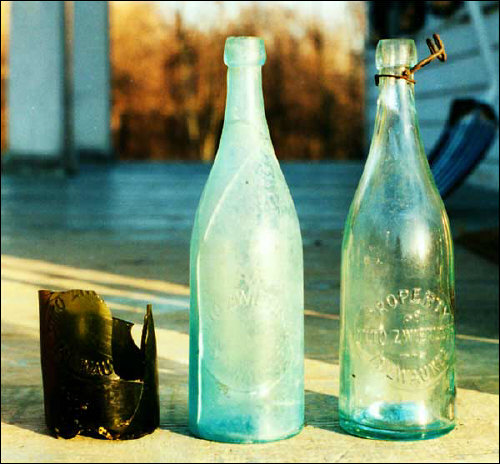 During the 1880's Zwietusch used some quart bottles. Two aqua varieties are known, One made by Chase Valley Glass and the other by Wisconsin Glass. Both of these bottles are very rare. Although they were probably used for soda, it is possible that they were used for wine or champagne. A broken one was found in a deep emerald green (Made by Wisconsin Glass).
Three very rare quarts. The deep green one with the lip chip is embossed "OTTO ZWIETUSCH / MILWAUKEE" in the slug plate and "WIS. G. CO." on the bottom. The one in the center is similar except that it's aqua and it came from a different mold. The third is a Chase Valley glass piece with different configuration of the name in the slug plate. They are probably sodas but could be wine or champagne.
1/1/1996
Digging Secrets Exposed! by Peter Maas
1/1/1996
Advice on privy digging techniques is plentiful these days. There are articles and bottle club programs on the subject. You can buy a booklet or video on how to get started. Most of them are quite good, but the authors seem unwilling to go beyond the rudimentary. They don't expose the advanced concepts that enable the best diggers to consistently find early, loaded privies. The reason they don't is fear of competition. After all, if everyone knew about and used these techniques, the supply of loaded privies could quickly disappear. This could be a mistake, but I'm going to expose some of these closely guarded secrets. To my knowledge, few of them have been published before. It would take years of digging and hundreds of pits to learn them on your own. If you follow these rules consistently, you can achieve results beyond your wildest expectations. At the risk of ostracizing myself from the digging fraternity, here goes:
Make sure that you and your partner do not talk about "feeling lucky". Luck is a silly superstition that has no place in an activity that is based on planning, skilled use of the right techniques, and hard work. Besides, if you do, your dig will be jinxed.
When you pack your tools, never bring a box for bottles because this can almost guarantee that it will come home empty.
If you see a depression in the back corner of a lot, don't try probing it until you have probed the rest of the yard.
If you pull a good bottle out of a test hole don't bother digging the privy. This will almost always be the only bottle in the pit.
If the test hole makes it all the way to the bottom of the privy and there are ABSOLUTELY no shards or even seeds, dig the pit completely. This is one of the best indications that the privy is loaded.
As you begin to dig, always make the opening as small as possible, even if it's a deep privy. A mistake beginners often make the hole large, right off the bat. The general rule is that your success is inversely proportional to the size of the opening.
If you find bottles in the upper portion of the hole don't talk about what could be on the bottom because if you do, there won't be anything.
When you expose part of a bottle keep your mouth shut. If you say "it looks blue" it will be aqua. If you say "it looks whole" it will be broken. If you say "it looks like a good one" it will be a bad one, and so on.
When you get close to the trash layer, never probe! This is not because you might break something, but much worse: if you do, the bottle laden trash layer will simply disappear.
Never allow yourself to fantasize about what you might find in the hole you are digging. Not verbalizing these thoughts is not enough. Rare bottles are skittish, and even the most fleeting thought of this type will scare them off.
I could go on, but you get the idea. Even expert diggers find it hard to avoid making some of these mistakes occasionally. However, if you can muster the self discipline to follow these rules consistently you will yourself in early, loaded privy's time after time. Just remember, it's planning, skill and hard work that get results - not luck.
Frustration and the Over Sized Out House Pit by Dan Gross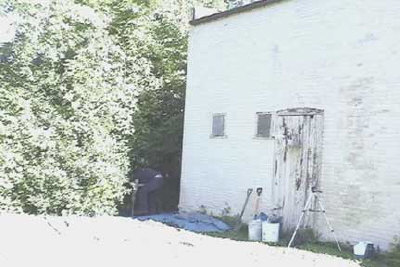 While I was at a local bottle show recently I talked with some fellow diggers and divers and was told of some rather nice finds that had been made in the past week. Talk of these finds got me to feeling rather ambitious. So, on the way home I decided to see if I could set my self up with a dig site for sometime in the next week or so. I went to a town that wasn't to far out of my way and started to bang on a few doors trying to get permission. Seems that Sunday morning most of the folks in the town I selected were either not home or don't answer the door! But, after a few tries I finally got permission to probe a rather large 3 story Victorian house. I found two pits but was told at the last minute that I would have to come back another day as the owner wanted to talk to her son first. Humpf! Well, the next house was even larger and older. It was a cream city brick with the original brick carriage house. After getting permission to probe I was later told that the person I talked with was not the owner and that they did not know how to contact the owner. Double Humpf!! But at this point fortune smiled on me. A neighbor saw me probing and asked what I was doing. After talking to her for a while I found out she owned another nice cream city brick on the next block and that I could do all the digging I wanted! This sounded too good to be true. It was. I couldn't find the pit. Humpf again. I believe her pit was under the garage and there fore out of reach. But the good news is that she knew the owner of the house I had just left! Not only that but she got out the phone book, looked up their name and phone number, wrote it all down for me, and then proceeded to tell me how to find their house and all sorts of other good things. Well, this was a great reference and when I got to the owners house I felt very confident. But I guess it was just one of those days. I was told by the owners son that the owners were on vacation until the following Wednesday and I would have to come back another time. Well by now I was getting a bit frustrated so I decided to stop back next week and try again.
When the following week rolled around I drove back to that same city and as I was walking up to the door of the owners of that big cream city brick house I began thinking, 'ya know, I think this is going to be a good day'. A second or so later a car pulled into the driveway. It was the owner. Talk about luck! I found out after talking to her that she had planned to be gone all weekend again and only stopped back too pick up something she had forgotten and would have only been home for 1 or 2 minutes. After a short discussion with her she not only gave me permission but said she once collected bottles and proceeded to show me some of her finds. They were mostly window bottles that were not of great interest to me but it helped her to understand why I enjoyed the hunt for bottles. She also said that if showed her what came out of the pit I could keep all I found.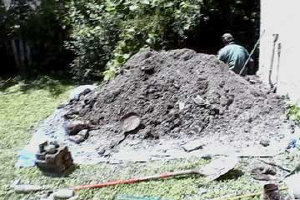 I got back to the yard as soon as I finished talking to her and started to probe. I found one pit. One BIG pit. It measured 4 foot by 10 at the surface and after digging down about 4 feet my 5 foot probe was finally able to touch the bottom. It was over 9 feet deep. This was a big pit. Here in Wisconsin it is relatively rare for a pit to exceed 6 feet in depth and more than 5 feet in width. By the time I hit the 4 foot level I had found over a dozen hand made bottles. I was feeling pretty good about this pit! That's when it happened.
I took out a scoop of dirt and I saw water. Humpf again! That's when I realized that I couldn't dig this one by my self. This pit was more than one person could handle. So I did something I had never done before. I closed the pit without finishing. For the next week I called other diggers to see who would be available to help me. I found two volunteers. Steve and Mark, and just after that my luck changed again. It rained every week end for the next six weeks. I just knew there were great bottles in that pit but I couldn't get them out! Hmmmm.
Six weeks later in June the weather finally cooperated. The three of us headed out and arrived at the site about 8:30 on a beautiful Saturday morning. After some additional probing we got out the tools and started to open up the pit. This was not done without some effort however. Seems the bushes and several other plants that were next to the pit had grown substantially in the last 6 weeks. It took us a bit to tie them out of our way. Also, the pit was in a narrow area between the fence and the old carriage house and this made it difficult to lay out the tarps to hold the dirt. After getting down about 3 ½ feet we got the next surprise. There was even more water than the last time I was there. We were not about to give up at this point! Grrrr. So, we dug out a corner of the pit and let the water drain into that corner. Then, with a small bucket we bailed the water into a larger bucket, lifted in out and (Luckily) were able to dump it on the other side of the carriage house without having it drain back into the hole. Then we dug down to the water level again and repeated these steps. By the time we were done we estimated that we had bailed well over 250 gallons of water. That's a lot of water to lift out of a nine foot hole.
The entire day wasn't all frustration however. The pit turned out to be rather interesting all by itself. It was brick lined with arches. None of us had ever seen arches in an outhouse pit before. The basic outline of the pit was two parallel walls that were about 6 or 7 feet long and about 5 feet apart. Then, on the ends of the pit, the bricks were laid out in a half circle and dividing the pit into 3 equal sized areas were two arches. These arches were not just a few bricks through the middle. They were arched with cream city bricks and mortar to hold them together then and, smaller wall was built on top of the arch to provide additional strength and support. Also, there was a buttress on the inside under the arches. This was most unusual.
While we were digging several of the neighbors stopped over to check us out. They all agreed that the stuff we were finding was interesting but, 'you know', they asked, 'Your digging up an outhouse, do you guys really enjoy this?' We smiled politely and said, YES!
We found well over 50 intact items in that pit. There was never a single spot that had a lot of bottles but we did find them though out the pit. There were pharmacy bottles, patent medicines, household bottles, many broken plates and window glass, pottery and of course the required (and worthless) wine bottle. There was even the required heart breaker. It was an extremely rare embossed beer made of green glass and it still had the original porcelain stopper. It was, of course, shattered. Not only shattered but totally broken into many pieces and spread though out the pit. The damage to that bottle had been done when it had been tossed in back in the 1880's. Based on the style of the house and the items we found, we believe the pit had been in use from the late 1870's until about 1905. There was a wide range of ages for the items we found.
Here is the AFTER shot.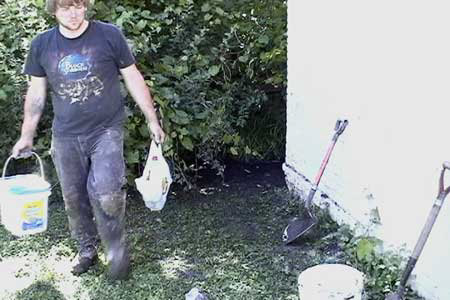 When it came time to fill in the hole the frustrations continued. As we filled in the hole we discovered we were going to be about 4 FEET short of dirt. That's right 4 feet! We had taken out so much water and the remaining dirt had compacted so much that we needed lots of extra fill. So, we found some old rocks, lawn debris, a log, Mark cleaned out the bed of his truck, we also found some cement blocks, even a bunch of newspapers and junker bottles from other digs we had been on and we were still short! Well you diggers can probably guess what we did next. We took five 5 gallon pails and turned them upside down and placed them over the rocks we had just put in the hole. Then, we put in the remaining dirt. By the time we were done we ended up with exactly enough dirt to fill the hole.
Well it was a lot of work and very frustrating at times but we did have fun and we each got several treasures to take home. Here is a partial list of some of our treasures and the value we think the items may bring if we decide to sell them.
3 embossed pharmacy's ($5-$10 total)
Applied top soda with picture of badger on it
About a dozen patent medicines
One Hutch ($30)
Lydia Pinkhams "Blood Purifier" ($15-$25)
Dr Petzoids Genuine German Bitters ($100-$150)
A rare, light honey amber, beer, with the name of the town misspelled (this one had a chipped lip $100+)
Some Inks and a gravy bowl (the bowl in two pieces that fit together perfectly) and other neat 'Stuff'
A Digger's Dream by Henry Hecker
Reprinted from book that was put together by Mike Reilly and I believe this originally appeared in an early news letter.
The lead came from a phone call two weeks ago from one of my construction worker contacts. The guy knew I collected pottery and thought I might be interested in the excavation his company was doing off water Street in Milwaukee. He had found some pottery bottles with "funny names" like Liebscher, Schwartz, Lill, and Caegeer. Would I be interested? WOULD I BE INTERESTED?! Forty-five minutes later, I was in his garage closing a deal for eight Milwaukee pottery beers at $8 apiece. Since I had been so fair with the prices, he asked me if I wanted to dig on the site the next weekend with him. He believed that there was plenty of digging left.
Well, an offer like that is certainly worth sacrificing Saturday morning cartoons for, so after a few microseconds of consideration, I accepted the invitation. It was obvious this guy was going to be a very close friend.
Saturday morning finally came and I met this fellow at the site. It was hard to see the excavation from the street. His foreman had given him permission to dig all we wanted in one corner of the lot, an area about 50 feet by 75 feet, as long as we filled our holes when we were done. We could even use the company back hoe!
While he fired up the back hoe, I surveyed the site. My excitement mounted as I started to pick up shards of more pottery beers and decorated stoneware lying right on the surface. It appeared to me that about 10 inches of topsoil had been scraped off and piled at the north end of the lot. I hopped up on the top of the pile and quickly spied an I.S. Meister pottery sticking out of the pile. It took me abut five minutes to chip it out of the frozen dirt. It was oddly miss shaped as though the potter had goofed when turning it. Oddly enough, a couple of the bottles I had bought a few days before had the same feature. Potter's rejects? Just then, I heard a yell from my construction buddy. The first scoop was coming out right now. I ran over to watch as he carefully shook the scoop. Out poured hundreds of stoneware shards, many pieces with cobalt glaze decoration. Several pieces bore that familiar oval. Yup, the ovals were CHAS. HERMANN MILW.
The second scoop was gouged out. Two feet down was a layer of solid pottery and stoneware fragments and WAIT A MINUTE! A 2 or 3 gallon ovoid jug was protruding out of the side of the hole. I jumped down into the trench. The jug was below the frost line and came out easily. The handle was gone but a couple of wipes with my gloves told me we had a real gem. It was marked Hermann with a beautiful bird-on-flower decoration. I didn't really care about the damage! Out of the next scoop poured three pottery beers, including a Graf & Madlener with a small cobalt flower decoration. This was similar to one I had missed at a show several years ago. Finally I had one.
Three hours later I was in total ecstasy. We had unearthed forty-seven pottery beers from all over Wisconsin and Chicago: this total also included five that had names unfamiliar to me. Many had minor imperfections, chips, cracks, light stamps, etc. but at least half looked perfect before cleaning. Also we had three more jugs, two brown Hermanns (one cracked, one perfect) and what was unmistakably the stoneware find of the decade - a double handles field jug (cracked in the back from a kiln blowout) with the following incising "PRESENTED TO DONALD AND TINA ON THEIR WEEDNG DAY. FEBRUARY (BLURRED) 79". Finally the haul included seven other decorated stoneware pieces, 3 crocks, 1 cream pot, and 3 churns, in 3 to 6 gallon sizes.
There was no doubt about it! We were on the site of the old Hermann Stoneware Factory and we were digging the disard dump. Old Charles must have had pretty fussy quality control. After some celebratory beers for lunch (I brought) we were back at it. My construction buddy was getting pretty frustrated. He had no interest in the stoneware junk: he wanted to find the good stuff, some glass bottles. I bought his half out of what we had found for $50-a noble gesture on my part. Things did taper off in the afternoon. All we found were two Wisconsin glass Graf hutches and I sold my half to my buddy for $25.
Finally, after about another hour something caught my eye down in the trench, now about 10 feet deep. I jumped down in the hole and picked up what appeared to be some sort of brass artifact all covered with green corrosion. I tapped it against my shovel to knock the dirt and years of crud off of it. Gradually I could make out the letters on the old stamp:
It was unbelievable! This was an original incising stamp used at the Hermann Stoneware Factory! I started to jump up and down-what just hit me on the shoulder? THE SIDES OF THE TRENCH ARE COLLAPSING ON ME. HELP! I CAN'T BREATHE! HELP!
WAKE UP, HENRY! IT'S ALL RIGHT! YOU'VE HAD A NIGHTMARE! IT'S ALL RIGHT! YOU'VE BEEN SCREAMING IN YOUR SLEEP. DIANNE'S HERE. IT'S ALL RIGHT...............APRIL FOOL!
Yes, you've just read "A digger's Dream", submitted by Henry Hecker.
events storage
Janesville Antique Advertising, postcard & Bottle Show & Sale
Fall date is set for . . .

Sunday, November 5, 2006.

8:30 To 3:30 Free Admission
Jansesville Holiday Inn Express Conference Center - JANESVILLE, WISCONSIN - Janesville exit 171-C off I-90

For information contact Rob Swanson @ 815-398-5384 or 924 17th Street Rockford, IL. 61104


NEW! This show now incorporates the Madison Advertising & Bottle Show (formerly held at Madison's Roadway Inn)

POSTCARDS - BOTTLES - ADVERTISING - POTTERY - JARS - INSULATORS - BREWERIANA - SIGNS - TRAYS - COUNTRY STORE TINS - COLLECTIBLES - and MORE!
History of Wisconsin Antique Blob Soda Bottles by Steven Libby
The rich history of Wisconsin antique blob soda and mineral water bottles::....
The origin of collecting Wisconsin soda and mineral water bottles dates to 1845 when William M. Cunningham, a Milwaukee druggist, expanded into producing and bottling soda water. As of now there are no known surviving Cunningham bottles. Milwaukee, the fastest growing Wisconsin Territory 'metropolitan' area of the day, in the Wisconsin frontier, quickly spawned more of Wisconsin's earliest bottlers.
The earliest Wisconsin soda/mineral water bottles were manufactured through a process whereby the glass blower used an iron rod pushed into the base of a bottle after popping the bottle out of the mold to hold the super heated glass as the artisan manufactured the blob top. These, "Pontiled," sodas are some of the most beautiful relics of Wisconsin's past. The cobalt blues, the big kicked up pontils and the extremely crude lip finishes make them prized specimens for Wisconsin antique bottle collectors.
Levi Blossom was a wealthy banker who in 1848 became the owner of the Eagle Brewery in Milwaukee through a foreclosure action. Blossoms BADGER ALE bottles were made in black glass, olive green, shades of amber and deep emerald. Blossoms bottles were probably blown at the Lancaster Glass Works of New York in 1849 or 1850, given the unusual reversed 200 mold on the bottom similar to the GV-2 railroad flask.
The decade of the 1850's began the golden age of origin for collectors of antique Wisconsin soda and mineral water bottles. Milwaukee again led the charge into the 1850's with Hopkins, Taylor Brothers, Hickey and Zwietusch of Milwaukee. The balance of the rest of the state had a number of early bottlers just about equaling Milwaukee including Gray of Janesville, Lindestrom of Madison, Bliss of Racine and Eaton of White Water.
Wil Martindale one of the premier experts on Pontiled American soda water bottles worked though my grouping of Wisconsin pontiled soda bottles. Wil compares lip, mold and embossing styles in order to figure out where the earliest American soda bottles were blown. About our earliest Wisconsin soda's Wil speculates, "The Lindestram with those big offset periods between the J. and the A. is VERY similar to the H & J ALWES soda from Cincinnati. They don't look like the majority of the Pittsburgh molds (like the Hickey) so I wonder if they were blown in Zanesville or what?
Wil continues, "Now these Midwestern glass houses - Louisville, Zanesville and of course Pittsburgh (and others) must have supplied a LOT of the Midwestern cities. I would say that the Eaton and Hickey are definite Pittsburgh, probably also the Bliss and the Hopkins with the wire bail. The straight letter Hopkins and arched deep blue one with the correct city spelling - no idea. The "Hat top" one with the backward "N"s looks exactly like the (WH) Hutchinson pontil soda in the same form (a pontiled Chicago soda) but blown where?"
CONTINUED INFORMATION COMING SOON!!! Steven