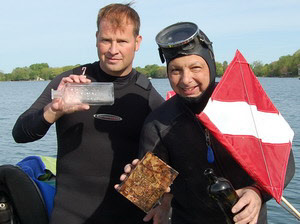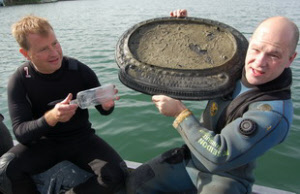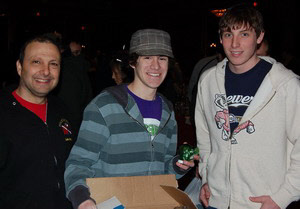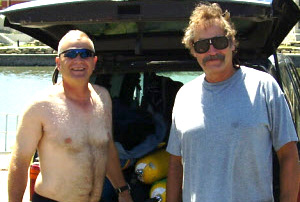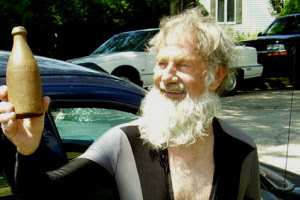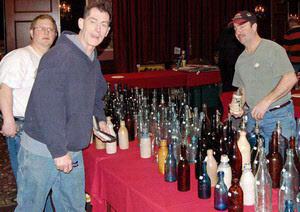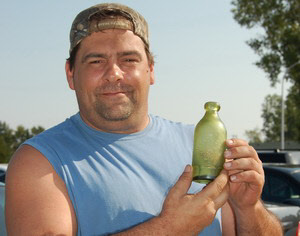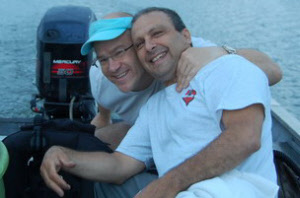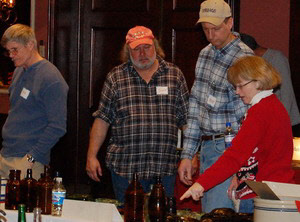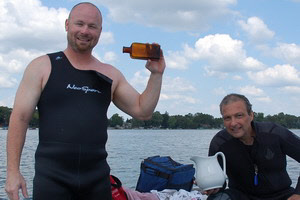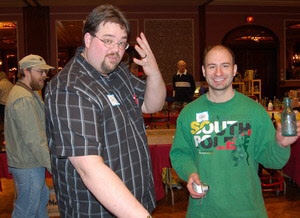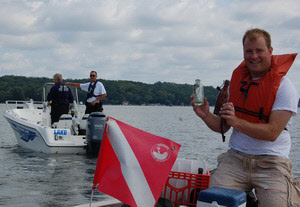 07/23/2014 Can you say WHAT'S UP? I'll tell you what... The size of the mrbottles Wisconsin antique bottle galleries.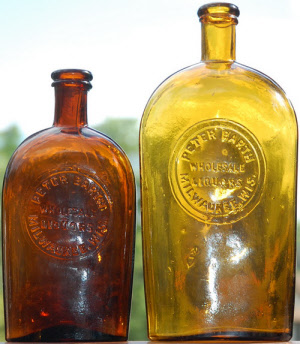 New items added all the time. Yesterday was an incredible day for bringing great things into the Wisconsin antique bottle collecting community. I made arrangements to meet a lady driving from Florida to her childhood home in Wausau off the Madison turnpike... Three weeks ago. Those three weeks went fast except when i thought about seeing these treasures. The two bottles are a LIGHT HONEY/YELLOW AMBER QUART Peter Barth Wholesale Liquors Milwaukee and a deep red amber pint Peter Barth Wholesale liquors Milwaukee strap sided flask. Both are minty. Both were found by the lady i bought them from in a central Wisconsin rock pile in the early 1970's. Cindy found them treasure hunting when she was twelve years old. Back in 1974 or 1975 a collector offered her $100 apiece for them. THAT was a lot of money back then. Anyone know who that was? She has moved around the entire country and finally settled in Florida with them in tow. Cindy decide they were better off in the hands of someone who appreciated them. She tried to sell them in Florida but there was no interest. The Quart is for certain a previously unknown mold variety and the pint is the same mold as the honey amber one Jon Steiner and I have with the kind of keystone mark in the slug plate ring. On the trip back home I hit Janesville area where I picked up a two gallon Wisconsin Territory stoneware Jug by Cunningham and some other odds and ends. All three will be up as spinners on the Wisconsin Antique & Advertising Club website soon. Jon Steiner has written an article about Cunningham for the club's August newsletter. What are you waiting for... Follow the link below and join that club.
03/05/2014 Additions to the galleries are made every day. Click on this

stoneware stamp to see the whole Milwaukee antique bottle then explore to find more treasure!
03/04/2014 Hello Milwaukee and Wisconsin antique bottle, antique stoneware and antique advertising collectors! We have added literally
1000's of images of stoneware and bottles over the last few months and

more are being added every day. Check out the galleries and keep checking them out. Want to see the most AMAZING antique bottle, stoneware and advertising gallery ANYWHERE? Check out the Spinners at http://www.wisantique.com/ and while you are there consider joining the most amazing antique bottle, antique stoneware and antique advertising club anywhere.
I spent so much energy working to save the Milwaukee antique bottle and advertising club over the last couple of years it pretty much took all of spare bottle time. I gave up and joined Jon Steiner and dozens of other collectors in an amazing new club. It is the Milwaukee Antique & Advertising Club. It is all of the fun, interest and adventure without the negativity. If you love the objects of Wisconsin's past and crave the information that makes them important I highly recommend this club. If you simply want to be part of an amazing positive community of collectors you will love this club. If you join I guarantee you will be glad you did.
01/06/2013 Nate continues to add Wisconsin Antique bottle images. I am adding them regularly too. Even a new Hall Of Famer. I look forward to seeing long time collectors and meeting new ones. Steven
12/19/2012 An Antique Wisconsin Oakton Mineral Spring Water Jug, A nicely decorated Maxfield butter churn and a Hermann cobalt flowered crock just turned up. These very nice people I recently met went to buy an oil painting. As they walked around the home of the owner

they realized there was all sort of old things. Knowing the guy was moving out of the house and had no interest in the antique paintings they asked what he was doing with the stone ware. He said everything is for sale. The asking price... Wait for it wait for it... $5 apiece. As usual... I paid more, A LOT more. All three will be in the galleries soon. New images are going up all the time. Nate continues to plug away and I am getting them in. There are lots of good things happening in the collecting world including the Milwaukee Antique Bottle Club taking a proactive role in promoting antique bottle collecting for 2013.
12/14/2012 It is actually hard to believe some of the great antique bottles and stoneware that show up. Look at this pontiled pint Dr Bourbon's Aromatic Forest Bitters from Madison. Found in an antique shop for $20 with an 18% discount offered. It's mine now... I paid a lot more.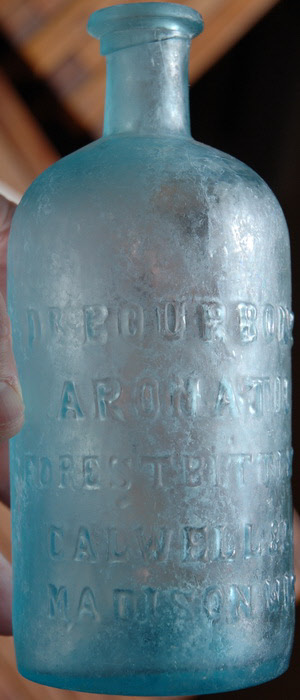 12/06/2012 Hard to believe another year almost over. Great Wisconsin antique bottle and advertising news to report. The Milwaukee Bottle Club will be putting on a second fall show at the Domes! How cool is that? The club is taking the promotion of the antique bottle collecting a lot more serious going forward. A big new MABA Club website is in the works. More content is being added all the time. I have a special little Christmas story for Wisconsin collectors.
'Twas the night before Christmas, when all through the house
Not a creature was stirring, not even a mouse;
The pontils were displayed by the chimney with care,
In hopes that Alonzo Blossom soon would join them there; Click here for the rest of the story.
04/23/2012 Nate has been hard at work all year adding images. I am about to start adding a lot of content... Months of it. Look for the new bottle listings. Mark Nelson's Crandon Hutch and Peter Maas's Amber blob soda just to start. Articles and information going in fast. Thanks to the Madison Four Lakes Dive Club for a gracious event last week and I'm looking forward to a big bottle hunt with you all. I have two unusual discoveries to report... One a paper label medicine from Janesville and another Hermann Pig. Same mold but no embossing.
08/28/2011 Lots of new Wisconsin antique bottle images to see
on the site. If you are having trouble finding them this advertisement is a clue. Who doesn't love a pretty horse? Speaking of horses... One of my best lifelong friends just got scuba certified. On his first hunt ever he found bottles we have never seen... Look for him in the home page picture rotation. Thanks to Joe Wheeler for sending in images of incredible rarities... more bottles we have never seen. Welcome Jim Pribbernow to a lifetime of adventure!!! 08/06/2011 Wisconsin antique bottle hall of fame getting much needed updates this weekend. 07/28/2011 Have you found any incredible pontiled rarities

scanning the Wisconsin antique bottle galleries? If not you need to look harder. Dozens of additions are being made ongoing. This Hopkins Mineral Water is the only example i know of. You can find it on this antique bottle website thanks to Henry Hecker... THANKS Henry! This is the only example i know of with the Milwaukie embossing and the straight collar blob. What other rarities are popping up on the site you ask? Explore Wisconsin antique bottle junkie,,, explore!!!
07/21/2011 New Wisconsin antique gallery images are starting to trickle in again. I have added a picture of the sided Sheboygan Mineral Water bottle in my gallery and will be loading a whole bunch more of it in the Wisconsin antique bottle hall of fame listing. Explore, new content abounds...
03/22/2011 Sheboygan Times September 2nd 1876 - Six Hogsheads of quart Mineral Water bottles, manufactured at Pittsburgh expressly for Messrs. Bertschy & Thayer were received at their packing house Thursday. These contained 96 dozen, and were the advance portion of the original order that will make about nineteen more similar packages, or 400 dozen. The bottles are made of thick, strong glass, eight-sided, with the name of the water and the firm blown in the respective sides, perfectly opaque to prevent the deteriorating influence of light on the medicinal properties of the water, and are altogether a tasteful, convenient and effective receptacle for packing, transporting and preserving the water in its best condition. They are shipped to order packed in saw dust, or in boxes with separate compartments of one or more dozens each. Fifteen of these boxes were shipped to Chicago, St. Louis and other points yesterday. Pictures coming soon.
01/22/2011 Starting to add lots of new images. Thanks to the Lauber auction. I looked at my own collection gallery this morning and thought what the hell? How I acquired the only whole pontiled Wisconsin Medicine three years ago or the Ritz's Lemon Juniper Bitters last year or the Bourbon's bitters Madison this year or the greatest find of my career the Ravenna pint Air Tight Fruit Jar without adding them to my gallery is beyond comprehension. Lots of new content coming. Check out my personal antique bottle collection gallery to see the new larger six images we are going forward. I still need to get a few more pictures taken and a few more up but you can see generally what my collection really is now. I started with the big dog in adding auction items. Check out the Wisconsin stoneware beer bottle gallery to see the Taylor and Bro that made such a ruckus.
01/18/2011 The Lauber auction was a once in a lifetime treat. Will there ever be such a huge auction of Wisconsin antique bottles covering such a state wide variety? It seems unlikely there will ever be so many examples of the same bottle to come forward at once. Most collectors want one of a variety not every example they can find. Maybe it was the desire to control the market, maybe it was a compulsive need to hoard or maybe it was a desire to understand the differences in different examples of the same bottle. I can't say for sure because John did not want to be interviewed for an article about his collecting. For collectors who just want to see the bottles John Lauber once owned I did get 750 images. You will see them going up over the next few months. Seems everybody got something. I bought a bunch selling cheap for resale and a few keepers.
12/30/2010 BOTTLES HEEYA... GET YOUR BOTTLES HEEYA... BEAUTIFUL, RARE COLORED BOTTLES HEEYA... A MAJOR Auction... One of the greatest collections of Wisconsin Bottles. January 15th and 16th at Paul Auction Co Kewaskum. Click text to read the rest of the story. Check back for updates.
10/02/2010
At the end of every summer the final tally of Wisconsin antique bottle finds for the year starts to come in. People clean out attics, basements and garages and Wisconsin antique bottle treasures filter their way to collectors. Divers, diggers, construction workers and people out enjoying Wisconsin Summer start working to figure out what they have found at the end of summer more than any other time. A few weeks ago I received an email from one such gentleman who found a bottle on a warm summer day working just blocks from the Wisconsin state capitol. Jim was on the site of a new home construction. There was a stage coach house that had to be demolished first. While raising the building what Jim believed to be a cistern was unearthed. The thing was full of old Wisconsin bottles. One of Jim's coworkers was feeding bottles to a local collector who was paying $5 for any green or blue tinted bottles. When the hole was cleaned out and the bottom of the hole had to be leveled Jim was scraping the bottom of the area with a shovel and banged against one last bottle. He threw it in the back of his truck where it rolled around for a week then took it home. One of Jim's coworkers told the collector about that last unusual looking antique Wisconsin bottle Jim found. The collector offered a whopping $200 for it without even seeing it! Not a bad bonus for a day's work, especially for a nineteen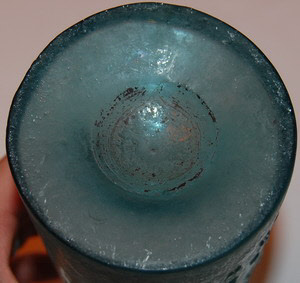 year old fledgling construction worker. Jim decided not to sell. Now months later, Just like happens at the end of so many summers Jim decided to find out what that bottle he found was really worth. Unlike so many people who find bottles Jim waited 35 years to make contact, yep, Jim found this antique Wisconsin bottle treasure in 1975 a full 420 months and 35 years before he made contact. I will eventually write the whole story of this bottle. For now you will simply have to settle for a couple of pictures. Jim's bottle; Dr. Bourbon's Aromatic Forest Bitters Madison, Wisconsin. Deep aqua in excellent condition AND iron pontiled.
9/30/2010 New antique bottle content is continually added at mrbottles.com. A lot of great stuff has been going on in Wisconsin antique bottles all year. Having found a box of bottles and trash and then having run completely out of air last year before I could recover it I was obsessed with finding that box. I finally did after 25 tanks. Along the way I found a bunch of other garbage and interesting items. Most notably the iron pieces of an 1872 patent Milwaukee Cast iron Stove, a Fred Pabst stamped ice tool and an excellent condition extremely rare iron pontiled, Ravenna glass works, half pint Air Tight Fruit jar. I will eventually write the story of the spot for the antique bottle hunt pages. Any time you can find pontiled antique bottles in Wisconsin is a great time for a Wisconsin antique bottle hunter. So where is that new antique bottle content you ask? As the president of the Milwaukee Antique bottle club I write for the newsletter every month. I am now posting those pieces under the "Of Interest" Tab on the coil spring navigation above. You will find new antique bottle content in the hunt pages, the articles pages and the bottle club page. There are also dozens of new Wisconsin antique bottles and antique stoneware in the galleries and assorted new content all over the site.
05/06/2010 In October I took the reigns as the president of Milwaukee antique bottle and advertising club. Sounds like more than it is yet does take time I used to spend on this antique bottle resource... There is only so much time to spread around. For the Milwaukee Antique Bottle Club I basically lead meetings with a little business, as much bottles and advertising as possible and write for the newsletter. It is all about sharing information so my newsletter pieces are and will be posted here for everyone to read. Click here to view the page. You will also find a lot in the Wisconsin antique bottle galleries, The Hunt, and News pages. There will be more every month at least. As I write for the Milwaukee Antique bottle club newsletter I will publish here.
Wisconsin antique bottle news since November is substantial. Two Ritz Lemon Juniper Bitters bottles Milwaukee turned up in a central Wisconsin barn wall. It is a great antique bottle story I will be writing in the future. Another Milwaukee Bottle Show passed with very good feedback all around and recently a digger from Milwaukee showed up on the scene with a bunch of early Milwaukee antique soda and antique beer bottles including a Wolf amber Hutchinson soda. It's nice to see good stuff coming out. Recently diving I found what I believe to be the best whole Oconomowoc medicine bottle ever recovered. Not an Uncle Sam's Cough Cure but real good. Feel your way through the new content there is a lot of fun and interesting information and a great deal more than I have time to write now.
Don't forget the Glass artisan is the experts expert when it comes to cleaning antique bottles and cleaning antique glass when it comes to perfect cleaning while preserving the integrity and character of your antique glass.
11/05/2009 You are booked February 14th, 2010. You as an Milwaukee or Wisconsin antique bottle collector have a date with other people who share your love for antique bottles Valentine's Day 2010. See our antique bottle collecting calendar for details or table rental information if you would like to sell at the Milwaukee Antique Bottle and Advertising Club show. A new Wisconsin antique bottle service main page is up to check out with the main focus being The Glass Artisans antique bottle cleaning and antique bottle polishing and antique glass cleaning services.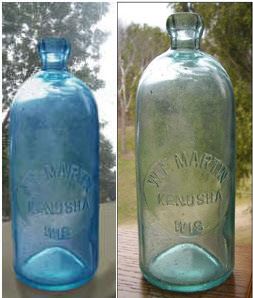 09/30/2009 FRAUD ON CRAIGSLIST ANTIQUE BOTTLE COLLECTORS BEWARE read the whole story by clicking this text.
09/12/2009 "There comes a time in every rightly constructed boy's life when he has a raging desire to go somewhere and dig for hidden treasure." Mark Twain
09/10/2009 I wrote a story of finding a bottle four months ago for another website. One of my employees added it to the site under HUNT if you want to read it. Don't forget to contact the glass artisan if you need antique glass and antique bottle cleaning. Big things are happening in Wisconsin antique bottles. The Milwaukee Antique Bottle and Advertising Club is looking at ways to make the Milwaukee Antique bottle and Advertising Club even better for Milwaukee and Wisconsin antique bottle collectors. There are some cool ideas floating around. If you are a member of the club please get to the meeting in October and be part of the steering committee. Bring something for show and tell and maybe something for sale. Try to make it "good stuff" I know I will be bringing one great antique bottle for show and tell and one great antique bottle for sale. Rarely does the opportunity come to be part of making something great even better 'from your own perspective'. Sorry about the color of text. Gondrezick and Zweitusch green are my favorite colors lately... I don't know why.
09/09/2009 click this text to Check out the work of a master antique bottle polishing extraordinaire. The Glass Artisan polished one extremely rare Milwaukee antique bottle very lightly restoring this antique glass to original luster.
09/07/2009 I am replacing all of the images in the home page rotation with new ones. The old bottle collecting images were distorted when they were made larger for the new site layout. Please send any image of antique bottle collectors out collecting or just hanging out for addition to the home page. Send them big I will crop and size them. Happy Labor Day all you antique bottle collectors. Today we have a special treat from mrbottles.com author Tim Wolter. Tim documents the history even prehistory of The Chippewa Falls Wisconsin Spring water Company. Great information about the history of some very cool Indian embossed antique Wisconsin Mineral Water bottles.
09/06/2009 You have heard the story of a wagon full of Madison Wisconsin antique Hutchinson soda bottles sinking in a lake? Well, now read it as told by someone who was there! This article by new friend of the mrbottles site Mike Muetz even has an 1880's era photo!

09/05/2009 Here is the Mighty Doug himself posing with the best antique bottle from Wisconsin found in 2009 that i am aware of so far. Think you found better? Send in a picture.
09/05/2009 About a month ago Doug antique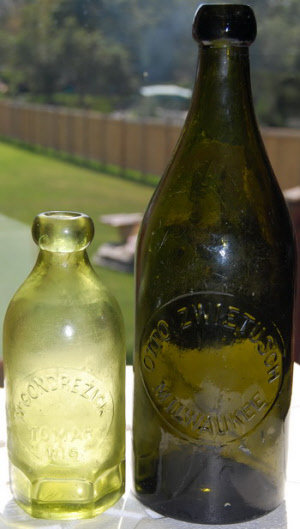 Wisconsin bottle collector and a new friend of the mrbottles site emails saying he has an antique M. Gondrezick Tomah Wisconsin bottle in a light green. Collecting color it is one I am definitely after so I called, talked a bit and made a real nice offer. Doug said I have to think about it my green M. Gondrezick bottle is one of the coolest colored embossed bottles I have ever found. Last week a lady emailed me she had found a Mor Krembs from Fond Du Lac in blue and wanted to sell it. I was like hold the press I am on my way. I went up to visit and as fate would have it blue aqua is deep blue to non expert antique bottle hunters. With the green Wisconsin glass blown Hutchinson not for sale and the blue Krembs being blue aqua I was at least heartened by the Glass Artisan's call telling me he has polished my antique Otto Zwietusch green WISG Co quart lightly and he thought it turned out great. With all of the colored antique glass swirling around in my head I was just happy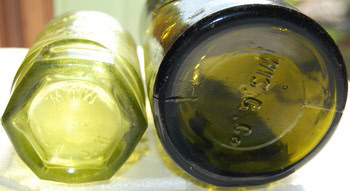 to get the rarest colored bottle in my Wisconsin antique bottle collection back. The green Otto Zwietusch Milwaukee bottle needed a light polish by an expert antique bottle cleaner like Steve to let the deep green color shine through. I will be adding a before and after to the antique bottle cleaning gallery in the next day or two. Knowing my disdain for removing mold seams and embossing with cutting, Steve polished the bottle very lightly. It is an understatement to say Steve is an expert's expert at cleaning antique glass. So, I was driving home from Steve's and I got a call from Doug saying he thought it over and if I was still interested he would sell me the green Gondrezick Tomah Wis bottle. Still interested? Uh,... YES! Doug is diving remote rivers in the North West corner of Wisconsin and he has some nice finds to show for it. We met and he could not be a nicer guy. Doug we do have to hook up maybe next summer for an antique bottle dive somewhere in-between our houses. When I saw the bottle I was amazed. I wasn't sure but I thought it was lighter than the ones I have seen. When I got home I looked at pictures and this one is way more on the yellow end of green. It is spectacular. It needs a light tumble from Steve to bring out the color. Something about colored WISG Co bottles they need the cleaning to shine baby! I think a light tumble will only make this one lighter. I have never seen another bottle this exact color. It is neon yellow green. Those glass blowers at Wisconsin Glass must have been using radioactive isotopes to color glass on the day this one was blown because it glows.
08/09/2009 There has been a lot of arguing amongst collectors over exactly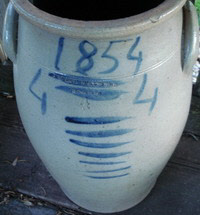 when Maxfield stoneware was in business. Some collectors say they started in 1854 and others say no JB&A Maxfield stoneware is from the late 1890 or thereabout. This piece sent in by a new friend of mrbottles.com puts an end to the controversy. David will be sending in a better photo and I will add it to the Wisconsin Stoneware gallery when he does. I have two thing to say about this piece, first thank God it isn't a "6" gallon churn and second WOW! Click the Maxfield image to see it life size!

08/06/2009 Wow look at these gems. A copper Otto Zwietusch antique seltzer bottle? Click on the image to see the whole bottle. An antique cobalt blue Lacrosse Wisconsin Medicine bottle? What antique Wisconsin goodies will turn up next? Check out the Wisconsin antique bottle galleries to see these incredible beauties and more. There is even ANOTHER new article going live today... Something about finding antique bottles in Pewaukee Lake.

08/05/2009 Antique bottle people we are back on the Wisconsin antique bottle information sharing duties! The antique bottle questions we get at mrbottles are becoming a full time job and have been taking most of my antique bottle time. Peter, Tom and I field many questions every day. From people being upset with

me not getting the antique bottle content they send in up on the site to site regulars sending email worried that everything is okay it has become apparent more time needs to be dedicated to this the premier Wisconsin antique bottle resource. I have added images the galleries but have not added nearly as many as have been sent in or all that I have. Nate and Peter continue to add content and Tom Fredrich has been helping with answering a boat load of antique bottle related questions. I will finish adding the incredible Scott Riser collection in the Wisconsin antique stoneware gallery soon. If you are interested in becoming a site administrator please use the contact page to get in touch. Administrators have access to add images and descriptions to the antique Wisconsin bottle galleries primarily. Someone who was an expert on Wisconsin milk bottle and a Wisconsin medicine bottle expert to answer questions would be real nice too.
So what is new on the Wisconsin antique bottle front? Two New articles By Tim Wolter Check them out NOW! Some incredible discoveries have been made. While I haven't seen it yet a second whole Otto Zwietusch amber gravitational stopper bottle has been found and a Badger embossed medicine even another cobalt blue Wisconsin medicine bottle. Earlier in the year a number of copper metal seltzer bottles showed up on the market. Otto Zwietusch and Jos. Wolf were the two bottlers represented in those bottles. They are super cool and you will soon be able to see them here. I was fortunate to receive a call for big dog Milwaukee antique bottle collector Chris Kulis this spring. I have been reminding Chris for years if he ever considers parting with his Otto Zwietusch emerald/olive green Wisconsin Glass quart I am his man. It is in the hands of one of the premier antique bottle cleaners right now. While I am not big on tumbling bottles the color on the green Otto Zwietusch bottle justifies getting rid of the foggy haze. It is such a light olive green the light needs to come through. You will be able to check out the post cleaning view of the Zwietusch in Steve Hochhalters antique bottle and antique glass cleaning gallery as soon as I get it back. Steve also has a Valentine Blatz of mine that was the single worst etched from being buried bottle I have ever seen for tumbling. Even with serious glass sickness I am hopeful the incredibly talented antique glass cleaning artisan we are lucky to have here in Milwaukee.

I am going to be adding Wisconsin antique bottle collecting content every day for the next few weeks and hopefully often from there forward. Check back to see.
Promote Antique Auctions Website
01/04/2009 The Milwaukee antique bottle show is coming soon. The Milwaukee antique bottle show is to be held February 8th 2009 at the Country springs Hotel from 9am to 3pm. Check out the events calendar for details. Great antique bottle collecting content is being added virtually every day explore and find it!
01/03/2008 Happy New Year Wisconsin antique bottle collectors! As we roll into the antique bottle and stoneware collecting year of 2009 it is the perfect time to reflect on what has to be one of the finest years for Milwaukee bottle collectors ever. This Wisconsin antique bottle collecting website is a big part of it. In 2008 big shake-ups occurred in the Milwaukee antique bottle collecting and Wisconsin antique bottle collecting community. We lost our beloved Grandpa Graf, the Hermann pottery pig was rediscovered after 140 years, The Crown Top King dismantled his previously unequaled collection of Wisconsin crown top bottles, and Steve Soike dismantled one of the best EVER Milwaukee Wisconsin antique bottle collections and a lot more. Big news in 2008 for Wisconsin and Milwaukee antique bottle collectors has to include major enhancements to the mrbottles antique bottle collecting website. A facelift accompanied by serious coding upgrades keeps the site interesting for return visitors AND adds considerable functionality. This antique bottle collecting website sponsored entirely by me and iNET is starting to pay it's its own way. The site is generating a little bit of income toward development with sponsorship and the famous 'collect it protect it - you only own it till you die' mrbottles T-Shirts. Steve Hochhalter, The Glass Artisan, is now a feature on the site with content about Steve's antique bottle cleaning and antique glass cleaning services. The before and after glass cleaning galleries are a work in progress but anyone who has seen Steve's bottle cleaning work knows he does a great job while preserving the integrity of the antique bottle he is cleaning or glass ware or... We have some very seriously exciting functionality ready to come on line in 2009. A real antique bottle auction website that is user friendly with reasonable fees and completely transparent??? YEP iNET Web our primary site sponsor is mostly done with the antique bottle auction functionality. Mrbottles antique bottle auction site users will be able to have their own antique bottle store front with bottles for sale and have the ability to list in live auctions. If you would like to help support the site PLEASE consider purchasing a mrbottles T. More than helping the site they are a real attention getter when walking in public. Wearing the super cool design you become a walking billboard letting people know you are more than happy to buy those antique bottles they have stored in their garage or attic. While the antique bottle collector shirts may seem expensive every penny over the production cost goes directly into the maintenance and upkeep of this antique bottle collecting resource. Custom color combos can be ordered up to January 26th for delivery at the Milwaukee antique bottle show in your size and your favorite color with no shipping cost.
11/08/2008 The Wisconsin antique bottle news keeps piling in. Our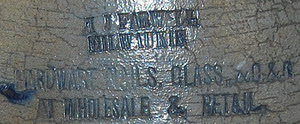 stoneware pig is the only one like it known in the country! Steve Hochhalter is putting together the final content information for the bottle cleaning page. The galleries are getting some major additions this weekend. Including Wisconsin Territory stoneware and a number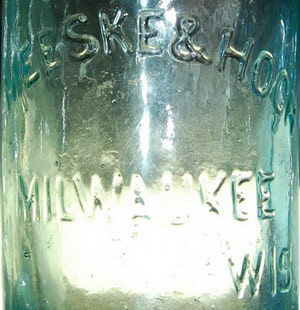 of extremely rare Wisconsin antique soda bottles. Check out the Jos. Malherbe from Port Washington or the Reiter and Bersch Milwaukee antique soda bottle in the blob soda gallery or the Palmyra Wisconsin Hutchinson soda The Kid found this summer in the Hutchinson soda bottle gallery. How about an extremely rare Meeske and Hoch? If you are a stoneware fan a whole bunch of new images are coming too.
10/26/2008 This antique bottle site has received a major makeover. A new look and feel for this THE Wisconsin antique bottle collectors respite on the web is just the beginning. Steve Hochhalter is coming on board as the resident antique glass cleaner and glass condition expert. His page is up and the content is coming soon. For those of you who don't know, Steve is as much an expert on tumbling and polishing antique glass as there it. Steve has honed the skill of polishing antique bottles, Depression glass and even super fragile stemmed glassware to a level most antique glass polishers are afraid to attempt. Steve has taken the Hippocratic Oath of antique bottle collecting... First and foremost...'Do no harm'! For most antique bottle collectors that means returning treasures in one piece, for us at mrbottles.com it means not tumbling antique bottles until you can't be sure what mold they came from or so much that they become misshaped or altered like the famous Otto Zwietusch olive green quart. (Major over cleaning 'cut' the bottles value by hundreds of dollars or more!) In line with the Steve not doing damage mrbottles.com now has for sale antique bottle website sponsorship T shirts. The new logo featured on the site is boldly emblazoned inside of a bottle with "Collect it Protect it ... It's only yours 'till you die" encircling. While the phrase may sound a little edgy it is a fun quip on an important aspect of the greatest hobby there is. Every penny over production cost goes to iNET-Web for the cost of the site. The professionals who make this antique bottle eye candy land possible aren't cheep. Your support is appreciated. Shirts can be picked up in Waukesha to save shipping. More antique bottle news... Tom Fredrick has taken on some of the duties of a site administrator and is ferociously answering email queries about antique bottles at this very moment. A Wisconsin ACL gallery is conceived, if the admin who 'sort of' volunteered comes on board the new gallery will come on line. We do need a milk bottle admin. People who collect Wisconsin antique milk bottles are zealous and send in a lot of antique bottle questions. Three in the last two days! Lil Jon Steiner is being pressured (by me) to join the site admin team. What a resource he would be for every Wisconsin antique bottle collector. A reminder; if you have antique bottles or stoneware not listed on the site, please take high resolution pictures and send them with descriptions for addition to the Wisconsin antique bottle galleries. One picture and description per email please! At a Milwaukee antique bottle club meeting this week we got pictures of 100+ antique Wisconsin bottles, crocks and jugs not pictured on the site. Scot Riser hosted the meeting and was gracious enough to share his collection with antique bottle and stoneware collectors everywhere. Keep an eye on the galleries. Some extremely beautiful and rare antique bottles and stoneware will be added over the next few weeks.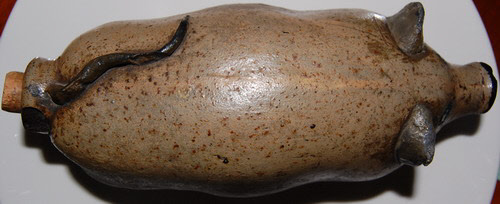 10/05/2008 The hall of fame listing of THE Hermann Milwaukee pottery pig is up! More pictures will be added this afternoon. Click this text to check it out. Multiple gallery listings are being added all the time surf or search this Wisconsin antique bottle site to find what is new! 10/04/2008 Here is an unbelievable discovery. Truly a unique find. An antique pottery pig bottle from Milwaukee? Yes it is. A detailed hall of fame listing with pictures from every angle will be up shortly. The new look and feel is coming soon! Our revamp with added features is underway at iNET, our Wisconsin antique bottle, website sponsors. When it comes to what great web development can do this bottle is a perfect example. The bottle has the second of the two Herman Pottery stamps emblazoned on the hind quarters. While I am not a stoneware enthusiast this thing is art pottery as much as a bottle. Check out the galleries. The crew has been adding images and descriptions in every antique Wisconsin category at a feverish pace. Ideas for the remodeled site are needed. Do you like the logo? Let me know... steve@mrbottles.com We have a new web admin as of the last few weeks. Tom Fredrick AKA The Kid has stepped up to help with the site.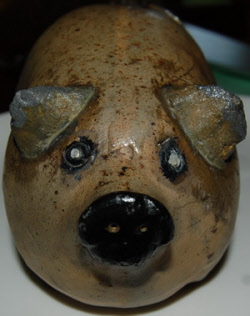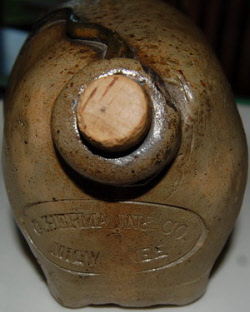 09/24/2008 Hey Wisconsin bottle collecting aficionados, mrbottles.com is about to get a major face and functionality lift. Now is the time to suggest features and aesthetic appeal options for integration. If you have ideas or feedback on what you think would make the site better let me know. steve@mrbottles.com How do you like this new logo?
04/04/2008 We are deeply saddened to report Grandpa Graf is busy in heaven collecting pontiled strawberry puce Graf Hutchinson's or whatever else his soul fancies. We will miss you Timmy...
03/24/08 Hope everyone had a happy Easter! There is a new story about hunting for antique bottles in Wisconsin from blob bottle bob coming soon.
02/27/2008 Look what turned up in an old school house just outside of Watertown, Wisconsin. These six Schwarz Milwaukee clay beer antique bottles are a very cool discovery and a variety packed sampling. Most of the Schwarz clay varieties are represented. The lady who owns these has a sister who has five more! This year has been an incredible year already just two months in with literally four large groups of very old bottles showing up and a Fess Bitters walking into the Milwaukee Show. Have all of the great discoveries of the year in Wisconsin antique bottles been made for 2008 already? I'll bet I know a few antique bottle divers who think not. The bottle second in from the right is the same variety as the first Clay Wisconsin beer bottle Bob found in the Rock River in Watertown when we first started back in 1997 0r 1998.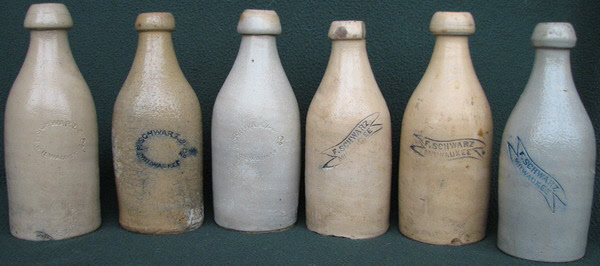 02/20/2008 This is a double edition news blurb. I mentioned that Peter came up with an absolute show stopper at the Milwaukee antique bottle club show a few weeks ago. At first I wasn't sure I was free to speak it. Well, the iron pontiled antique Wisconsin bottle on the left that happens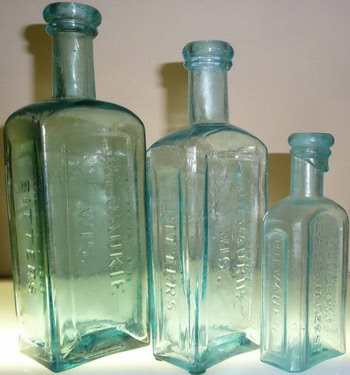 to be the largest whole Fess Jaundice Bitters from Milwaukie walked in the door at the show. Peter was talking to a friend who was handed the bottle by a 'walk In' and asked if it is any good. The bottle dealer could have bought the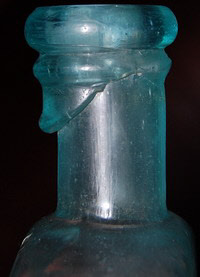 bottle and turned around and sold it to Peter or shopped it for the highest price. I would have bid high. Instead he honored a great collector and friend by deferring to Peter who elatedly bought the antique Wisconsin bitters bottle. This goes to show the people who are bitter and embattled or who take advantage of collectors with less experience that bottle collecting is about beautiful historical objects, bottle collecting is about our history AND BOTTLE COLLECTING IS ABOUT RELATIONSHIPS. You have more to gain for your personal collection in honoring your word and being decent than you do in manipulating and playing collectors for your personal gain. While I envy the sassy lad I congratulate Peter wholeheartedly on the acquisition of a very early pontiled bottle! The middle bottle is the only open pontiled Fess Bitters Milwaukie known (it's Peter's too). Peters acquisition fired me up to get on the Fess board. I made Big Steve H an offer I hoped he couldn't refuse for the third antique bottle that happens to be the only known Fess Milwaukie Medicine/ druggist bottle that happens to be open pontiled. Stevo and I reached an agreement and I am happily the new caretaker of this piece of Milwaukie Wisconsin History. The medicine has the crudest application of any Wisconsin antique bottle top I have ever seen. If you think you have one more crude please let me know. I LOVE CRUDE. More pictures of the three pontiliers will be coming soon in the Hall of Fame. This picture is the first reunion of these bottles in likely 160 years!
I have a request...Somebody send me a Blossoms Badger Ale! For those of you in the deep south remember 1 Blossoms badger Ale ='s 6 Floribami Pepsi's.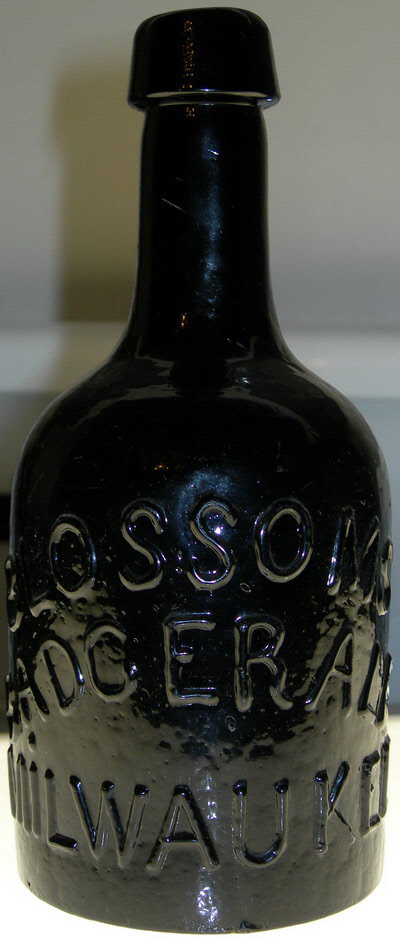 This website is to unite Wisconsin antique bottle collectors from every corner of the Web. Your input is critical... Please write out the story of your greatest Wisconsin bottle success or send a few photos of your favorite bottle with a description. Mrbottles is constantly changing. It will be THE greatest resource for Wisconsin antique bottle collectors EVER!!!