ANTIQUE Bottle and Glass Cleaning - Repair - Advice from THE Glass Artisan
As an antique bottle collector you will not find a more able antique bottle cleaning or glass cleaning expert. Being referable by mrbottles.com as a bottle polisher is a big deal. Our vote of confidence means you can be comfortable sending Steve Hochhalter your prized antique pontil bottles, glass wares and fine crystal for cleaning. More than a glass cleaning service provider, Steve is a collector who shares your apciation forpre th beauty, historical significance and value of your antique bottles and glass.
Steve Hochhalter started cleaning antique bottles in the early 1990's. As a privy digging antique bottle hunter/collector, Steve found hundreds of antique bottles. Many of Steve's eaidn't ter or beautiful look antique glass typically does. As many of us have discovered, washing antique bottles out with soapy water doesn't do much to resolve the issues of content staining and glass sickness. Glass staining and sickness is usually the result of glass reacting to water or minerals in the ground where antique bottles can lay in wait for 100 to 150 years for rediscovery.
It started years ago with a simple antique bottle cleaning machine Steve built for himself. For his own collection Steve wanted to restore the luster, only antique glass has. Steve's antique bottle cleaning machine is similar to a rock tumbler. Unlike rocks in a tumbler, antique bottles and glassware are held in a static position while a tube rotates. With the antique bottle locked in place for cleaning, water and polish gently break down and remove the cloudy 'sick' outside layer of glass.
Through more than a decade, Steve has perfected the art of antique bottle cleaning and has expended to become truly expert at "glass cleaning" in general. Years of experience and an obviously proven talent has brought Steve to the forefront of glass cleaning. Expertise has made it possible for Steve to become a recommended and featured service provider on this antique bottle website.
To see Steve's glass cleaning operation in person is like walking into the back gear works of Willy Wonka's chocolate factory. Steve has designed glass cleaning equipment capable of cleaning and polishing just about any glassware. This glass artisan can take the light haze off of your Stueben or Bacharach crystal stemware. Steve is expert at cleaning Depression glass bowls, glass pitchers even glass platters. From the smallest, most fragile to the largest glassware, Steve has the ability to clean or polish just about any glass item you would like restored to original sparkly grandeur.
Steve cleans bottles and polishes glass for antique dealers and private collectors across the United States and Canada. Steve says of his antique bottle cleaning and glass polishing service, "Over the years I have modified my glass cleaning equipment and polishing techniques to match the growth of my business and improve the quality of finished product. I assure my customers they are getting a state of the art glass cleaning and polishing."
GLASS CLEANING SERVICES
PACKAGING
When packaging your antique bottle or glass to be shipped for cleaning double boxing is recommended. First wrap the glass item in bubble wrap and tape it. Float the item in the center of box with packaging peanuts. Then float this box in the center of a larger box with packaging peanuts surrounding the inner box. There should be a minimum of a 2" gap between the boxes. Everything should be packed tight so there is no movement inside the boxes.

Upon receipt of your package you will be notified and your items will be closely inspected for flaws and fractures that you may not have seen. You will be informed should any defects be found.
CRACK STABILIZATION
The injection of a high quality resin or the use of gravity allows the resin to wick into a fracture. The piece can be made more solid and reduces the appearance of the fracture.
RESTORATION
Any method, including fusing and crack stabilization, which attempt to bring a piece back to a more complete condition.
WHAT CAN BE SERVICED? This is a partial list, email us if you have an item not on this list - we will let you know what we can do! Contact The Glass Artisan
Breakage - Antique and handmade glass can have imperfections and impurities undetectable before polishing begins. While extremely rare, these imperfections may result in cracks and or breakage. When you hire the Glass Artisan GREAT care will be taken to ensure the best result glass condition will allow in every cleaning. When Hiring the Glass Artisan you assume all responsibility for these imperfections and any resulting damage or breakage of your antique or art glass.
Marbles
Lids
Creamers
Tumblers
Goblets
Water Pitchers
Water Bottles
Salt and Pepper Shakers
Vinegar and Oil Cruets
Depression Glassware / Elegant Glassware
Early American Pattern Glass
Contemporary Bottles
Antique Bottles - Beer, Soda, Whiskey Flasks
Antique Bottles - Inks, Bitters, Medicines
Stemware
Bowls
Vases
Decanters
Fruit Jars
Antique Marbles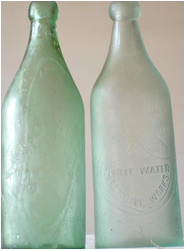 Sick Glass is the most common reason antique bottles need cleaning. Sick glass results from the affects of glass being exposed to Mother Nature for year or unintentionally by people. Antique bottles under water in Lakes or under ground in dumps or privies can develop a thin layer of decayed glass. Decayed glass oftentimes looks like hard water in a bottle or vase which evaporates leaving calcium or other mineral deposits. Sick glass often times looks like it is etched. Soft antique glass and newer crystal and glassware can get the same etched appearance just from being run though the dishwasher. Fortunately sick glass is easily removed by Steve The Glass Artisan.
Tumbling is the process used in the polishing or 'glass cleaning' process. The bottle or glass object being cleaned is safely secured in a carrying tube rotating in unison with its carrier at a slow speed. The glass object is not really tumbling, water, oxides and copper tumbles around the glass object being cleaned. Antique bottle and glass collectors often times use the terms cleaning and polishing to describe this process.
Cutting is the term typically used to describe the removal of heavier oxidization or condition issues, really cutting is what is being done to your antique bottle or glassware in the cleaning process. Different oxides are used to finely polish the glass surface or cut the glass surface to get rid of more substantial glass etching, mineralization or scratches. After using cutting oxide on glass and depending on the coarseness of oxide a follow up will need to be done with a pre-polish and then finally a very fine grade of oxide is used for a final polish. This entire process is referred to as a multi-stage polishing.
A Glass Tumbling or 'Bottle Cleaning' Machine utilizes an electric motor and a series of belts and pulleys. The tumbler is used to achieve and maintain the proper speed of rotation for the period of time required to gently clean the surface of antique bottles and other glass wares. The expert process of cleaning bottles is more than putting them in a container and flipping the switch. Expert results require speed of rotation to be matched to the size, shape and type of glass.
Oxides are the agents used to actually affect the bottle and glass cleaning process. Oxides come in powder form, in different grades of coarseness. The level of coarseness used is determined by the condition of the glass and the goals of the owner. Oxides are made from differing materials. The type of glass, the age of the glass and the severity of the unwanted stain and etching all are determining factors when cleaning glass. The oxides are carefully mixed with the proper amount of water and copper.
Finely cut Copper is used to push the oxide/water solution against the surface of the antique bottle or Depression glass or other glass object. Cleaning glass is a delicate process. Copper is used as the carrying agent pushing the oxide against the glass surface because copper is softer than glass. Without oxide copper tumbling against a bottle would affect no change.
Carrier tubes are used to hold the antique bottle or glass object whole it is being cleaned. The bottle or glass ware is secured in the tune while the oxide/water/copper solution tumbles around the secured glass object. The tube is sealed on one or both ends, depending on the type of polishing or glass cleaning being done. Tubes ranged from 3" to 14+" diameter. The right diameter of tube is extremely important in achieving a professional result.