Whiskey Flasks
---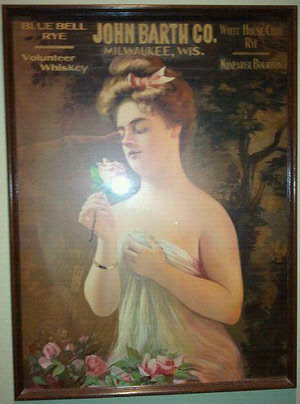 Strap sided flasks are some of the most collected bottles nationally. The Wisconsin flasks are in a league all of their own. Crudeness is defined by the Wisconsin strap sided flask. Look below at the Duchateau & Brother Green Bay for an incredible 'aqua' flask. Small productions runs and thin walled bottles mean colors tend to run in extremes in the these bottles. Light and dark amber, (even orange) deep greens and bright yellows like the Ch Heck Racine bottle. There is no standard Wisconsin Whiskey flask. Labels under glass like the CHAS. H. HOPF of Beaver Dam, Wis. and crudely applied ring collared mouths as witnessed by the Albers & Cordts Platteville, Wis. Flask add to the stunning beauty of this gallery. If you have a Wisconsin flask not cataloged here please contact me or send pictures and a description. We are interested in even slight variants. The goal to catalog them all will only be achieved with the help of Wisconsin antique bottle collectors. Enjoy this and all of the galleries, Steven.
The image to the right comes courtesy of Joe Wheeler. While Barth may be our most common strap sided flask it is still pretty darn rare. This advertising piece is just spectacular.
Here is a listing of Wisconsin whiskey bottlers and the brands they used or in PDF format.
Bottle Collections
Photos