BLOSSOMS BADGER ALE MILWAUKEE Wisconsin antique bottle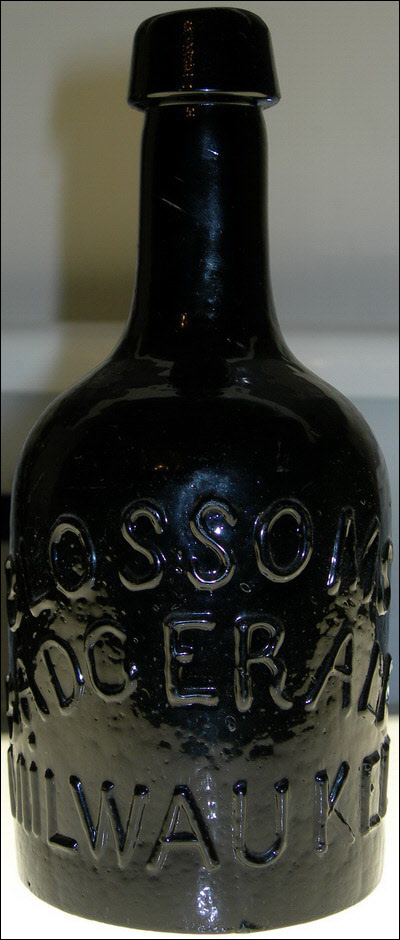 WELCOME TO ALL STOPPING IN FOR A VISIT FROM THE LEGENDARY WIL MARTINDALE'S PONTILED SODA SITE THE BOTTLE DEN!!! This color is in honor of Wil's pride and joy PUCE F& L Schaum Baltimore pontiled soda. Please if you are a first time visitor take a look around the site and let us know what you think. We are working to make the Mr bottles site one of the best antique bottle sites on the internet.
The Blossoms Badger Ale has to be considered the premier bottle for all Antique Wisconsin bottle collectors no matter their primary collecting focus. No Antique Wisconsin bottle has inspired more speculation as to value. No Wisconsin bottle has inspired so much fantasy as to, "What we're going to find today." No other Wisconsin antique bottle has the aura of legend this one has. "Thousands of dollars worth of air conditioning equipment was offered in trade for it." Of course that offer was met with a flat refusal.
There is only one known whole Blossoms Badger Ale bottle and shards of others. The known example came out of a wall in an old Greek revival found by a plumber. If there is only going to be one it may as well be attic mint, right? The Blossoms Badger Ale is!!!
According to Wayne Krolls book, Badger Breweries Past and Present, Levi Blossom was a wealthy banker who in 1848 became the owner of the Eagle Brewery through a foreclosure action. Levi rented the brewery to his brother Alonzo who continued to brew until about 1852. Alonzo Blossom produced only ale. This bottle is the oldest 'glass' brewery bottle known from Wisconsin. It has a graphite pontil and a very short squat shape. Kroll describes it as black glass with a very crude blob.
The owner and caretaker of this beautiful Milwaukee Wisconsin artifact has done considerable research including the discovery that the Blossoms Brewery was burned at the hands of an arsonist in 1851.
Having held this little beauty in the palm of my hand I can honestly say it is magnificent. The Blossoms Badger Ale stand a tiny eight and three eighths inches tall and is only a wee two and three eighths inches in diameter. The bottle is attic mint and of such dark black glass that holding it up to light not even a slight tone of light shining through was evident. The Blossoms Badger Ale is more crude than the pictures can show.
The shards tell another story. The mystery one of a kind bottle once was part of a menagerie of beautiful colored Blossoms Badger ale bottles. The shards provide evidence of at least four different colors and two mold varieties of Blossoms badger Ale Bottles. The second mold variety is equally crude and was substantially larger. I hope to document height and diameter of that variety some day as well.
Blossoms BADGER ALE bottles were made in black glass, olive green, shades of amber and deep emerald. They come in half pint and pint sizes with two different embossing variants. Blossoms bottles were probably blown at the Lancaster Glass Works of New York in 1849 or 1850, given the unusual reversed 200 mold on the bottom similar to the GV-2 railroad flask. This one has it all color, age, history and quality. Is The Blossoms Badger Ale THE Holy Grail for Wisconsin bottle collectors?
Below you will find the left side, right side, bottom and blob of the whole Blossoms Badger Ale and all known broken examples of Blossoms Badger ale bottles. The pieces are self explanatory. The last two images are of the top and bottom of the whole example pictured above. If more are discovered I will do my best to document them here. PLEASE!!! if you have or know of any other exampled of The Blossoms Badger Ale let me know.
| | | |
| --- | --- | --- |
| | | |
| | | |
| | | |
| | | |