MILWAUKEE PONTIL SODA(S)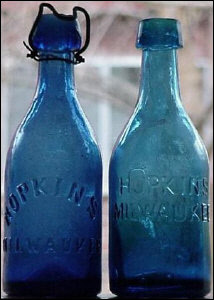 Located on the north side of Martin and Main from 1850 to 1858 William L. Hopkins and company were soda and beer manufacturers. Hopkins is the earliest soda water bottler with known glass bottles. Only William M. Cunningham bottled soda in Milwaukee earlier. Hopkins also put up soda or beer in stoneware bottles.
Hopkins must have been prolific in the 1850's. While all examples are very rare and extremely desirable to Wisconsin collectors there are more Hopkins bottles 'around' than any of the other very early Wisconsin bottlers bottles. Beautiful cobalt and blues make these bottles even better. Two different spellings of Milwaukee/Milwaukie add to the charm. Crude iron pontils and goopy applied blobs with unusual shapes are par for the course with Hopkins.
Hopkins has a special allure to me. Hopkins bottles are the earliest bottles from the state in the category of bottle I collect. "Pre Hutchinson," Wisconsin soda bottles. If you've got one and want to sell or trade send me an email!
Every one of the Hopkins bottles is of an age, quality and character level that they belong in the Hall Of Fame. They have been inducted and go in together!