Oakton Springs Pewaukee, Wis.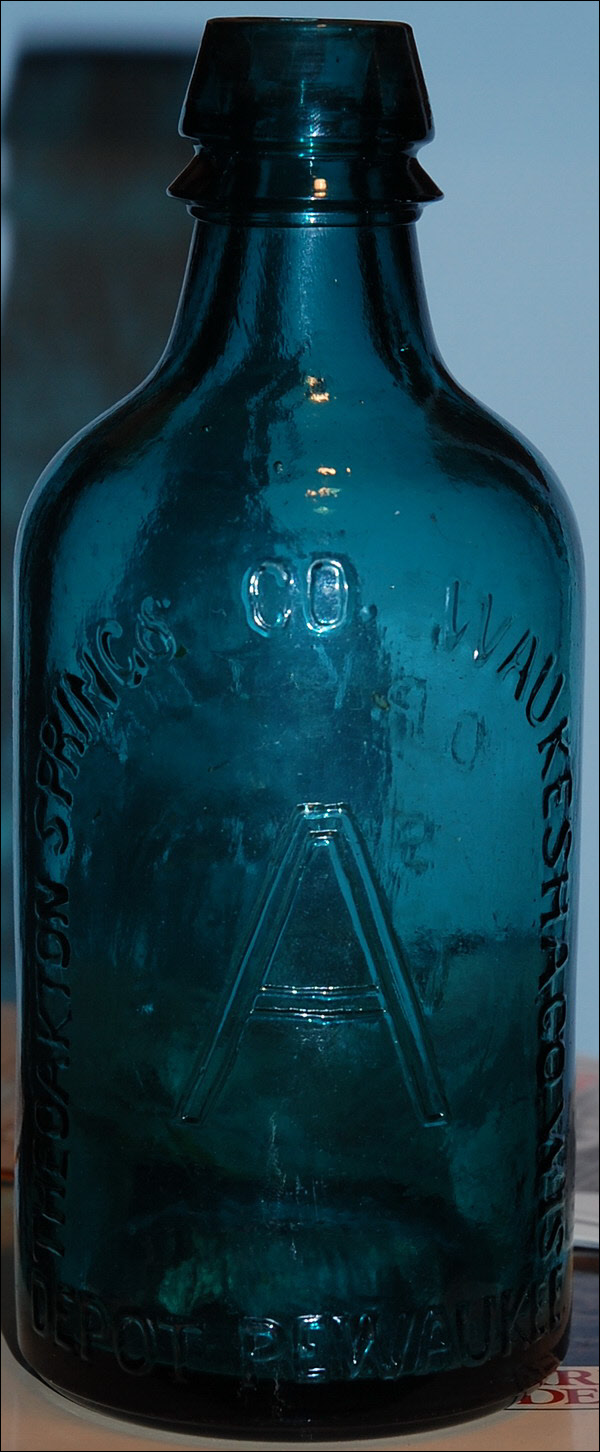 It should be pretty clear why this is a Hall Of Famer reading the description. Bought for just $50 at an antique mall in Waukesha!
This is one incredible bottle! It's one of the only Saratoga style mineral water bottle from Wisconsin. It's one of the only bottles in a teal color from Wisconsin. It's the only embossed bottle from this little town. It's the only bottle that has two desirable town names embossed on it - Pewaukee and Waukesha. It's the only bottle that has the word "DEPOT" embossed on it. It's one of the only cylinders from Wisconsin heavily embossed on two sides. It's early - applied lip from the 1880's. It's the only one known, and it's from a spring water company with an interesting story. What's intriguing is that on the front there is a circle around the large letter A. The reason is that there were two springs - A and B, and there is an advertising flyer that says that the water is bottled in pint and quart sized bottles, which means there were probably at least four varieties of this bottle (possibly even in different colors). So, where are they?
The front is embossed "THE OAKTON SPRINGS CO. WAUKESHA CO. WIS." with a large "A" in the center and "DEPOT PEWAUKEE" below. The back is embossed "OAKTON SPRINGS WATER". This bottle is a knockoff of the very popular Saratoga Congress Water.
There is also a photo of a jug from this company in the stoneware gallery.