Wisconsin Antique Coil Spring Stopper Bottles Zwietusch Milwaukee & Lindstram Madison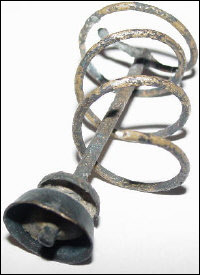 This one is amazing and a heart breaker. Otto Zwietusch was an early and long running soda and mineral water bottler in Milwaukee. This is the only known example of any bottle from him that is pontiled. He was in business from 1858 to about 1890. This bottle is also the only known pontiled example of the original Albertson patent gravitational stopper. Could a bottle be more desirable? This bottle has unbelievable gravitas with Wisconsin collectors, stopper collectors and pontil collectors. There are less than a handful of all known varieties of this patent stopper bottle in the nation. There are even fewer whole examples of all of those bottles and again this is the only pontiled example ever discovered!!! Another amazing thing is that this is a different mold than the two whole examples of this bottle that exist!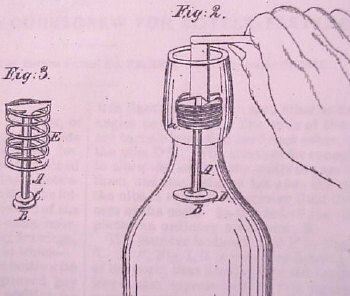 Speculation as to who invented the most unusual spiral spring stopper used by two early Wisconsin bottlers, Otto Zwietush of Milwaukee and J.& A. Lindstrom of Madison, went on since the bottles were first rediscovered. (Until now) The Madison dive hole has supplied the collecting community with at least two whole varieties of one mold variety and one whole example of the other as well as a couple of the actual springs. I know of two whole examples of the Zwietusch bottle. One attic mint in P.M.'s collection and the cleaned one I have from The Kid. Two interesting broken examples exist too. One being the iron pontiled topless version and one being the olive green example. I am working on pictures of the iron pontiled version all other known examples are on display in the Wisconsin antique blob soda gallery.
In Roger Peters WISCONSIN SODA WATER BOTTLES 1845-1910 Roger speculates that the spiral spring stopper may be the invention of Otto Zwietusch. It is known that Zwietusch had many patents for soda bottle filling apparatus as well as at least one bottle closure patent. Roger Peters has so much influence in the Wisconsin bottle collecting community that his speculation makes it a fact unless otherwise proven.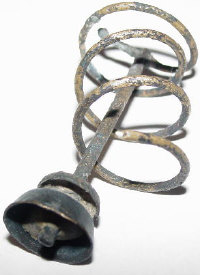 It turns out; while Roger's educated guess was well reasoned it was inaccurate. In his book Soda and Beer BOTTLE CLOSURES 1850-1910 David Graci has the actual patent information on the bottle documented. The patent is #36,266 issued in 1862 toAlbert Albertson. David describes the actual patent in his book saying, "Albert Albertson of New York, N.Y., created an unusual closing device that required an elongated bottle lip, designed to hold a metallic rod having a button attached it's lower end. Secured to this button was a disk of rubber, and attached to the metallic rod as a coil spring that provided upward pressure to make the seal. At least five examples of Albertsons bottles are known to exist. Some carry a base marked. "Albertsons stopper / Made by J. Mathews, New York/ Patented Aug. 26, 1862". This stopper, Pat. No 36,266, was to be marketed by John Mathews, another up and coming bottle supplier, destined to wield great influence over the bottling trade. Albertson's idea evolved into the famous Mathews Gravitating Stopper."
For any one who enjoys the history of the bottles beyond the pretty sparkle of glass David Graci's book Soda and Beer BOTTLE CLOSURES 1850-1910 is a must have. It has information and pictures of virtually every American patented stopper. It's simply incredible! Contact David via email at Stonebotle@aol.com for your copy or send $35.00 plus $2.00 post to David Graci - P.O.Box 726 - South Hadley, Mass. 01075