History of New Ulm Stoneware by Dennis Johnson
The Stonewares of New Ulm,Mn.
Being born and raised in New Ulm,Minnesota, I was oblivious to the stoneware that was made by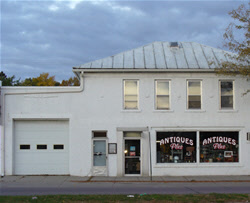 the various pottery firms in New Ulm during the later half of the nineteenth century. That all changed two years ago,when my "New Ulm Stoneware" collection started.
I had already started a Red Wing Stoneware collection at the time, when a person standing next to me at an auction pointed at a crock and said, "It could be New Ulm Stoneware." Looking back, that crock was not a New Ulm crock, but the comment the guy had made, stuck in my head and stirred my curiosity about this "New Ulm Stoneware". That started a quest for me to learn more about this rare stoneware from New Ulm.
A couple months passed after learning of the stoneware. I was constantly on the look out for any sign of a piece of New Ulm stoneware, and I was asking a lot of questions. Finally while visiting an antique shop in New Ulm, my quest was over. There, sitting on a shelf, was a one quart J.Stoeckert New Ulm stoneware beer bottle. I immediately bought it, and that was the start of my New Ulm Stoneware collection.
The purchase of the bottle made my curiosity even greater. I had to learn more. I was fortunate to find a copy of the 1978 book " Potters and Pottery of New Ulm, Minnesota " by George Tyrrell. This book was very helpful in learning about the different potteries of New Ulm. The different firms that operated in New Ulm, from 1861 to 1900, made various pieces of stoneware including crocks, bottles, butter churns, roasting pans, jugs, mugs, pitchers and various preserve jars, along with brick production in later years. After reading this book, I wanted to own a decorated piece of stoneware from New Ulm even more.
Then on September 8,2007 a piece of New Ulm Stoneware came up for sale at an auction in New Ulm, MN. It was a front stamped J.Stoeckert New Ulm four gallon butter churn. I had to have it. There weren't any pictures of the butter churn on the sale bill, and it left me wondering what it would look like. I made plans for the auction, and I was quite anxious waiting for the date of the auction to arrive. All I could think about was that butter churn.
Finally, the day of the auction was here. I was at the auction walking swiftly towards the hay wagon that was supposed to have the New Ulm butter churn on it. There it was. But what?! To my surprise the butter churn was painted! You could clearly see the J.Stoeckert stamp, and the number 4 embossed in the clay. But it was painted. Was it decorated? I held the churn up to the sunlight at an angle and I thought I could make out some type of brush work under the paint. But I was not sure. I ended up having the winning bid,and quickly made my way home with my new butter churn. Upon my arrival at home, I immediately applied paint remover to the front of the churn. After about fifteen minutes I had my answer to my question of it being decorated or not. After scraping back some of the paint remover, there on the front of the churn was a cobalt blue tulip design! The "J.Stoeckert New Ulm 4" stamp was also done in cobalt blue and there was a nice salt glaze finish on it......the gamble had paid off. It took several more hours to completely strip the paint from the churn. After revealing the decoration under the paint, I was very proud of my new purchase.
Learning about the New Ulm potters and their products, has been a fun and exciting experience. The most exciting moment was when I was looking through some old Red Wing Collectors Society newsletters. On the front cover of Feb/Mar 1989 edition of the newsletter, is a picture of a stoneware pitcher or stein, that is absolutely stunning. Next to it is the caption "A Minnesota Made Pitcher." My first thought was "Could that be a New Ulm piece? "I turned to the article inside the newsletter and to my astonishment, this beautiful stoneware pitcher is attributed to Christian Dauffenbach, one of the early New Ulm potters. I was stunned by it's details. I was happy that such an extraordinary piece had survived through the years, and it is probably the most elaborate piece of New Ulm Stoneware known to exist.
Another interesting note, is the fact that the New Ulm potters made advertising soda and beer bottles for various firms around the area. These bottles where made in pint and quart sizes. The most common bottle is the J.Stoeckert New Ulm quart bottle. These bottles contained "J.Stoeckerts Lemon Beer". The only thing known about this business is the evidence of the wooden cases that survive today, which are marked "J.Stoeckerts Lemon Beer Works, New Ulm, Minn.". It is quite strange to see a potter making a beverage to fill the stoneware bottles that he made. These are two completely different businesses.
Other known "advertising" stoneware bottles made by the potters in New Ulm include: "Dauffenbach Steckert & Co New Ulm, Minn",(note different spelling for Stoeckert); "Dauffenbach & Co, New Ulm " "Dauffenbach & Giesecke, New Ulm"; J.Schmucker, a New Ulm brewer; a scratch signed bottle marked Sch in stylized script, which is very similar to the early Schell's Beer labels(could also be Schmucker); " A.Cook Souht Bend MINN." (note spelling of South); "R NAUER MinnEapolis" (note capital E in Minneapolis) who manufactured soda, lemon beer and cider; "J. Altstadt, Minneapolis", marked in an oval and bottles marked "J.Altstadt Minneapolis" in two straight lines, manufactures of lemon beer and soda water; G Karl, Lacrosse (Lacrosse,WI.) "J.H. Bivins & Co SWEET CIDER St PAUL." These are some of the known bottles made in New Ulm for various beverage companies. I'm sure that there may be more advertising stoneware bottles out there, waiting to be discovered.
New Ulm stoneware is typically a salt glaze finish, with some pieces being done in an Albany slip glaze(brown). Other pieces have been found with a bisque finish,or no salt glaze. The color can vary greatly on the salt glaze pieces, ranging from a tan (similar to Red Wing Stoneware) to a buff-tan-gray to all gray color. You can see this variation of color often on a single piece of stoneware. UN-glazed bottoms of New Ulm crocks typically have a reddish-pinkish gray color to them. Jugs are known to be straight sided, and not ovoid shaped. Cobalt decorations were typically brushed, with some decorations being slip applied. Only floral and slip applied line patterns are known to exist. There are not any known bird or animal designs on New Ulm pottery pieces. Two gallon crocks and smaller do not have handles while the larger crocks that do have handles, have thick protruding type ear handles. The underside of these handles will have a "cup" for your finger tips.
I have included a brief history of the pottery firms that operated in New Ulm, starting in 1861 and ending in 1900.
New Ulm Pottery 1861 - 1862, 1866 - 1869 (closed four years 1862-1866, due to the Indian uprising) Friedrich Forster & Friedrich Gommel - owners. Forster migrated to New Ulm from New York in 1858, Gommel formed a partnership with Forster in 1861 and migrated from Cincinnati, Ohio (where he had worked as a potter for four years.) The building located at 117 North Broadway still stands, that housed the potters that worked at this pottery. There are not any known marked pieces from this firm.
Dauffenbach, Steckert & Co. 1867-1870 Christian Dauffenbach, John Stoeckert & Frank Friedmann - owners. Christian Dauffenbach migrated to New Ulm in 1867 from Milwaukee, WI where he worked for the Charles Hermann Co. as a potter. John Stoeckert migrated to New Ulm in 1867 from Milwaukee after living there three years. (His name is spelled differently on this stamp, omitting the "O".) Frank Freidmann migrated to New Ulm in 1867, from Cedar Falls, Iowa where he worked as a potter. He had also worked at various potteries throughout the US. He is the "& Co." in the company's name.
Dauffenbach & Co. 1870 C. Dauffenbach doing business alone or with Frank Freidmann. The stamp used by this firm omits the word Steckert. It appears to have been hastily removed from the stamp.
Dauffenbach & Geisecke 1870-1873 C. Daffenbach partners with William Giesecke, who at the time was county sheriff. He is thought to have been a financial investor only.
Dauffenbach & Winklemann 1873-1875 C. Daffenbach partnered with William Winkelmann, a local brick maker. The only known marked piece is a brick, marked D.W.
William Winklemann 1875-1879 Operated the old Daffenbach and Stoeckert pottery site alone. In 1879 Winklemann sold the site to a "Mr. Hallum", who may be the same David Hallum that made pottery in Red Wing, Minnesota, prior to 1870. Nothing is known about the Mr. Hallum after he purchased the site from Winklemann other than the fact that he defaulted on a contract for deed with Winklemann. There are not any known marked Winklemann examples. (Winklemann's brickyard became New Ulm Brick and Tile Yard.
Mr Hallum 1879 Nothing is known about this man, other than he bought the pottery site from Winklemann in 1879 and owned it for a short period. There are no known stoneware examples from this UN-known man.
John Stoeckert's City Pottery 1870 - 1900 John Stoeckert and son Edward, worked together making stoneware's and brick. It is thought that more brick than pottery was being made in the later years of business. The firm made a wide variety of wares including roasting pans, mugs, pitchers, jugs, crocks and butter churns. Pieces were marked with "J. Stoeckert New Ulm"; "J. Stoeckert New Ulm Minn", and an oval stamp "City Pottery New Ulm".