Three Heroes of Wisconsin Collectors by Steven R. Libbey
"Must have" information for Wisconsin bottle collectors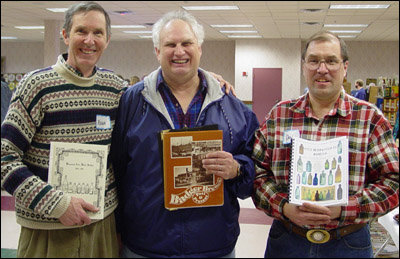 Wisconsin bottle collectors have three people to thank for a blueprint of what exists and of relative rarity/value when it comes to Wisconsin soda and beer bottles. Virtually every complex Wisconsin bottle collection is influenced by these books. A big part of fair market value is the rarity established by Roger Peters, Wayne Kroll and Dan Gross. I use Roger Peters' book as a reference in virtually every soda bottle purchase or sale I'm involved in. I use Kroll's book every time I find a beer bottle or consider buying one for trade or sale. I use Gross's book as a cross-reference and supplement to Roger Peters' book.
WISCONSIN SODA WATER BOTTLES 1845-1910 by Roger Peters Copyright 1996
Roger Peters' book is unbelievable in completeness and accuracy. The first dozen pages of WISCONSIN SODA WATER BOTTLES 1845-1910 do a remarkable job of describing different types of soda bottles and bottles soda water bottlers used. Don't fret beer bottle collectors! Roger Peters also includes hundreds of Weiss beer and pottery beer bottles.
The preface lays out a template for using this book as an informational source and collecting guide. WISCONSIN SODA WATER BOTTLES 1845-1910 features snippets of information about the actual bottling works in short text narratives preceding the posterized images of all the bottles Roger Peters could get pictures of before he published. Included in the narratives are dates bottlers were known to be in business, the proprietors, as well as a lot of different information that gives us a glimpse at to what soda water manufactures must have been like 100 to 150 years ago.
WISCONSIN SODA WATER BOTTLES 1845-1910 has a very good scale of rarity. Roger Peters went out on a limb and lists a dollar value for each individual bottle. Roger's values are a great base line. New collectors beware; bottles can sell for upwards of ten times estimated value! WISCONSIN SODA WATER BOTTLES 1845-1910 is an invaluable reference for every Wisconsin bottle collector. This book is a work-in-progress. Roger Peters is still collecting information for future editions. If you have information about a bottler or if you have a bottle that isn't listed, please send the information to us at Mr.Bottles, it will be promptly forwarded to Roger Peters.
WISCONSIN SODA WATER BOTTLES 1845-1910 is a bargain at about $30. If you don't have it get it! Contact Mr Peters at rpeters@facstaff.wisc.edu Or send $33.00 each, postpaid. Send money order or check to: Roger Peters 4333 DeVolis Pkwy Madison WI 53711
BADGER BREWERIES PAST & PRESENT by Wayne Kroll Copyright 1976
Wayne Kroll is truly the pioneer of Wisconsin bottle book authors. He published a full twenty years before either of the soda books. The preface of BADGER BREWERIES PAST & PRESENT has an excellent history of the packaging of beer in the state of Wisconsin as well as some helpful information for less experienced collectors of how to determine the age of bottles. The text of BADGER BREWERIES PAST & PRESENT goes into great detail about the histories of hundreds of individual beer bottlers in the State of Wisconsin dating back to the early nineteenth century. Wayne Kroll lists the dates the brewers were in business as well as the rarity of the known bottles in 1976. Although this book is twenty-seven years old, it still is significant to have a Wisconsin beer bottle not listed in BADGER BREWERIES PAST & PRESENT.
As a relatively new collector, I find it hard to imagine how thirty-year-old listings of rarity could still be so accurate. Wayne must have done an incredibly thorough job back then. Bottles are listed as rubbings of the embossing. Rarity is established by embossing, type of bottle and the glass company that manufactured the bottle. I collect soda bottles and I love this book. It has been another invaluable resource and reference for me while collecting.
Bad news… It hasn't been printed for twenty some odd years. You can occasionally find one for sale on eBay. Check your local library they may have one.
Good news… Wayne Kroll has been writing a new improved and updated edition for a number of years. We can only hope it goes to print soon. Wayne says it will be in two volumes. We will post any news of the release of this new version of BADGER BREWERIES PAST & PRESENT, as soon as we have it.
OLD WISCONSIN SODAS by Dan Gross Copyright 1996
Dan Gross does a very good job of defining the different types of bottles used to bottle soda water in the state of Wisconsin. The preface text of OLD WISCONSIN SODAS is a must-read for all Wisconsin soda bottle collectors.
Bottles are shown in different sections by type of bottle starting with Hutchinson and working through the different types of early soda bottles. Bottles are listed as rubbings of embossing. While I find the rubbings a little less satisfying than the, "posterized," images used in WISCONSIN SODA WATER BOTTLES 1845-1910, Mr. Gross supplements each section with actual photos of the bottles.
I have to say I love to really see the bottles and when I first started collecting I would look at the pictures in OLD WISCONSIN SODAS to see what the bottles I was searching for really looked like. Dan Gross asks for input for future editions in his text. It appears that he published so little that his book isn't available even on the secondary market. Let's hope Dan Gross republishes his old book or even redoes OLD WISCONSIN SODAS. I highly recommend this book for all Wisconsin bottle collectors. Good luck finding one.
The books are a breeze to read. The pictures, articles and illustrations are so simple to page through. If you've read these three books imagine the insurmountable task it must have appeared for the authors before they began their work on the book. Where would you even start? Wayne Kroll, Dan Gross and Roger Peters had the courage to take on the task and in all three instances did a thankless job to the benefit of every Wisconsin bottle collector. When you sell a bottle for a record price or find once that is extremely rare take the time to thank these guys. I've set a couple of record prices paid for Wisconsin soda bottles. To the people who sold them, you can thank these three authors. If it weren't for their books I wouldn't be a bottle collector. As a Wisconsin bottle collector, if you didn't read these books or at least look at the pictures you simply have to.
On behalf of every Wisconsin bottle collector thanks to Roger Peters for WISCONSIN SODA WATER BOTTLES 1845-1910. Thanks to Wayne Kroll for BADGER BREWERIES PAST & PRESENT. Thanks to Dan Gross for OLD WISCONSIN SODAS. We eagerly await the next versions of your books. You three are the heroes of everyone that collects Wisconsin bottles. We still need a Wisconsin milk bottle book and a Wisconsin medicine bottle book. How about it Mike Trost and Steve Hochhalter or anyone else?