Old mrbottles Home page Wisconsin Antique Bottle Archived Content::.

1/03/2011 From Mike Paul; ORDER OF SALE: The sale will start on Saturday with all WI bottles, (except Milwaukee & Waukesha which will sell Sunday) selling alphabetically by city regardless of the type of bottle. Sunday will be all non bottle advertising items followed by Milwaukee and Waukesha bottles. This information supersedes all other ads including ABA & NABA.


BOTTLES: It would be easier to list what's not here than what is here, but unless you have a world class, statewide collection, it's safe to say that we have something for your collection. Expect more scarce bottles that aren't in this list. What follows is a partial listing but you can look for pre-pro labels on bottles, picnics, scarce colors, branch bottlers, sodas, whiskies and more in addition to those listed below. OVER 112 CLAY BEER: Lill's Ale, Milw; Dr. Fricke Cedarburg; P. Severin FdL.; J.H. Lockwood FdL; P. Stamm FdL; A.Z. Qt; E.R. Hantzsch, Eau Claire; G. Carl, La Crosse; Wm Weber, Grafton; Ph. Altpeter, Milw; F. Schwartz, Milw.; Meeske Bros & Hoch, Milw; Liebscher & Berg, Milw; B. Niehoff, Beaver Dam; Menk Watertown; Menk & Lavrrenz; W. Weber Racine; Th. Menke, Waterloo; Gray, Janesville; J.A. Simons West Bend qt; Northlake; Taylor & Bros; H. Grove Madison; A.C. Henks, Waukesha qt; Blatz, St Paul MN; H.A.M. Waukesha; Meister, Milw; Weissenberger & Brinkmeyer Milw; Jos. Wolf, qt; (Box 1012) Liebscher, Ft Atkinson; Ph. Altpeter, Milw & MANY MORE.


GLASS BEER: F. Suessenguth, Gravesville, (Chilton); James Cooney, Port Washington; Regenfuss Brew Co. Kaukauna, qt crown; N. Theisen, Kaukauna, qt crown; H.A. Goehring, Silver Creek; Silver Creek Brewery; Geo Dambruck, Appleton, WI; Ruhland Bwy Co Baraboo; Reingruber South Germantown; Dietzler, Harford blob qt; Hamm, New London, WI Glass Co. WI; Bern Becker, New London; Gierow & Hoch Mt Calvary qt; Kunz & Bleser; Lochen, West Bend, WI; WB Lithia aqua; Wm Weber blob Grafton aqua; A. Kobs, Colby; John Semrad, Highland qt; H&G, Luxemburg; Bursinger, Hoppe, Fuerman and other scarce Watertown bottles; G. Heiler Milw amber blob qt; Silvo Fenn Oshkosh amber blob pt; Gurath Bros FdL blob amber pint; Haas, Ripon Rabbit bottle; W.B. Smith Fox Lake; Leunberger, Monroe qt, blob; C. Scheibe Centreville, blob, qt; F. Scheider, Racine aqua, blob, pt; Baub & Bros Janesville; Liginger, Milw.; Bauer & Breunig, Durand, amber, qt; G. Biedermann Port Washington blob, pt; Weber & Land Waukesha amber, qt, blob; Wirtz & Reis, Sherwood-John Grafs Weissbeer & MANY MORE; Chase Valley Glass Includes: JL Hoerber, Chi; F. Schaub Aurora, Ill; A.W. Doerr Agent Schlitz; Jacob Hefty, Monro; K. Schreier, Sheboygan; Otto Villnow, Oshkosh; Peter Barth, Liquor, Milw.; Milw. Bottling Co. Valentin Blatz, MN; Eagle River Brewery Knevel & Bros.; A. Margeau, Duluth, MN & OTHERS.
SODA: Pre Hutch, Hutch & others include: Mostert & Bischoff, Waukesha; Hickey & Son, Milw; Joseph Ramstack, Scott & Kratzer West Bend qt crown w/label; R.B. & E. Mineral Water, Milw; O. Zwietusch, Milw; M.E. Milw; Joseph Wolf gravitating stopper; James Eaton Mineral Water & J.E. Hickey, Whitewater; Hickey & Eaton, FdL; S. Hickey Superior Mineral Water, Milw pontil; J. Arnold, Oshkosh, blob, qt.; S.M. Hickey; Rote & Blanchet, Baraboo; RT Wardell, Eau Claire, Aqua blob soda; H. Mueller Milw; Clintonville & Dodgville qt hutches; Chas Klett & Co Milw; Schimmel, aqua, blob, qt; Zweitusch, aqua blob, qt; W.F. Martin Kenosha blob qt aqua; Cassel Whitefish Bay aqua blob qt; Blatz Soda & OTHERS.
OTHER BOTTLES: 3 sizes Milw. Pickel amber bottles; S.M. Eaton, Watertown; Bon Ton, Chicago Branch; Numerous branch bottles; Hass Houghton, WI Glass; Seltzers; scarce shape & others.


OTHER ADVERTISING: Fox Head bandshell RPOG lighted sign; Weber pre-pro tin litho barrel end sign; Waukesha
Silurian Water tin litho sign; Weber Old Fashion College Widow tray; Weber RPOG lighted back bar sign; Kellermeister RPOG lighted sign, dmg; Weber Old Fashion tin litho "Marcella" charger; Pabst Ginger Ale self framed tin sign; Pabst self framed tin sign; Weber Old Fashion "Heine" tray; Binzel Esquire celluloid over tin sign; Binzel Extra leatherette sign; Weber "W" compo & lighted signs; Flat & cone top cans; Gettelman figural "Fritzie" statue; Miller plastic Senorita girl; Weber Ducks poster; Pabst-ett cheese poster; Super Binzel crate; 5 wood pony kegs; Schlitz & Blatz hotel bottles; Mugs; Porcelain stoppers; Ephemera; Crowns; Labels; Weber jacket patch; Kurth Malting ash tray and tin; Food cans & labels; Glasses; 1847 Milwaukee Newspaper; Etc.

| | |
| --- | --- |
| 02/17/2008 By all accounts the Milwaukee antique bottle show was a great success. It was fun to see everyone from all corners of the state and a number of the out of towners. Congratulations to Mrjimk on his Otto Zwietusch coil spring stopper bottle. It was certainly one of the better bottles to turn up at the show. News from the show; Steve Soike has had it with the toils and turmoil of collecting and is starting to sell off his Wisconsin antique bottle collection, our own Wisconsin bottle gallery administrator Ryan has sold off a big chunk of his Wisconsin crown top collection for the same reason, Steve Hockhalter is getting his own website built for cleaning and repairing antique bottles and glass (we will link to it when it is done), Sid and Henry both got excellent Weber barrel embossed beer bottles from Waukesha and a good time was had by all. Bob posted pictures in the Wisconsin antique bottle talk forum of a lot of the goings on. The Fondulac crew made the trip in the horrible weather and picked up a sweet pontil. It was cold. Tom Fredrick parlayed a one of a kind Eaton and green into a cash deal and a Hustisford antique Hutchinson bottle for Blobbottlebob that is pretty sweet. Bob and I have tried hard to find one with no luck at all. In fact Gary Weimer and I dug there six years ago hoping to find one but came up with nothing. Peter bought a big box of clay beer bottles from a digger and one real nice Milwaukie antique bottle. | This is one heck of a recent discovery for the Wisconsin antique bottle collecting community. These two beauties are debossed "Wm. E. & Co ROOT BEER MILWAUKEE" They are in the hands of a family member of the people who found them while demolishing a Milwaukee Civil War era building back in 1935! There are two more out there somewhere too. All I can say is wow. Click on the image to see our gallery listing of this elusive antique bottle rarity. The bottles reside in the South Western region of the United States. I am doing what I can to bring them back to Milwaukee. (Don't hold your breath) The picture is not so great but this is what the owner sent me. I have the history of these specific examples. I will put it up soon. |
| Some things are just meant to be together like peanut butter and jelly. Fess and bitters and Milwaukie would be one example. Blossoms and Badger Ale would be another. See things Wisconsin antique bottle collectors choose to display with their bottles. I found a an odd piece of advertising diving in the Milwaukee river just outside of the Usinger's building. Year later i traded with The Kid for this bottle he found on a dive in Pewaukee with me Blobbottlebob, Mrjimk and biged. Both Milwaukee antiques are nice in their own right but together they are something better like peanut butter and jelly. Please send in pictures of your Wisconsin bottle delights and the pieces that make them even more interesting. Click the PB&J picture to go to the "Gowiths" page. | |
11/23/2007 Wisconsin antique bottle collectors I have started on the arduous process of doing the immediate content changes to this the premier resource for Wisconsin bottle collectors that I have been sitting on for months. For starters I have hit my own collection gallery in the guest collection page. I deleted all of the antique pre Hutchinson soda bottles that I don't intend to keep and have started to replace the images of the bottles that I am keeping. I am including the best of my recollection as to where I got the bottles and where they came from originally. I have added a good number of colored and rare bottles that I never put up. That is a work in progress and will be a little while before my antique colored and pontiled extravaganza bottle collection is completely updated. I have also started to add second images in some of the gallery antique bottle s so that you can see both sides of double side embossed antique Wisconsin bottles. Check out the Cobalt pontiled Racine Bliss and the Waukesha Oakton Springs Pewaukee spring water bottle for examples.11/21/2007 I recently looked at the Wisconsin antique bottle talk forum to see all the pretty shinny antique bottles people were putting up as their find of the year. I thought hmm I could put up my Milwaukee Belting and supply crown or maybe my ice boat or that whopping sail or even a nice blob Fred Miller beer. All nice just not super special antique Wisconsin bottles. Just as I had resolved myself solemnly that I will not get a chance at either of the TWO antique Wm. E. & Co Root Beer Milwaukee Wisconsin clay beer bottles for my personal collection, in spite of the fact that when you have none and another collector has two, clearly a sharable sum, It would be possible, the phone rang. The phone rang at 7ish this morning. A construction buddy had referred a new construction buddy to me after he found a bottle. It is the Hutchinson soda blob Mathews Gravitational stopper embossed, "O. ZWIETUSCH MILWAUKEE," bottle in amber. I have found a number of these in aqua have had no less than a dozen inquiries about them at the site, all aqua, have seen dozens of them for sale all in aqua. i met my new construction buddy and I came home with this beautiful antique Milwaukee bottle. Thanks to my main bottle connection and to my new bottle connection. You guys are awesome and I truly appreciate you both helping me improve my collection. For the rest of you Wisconsin antique bottle collecting peeps here it is for you to see. It is nice light amber that a camera at night with a flash can't catch so I may replace the picture tomorrow.. While I am tired of seeing bottles over cleaned I may tumble this one 'oh so lightly' myself to allow the amber glow to show. No cutting! I am so glad to say I have one more little antique Milwaukee Wisconsin bottle treasure to be Thankful for. Happy Thanksgiving!!!11/20/2007 Holy Cow Wisconsin bottle people you will never believe what is turning up. TWO more Wm. E. & Co Root Beer Milwaukee Wisconsin clay beer bottles? No way you say? They exist. I hope to have a picture of the antique bottles sometime soon. Fortunately the two exquisitely rare antique Wisconsin beer bottles are in the hands of someone who appreciates them. His family found the Milwaukee, Wisconsin stoneware bottles nearly eighty years ago. I hope to get the story and to add it to the site WITH pictures. I plan to get to work on the site adding content constantly. So expect some new stuff. Blobbottlebob has sent in a few hunt stories and the antique Wisconsin bottle talk forum is coming up on two years! Every month it seems a collector or two join. New features on the bottle site will soon include a, "Go WithS" page a few more stories and the constant addition of new gallery items. With the addition of all the crown top bottles we are starting to get crown top inquiries like crazy. Nate has volunteered to satisfy the demand of this growing group of collectors for information. I recently met a guy who had been burned by collectors a number of times selling super rarities like a Hopkins Milwaukie for $20 and bunch of other rip off jobs. I don't know about you folks but I couldn't do it. Time to start thinking about the Milwaukee Bottle Club Show. Maybe THIS year we can get that Heck Racine reunion going. Happy Thanksgiving you sassy bottle hording freaks! 09/15/2007 Does anyone know what happened to the Wedigwisconsin site? Have they quit digging? Is it a web site problem? If anyone does please let me know at steve@mrbottles.com. The last time I went there I tried to contact them. The time before a bunch of things were broken and still are and no updates in a long time. If you are a regular here keep in mind we need to support the wedig boys. They are building a resource we all enjoy. I would be glad to give them their own page on http://www.mrbottles.com// if they need. The forum is open to all so they could even start building hunting logs there if wedig is down for the count. No big news today. There will be a new page feature called, "Go Withs" soon. It will be for people to show off their favorite go with for an antique Wisconsin bottle. It could be an antique Wisconsin bottler poster or opener or wooden case or picture or whatever. Feel free to send me a picture of the bottle with the go with and the story of your favorite 'go with' for the site. Nate and Ryan are consistently adding to the galleries and I am trying hard to update a little content here and there all the time including the galleries. You will see little additions if you look around. Contributors to the site send me your wish list bottles; it is a chance to connect directly to people for the 'one' you want. Mark Nelson, Dan Gross, Bob Libbey, Nate, Peter, Sid, Ryan and more...
09/09/2007 There is a new hunt story by Blobbottle Bob in the Hunt and a new page detailed below has been created. Look at the left side navigation and you will see WISH LIST!!! Previous contributors send in your Wisconsin antique bottle content to lock up the listing of the one you want. Images will be added and restored to the hunt stories and articles soon. Click this text to go to the Wisconsin antique bottle collector wish list page.
08/31/2007 As I have mentioned no less than fifty times on this, THE premier resource for antique Wisconsin bottle collectors, new content is what every Milwaukee or Madison or Wausau or Oconomowoc or really any Wisconsin antique bottle collector wants to see on the site. Some Wisconsin antique bottle collectors have stepped up big time including taking on administration roles and actively gathering images and descriptions of bottles from many collections. In the interest of not having this Wisconsin/antique bottle collecting informational resource pit collectors against each other I do not allow buying or selling of Wisconsin antique bottles or antique bottle related collectables on the site. Pushing the edge of this rule I am allowing mrbottles site contributors to list one antique bottle from their wish list as a reward for new, bottle site enhancing, content. One new listing of an antique bottle will result in a two month Wisconsin antique bottle wish list listing. A new antique bottle Hunt Story or article will result in a six month Wisconsin antique bottle wish list listing. Each Wisconsin antique bottle collector who contributes content will be allowed one and only one Wisconsin antique bottle or old bottle on their wish list at any time. Any individual Wisconsin antique bottle will can only be listed by one site contributor. When an antique bottle listing expires another collector may change their wish list item. Some major Wisconsin antique bottle site contributors will have a perpetual right to the wish list. This site generates a lot of antique bottle traffic from all over the world. This is your chance to contribute and maybe, if you are lucky and the stars all line up just right, the chance to achieve your Wisconsin or really any antique bottle collecting Holy Grail. The expirations I have set on these listings are to perpetually encourage Wisconsin antique bottle collectors to contribute new content.
08/30/2007 We got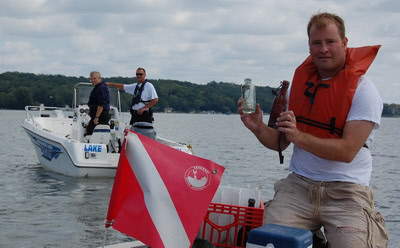 out last Saturday. Blobbottlebob, The kid, Mrjimk and Mrbottles. TheKid carried the day with the best bottle, an early Schlitz. The day was an absolute adventure. We got out early and had some boat trouble. The Pewaukee police graciously towed us in. New content will be added over the next few days.
06/12/2007 Wow. the Milwaukee bottle club meeting was a hit with lots of great stories and some very cool bottles for show and tell. Nate and Ryan are learning the site edit at this very moment. Expect to see lots of new bottles in the galleries soon. Plus. There should be a new hunt story from Blobbottle Bob shortly.
06/01/2007 Wisconsin antique bottle peeps guess what... The Milwaukee antique bottle club June meeting is at the home of non other than mrbottles. I hope to have the principal administrators of the site (Bob and Peter) on display for all the Milwaukee antique bottle club members to see and maybe even a few surprise guests. Anyone who brings a Blossoms badger Ale to the meeting for me gets a boat ride. This meeting is sure to be a historic Wisconsin bottle event; TWO ***NEW*** MRBOTTLES ADMINISTRATORS WILL BE GIVEN PASSWORDS TO LOG IN AND TRAINING TO ADD GALLERY ITEMS AT THE MEETING!!!
04/21/2007 a new Milwaukee antique bottle Hunt story by one of Wisconsin's most legendary Wisconsin antique bottle collectors is in the antique bottle articles section. It will be moved to the Wisconsin antique bottle Hunt section soon. I am dedicating myself to getting up to date with content. I added about 35 bottles Wisconsin antique bottle collectors have sent. Yoo-Hoo, you know what that means right? You folks need to kick it into high gear and send Wisconsin antique bottle collecting content. The site needs stories and pictures and articles and ideas continuously so that every time YOU log in there is more to see and experience in this pontiled Wisconsin bottle haven. I am still waiting patently for one of you to find me an antique Pontiled Blossoms Badger Ale from Milwaukee. Don't be like so many Wisconsin collectors who will take all the information you will give but not give back. PLEASE contribute. Hey Vulture i'm all caught up. What you gonna do bout dat? Thanks to Tim Raimer and again the huge contributions of Mark Nelson! You guys are part of the reason so many people love coming to the site.
03/06/2007 WOW has any one seen the clay gallery? Peter has put up an incredible number of pieces of early and rare Wisconsin stoneware. Peter has added jugs, pitchers, pots, crocks and even some antique Wisconsin pottery bottles. Dan has sent another 40 gallery items with pieces in just about every gallery. Check them out!



03/01/2007 Hey Wisconsin bottle peeps. The administrators of this site BOB, PETER and ME have been adding photos like gangbusters in the galleries. With the help of Ryan Dan Gross, Nate and the bottle Vulture (Mark) I have added a couple hundred myself! Check out the colored seltzers from Mark or the crowns from the North woods from Nate or the extremely rare Hutchinson soda and super rare crowns from Ryan or the medicines from Dan. THAT IS JUST THE ANTIQUE WISCONSIN BOTTLES PEOPLE HAVE SENT ME! The galleries are like a Wisconsin Glass fireworks show for you to enjoy every day! Thanks fro sending the images in guys. You are four people who understand this is a site for all Wisconsin collectors BY ALL Wisconsin antique bottle collectors. Please send more when you can. EVERY ONE ELSE PLEASE SEND ANY CONTENT YOU CAN. Content is the only way the mrbottles site can continue to grow. Check out the forum. There have been some dandy HECK bottles found in the last couple of months and there is always interesting things going on teh forum. The FonDuLac crew continues to add great content on the forum. Did anyone find me a Blossoms Badger Ale yet?



What is going on? An extremely rare 1860's clay with no glaze on the inside? High speed grinder mark case wear? (& OTHER MAJOR PROBLEMS) The 30 year old WHO DONE IT of Wisconsin collecting is upon us. Was it greed? Was it need? What is the significance of 10,000 rpms of speed? Is it as one owner speculates a prototype bottles not meant for actual use? Did they do that in the 1860's? If so, where did they get the high speed grinder to make the case wear? Only you can solve the mystery of the Racine clay? If you know or even if you don't know send me what you think might have happened. I am working on pinning down the true story and as many 'theories' as possible. Please contact me directly with facts or speculation? While I will gladly make fun of this pathetic situation I intend to document these bottles so that no unsuspecting collector spends their hard earned money on a fake represented as an antique. The key players so far are; MABOYEEE Frankie from Racine... If memory serves me right Frank had one. FRANKIE you have always done good by me... please help. Where/who you got the bottle would be HUGE. A second player is DOUG an angry man who calls other collectors idiots for questioning this 30 year hoax and Jerry a Racine historian with what I call a '$1000 investment' in a fraud. I have founded the HWPP or Heck Witness Protection Program to protect the identity of key informants. If you let one of the key players use your kiln in 1976 or if you saw them digging clay in the middle of the night on the shores of some river in 1975 let me know. Keep in mind at least one has a BAD attitude! I will keep you anonymous if you choose with your speculation. Please, if you are a Scientologist just skip it as we have already ruled out aliens as the manufactures of these bottles. If you KNOW the truth coming forward is your duty as a Wisconsin antique bottle collector who loves the hobby, the history and the bottles. On a lark I'll say they could be real, sure they could, if so lets all get together and have the best collectors examine every known example at the Milwaukee Bottle show. Can we see your bottle DOUG? Frank already showed me his although at the time I would never have guessed any one would make a fake antique bottle. Jerry how about you? Anyone else? Contact me to arrange a HECK REUNION! These bottle may not have been together since they were fired at an art clay studio in the 1970's or was that 1860's?
Help decide what future content is researched and published on the Mrbottles site. This site is for every Wisconsin antique bottle collector. If you're a Wisconsin antique bottle collector and you don't see what you collect on the site contribute! One way to be sure you have an impact is to SEND INFORMATION. We are actively looking for pictures of Wisconsin collectors in action. Good images of Wisconsin collectors on the HUNT will be added to the site front rotation ongoing!
We have a new article by a Wisconsin antique bottle collector who for the time being wants to remain anonymous. It's on bottle collecting ethics. Check it out in the articles of the site.
10/21/2006 One of the potentially coolest features the mrbottles site will ever have is the Wisconsin antique bottle Hall OF Fame. The Hall of Fame will be more than just listings of bottles. It will be detailed descriptions of the bottler's couple with any other information we can gather on the individual antique bottle history and as much detail as we can gather about the Bottler or brewer. While this antique bottle listing will be updated as I know I have two more pieces of information I need to get to put in the listing the Blossoms Badger Ale listing is beginning to look like the listings all will. THE Blossoms Badger Ale is my all time favorite antique Milwaukee, Wisconsin bottle so I figured it was a good one to start with. If you have any information about the Blossoms Badger Ale or any other antique bottle in the hall of fame please email me.
09/14/2006 Colin from The Under Water Connection was gracious enough to invite me to do a Pod Cast on diving for antique bottles. The result is here for you to experience. It's a half hour long and is in an interview/discussion format. The discussion starts at how people get started in bottle diving, rolls into what kind of gear works best and goes into what the hobby is about. Check it out and please let me know what you think. Maybe we will add this kind of feature to the mrbottles site. By early next week I will write a story and add it to the articles section about this Pod Cast including images of many of the different things discussed. I am putting this up on the home page now so that people can check it out. My article/story will be up early next week.
Bob, Peter and I are adding listings in the Wisconsin antique bottle galleries all the time now. Thanks to so many of you for sending good images in with descriptions. Some very good ones have been added. There is now a Wisconsin antique stoneware gallery and a Wisconsin seltzer bottle gallery. They will be live soon. Now that the Wisconsin antique bottle hunting season is cooling off hit the forum and communicate with your fellow antique bottle collectors. It's fun and a lot of information goes back and forth in the Wisconsin antique bottle forum!
Check out the EVENTS page for updated show information. The Madison show is no more.

09/24/2006 Just added close to 100 bottles to the Antique Wisconsin Bottle Galleries & have about 100 more waiting. Check them out!!!
---
| | |
| --- | --- |
| 9/11/2006 Okay Wisconsin bottle collecting aficionados you have waited long enough for an update. In the Antique Wisconsin bottle news Mr. Jim K the Illinois, "Black water diver," or as we lovingly refer to him, "Laboe," has found an unheard of rare teal colored antique Wisconsin medicine bottle. (Looks just like this text) Jim is going to send a digital picture some time soon. His daughter took a picture of the exquisite bottle rarity for him BUT Jim has to go to the library to send it. Mr Jim K is still on dialup... YET... He has seen every bottle in the galleries???... (He starts the galleries downloading on Monday and looks at the bottles over the weekend is how I think he does it.) I can't wait to see the medicine bottle! When I do I will post it live right away. I GOT IT!!! So you want to see the whole thing? You'll have to find it on the site... Good luck! | The Kid found the first whole PH Eckhart antique clay beer bottle from Fort Atkinson Wisconsin recently. It looks like the Madison Wisconsin antique bottle show really is called off this fall. I will keep you posted as I learn the details.These may not be Jims teal medicine they are two very nice colored medicines that just arrived for the gallery courtesy of a real big dog collector. I can't say who until I find out if he wants to do some trading. I'm in the color game now so these are right up my alley. Isn't it nice to see a couple of great quality colored antique Wisconsin bottles show up? Hit the antique Wisconsin medicine bottle gallery to see them proper! |
---
I implore all WISCONSIN ANTIQUE BOTTLE collectors to contribute content. You could research a company from Milwaukee that has incredible pontiled BLOSSOMS BADGER ALE to their name. -OR- You could tell the story of one of your most fun adventures looking for ANTIQUE BOTTLES in Racine -OR- you could tell the story of finding a quart HUTCHINSON just poking out of a riverbed on a walk through a park in Hurley. -OR- You can send in a few pictures of you on the hunt for early ANTIQUE WISCONSIN glass BOTTLE treasure. -OR- If you have an ANTIQUE WISCONSIN BOTTLE not listed in the galleries you can send in a digital image and brief description. What I am saying is it won't take much effort and the result will be magnificent if just a few people contribute every now and then. The more everyone pitches in the better this ANTIQUE WISCONSIN BOTTLE COLLECTING resource will be. Come on now... It's in there... Spit it out!
Hey SID when do we get that story you wrote about the scripted antique Miller Beer bottle???

How about you striper? Where is that pic?!!! Whats that you say? You only take pictures not give them? BAH HUMBUG!!!
---

8-20-06 A big event has come and gone. The Milwaukee Bottle club picnic was a good time featuring a few extremely rare, 'show and tell,' bottles and an auction with some decent bottles. The highest bid of the day went on an antique Milwaukee C.H. Munzinger clay beer at $255. A couple of others to note were a Grisbaum and Kehrein proprietary mold super crude aqua quart by IGco that went for a low $150 and a footed Graf seltzer that did not make its reserve with a high bid of $80. The coolest bottle I saw yesterday was this unlisted antique Milwaukee Wisconsin Hutchinson soda bottle from Liginiger & Mcelroy. The partners are not listed in Roger Peters book. I do think there is a Liginiger beer in Kroll. Chris K came up big with this one. How cool is this? I did get a few more pictures for the galleries yesterday (You'll have to search them out) and you can check out a larger picture of the Liginiger & Mcelroy in the antique Wisconsin Hutchinson bottle gallery .
---
8-06-06 Wisconsin Antique Bottle web news; The crown gallery now has over sixty different bottles listed. Thanks to Ryan and Nate who were the principal contributors of crown images and descriptions. There is Wisconsin bottle news being posted in the forum virtually every day now. The Fondulac crew regularly post their adventures and The Kid regularly posts finds from Oconomowoc dives and keeps a pretty regular log of what is happening in the Mighty Rock. Blobbottlebob is a regular contributor in the forum and it is not unusual to see Milwaukee Jon and Wausau Mark in the forum. There is even a newbie in the forum who goes by the name Carp.
There will be a couple of new antique Wisconsin bottle articles coming soon and the antique Wisconsin bottle galleries have additions made virtually every day. There is always some thing new here for you to enjoy in regard to Wisconsin antique bottles. No other state in the union has this level of overall bottle resource. If you do enjoy the site please consider contributing. Email in a couple of photos of a hunt or write out a story of your search for antique Wisconsin bottles or send in an idea for improving the site. This site is for all Wisconsin antique bottle collectors by all Wisconsin antique bottle collectors.
---
7-13-06 New hunt story from blobbottleBob is live now WITH PICTURES!!!
Check it out.
Also in the works is a FAQ page. The FAQ page will be loaded with information about the likes of John Graf and EL Husting. Those two bottlers alone generate more questions to the site than most people would believe. I'm getting blisters from typing about the same bottles over and over! Log in to the
bottle talk forum
, see pictures and say hello! What's more American than chatting about antique bottles and finds? 6-14-06 Yes you crazy Wisconsin crown top bottle collectors the moment you have long awaited is here! The crown top gallery is now open!!! Take your time peruse the listings (there are six now) let me know how you like it. And if you want to take a short cut to the Wisconsin crown top bottle gallery just paste your eyes on the left margin and scroll... You can't miss it!
---
5-17-06 This is the first bottle to come my way in a long time that wasn't a minor upgrade or the same old same old. A gentleman from the North Woods contacted me and we

arranged for me to come out and check it out. I assumed when I got the call that this was the one known. What are the odds that an amber soda bottle would be a variant. Well, this one is. It's a lighter color than the known (for Peters sake we will say common rather than known when referring to the other/common variety) variety. The light amber color is a real bonus. While I have been pretty negative about some of the cleaned bottles I have seen lately this one will get a very light tumble... Just enough to get the oxidization off. The light amber is extremely unusual from my experience with amber soda bottles. The whole point of making them amber was to block light so they tend to be very dark like the common variety # 4596.
This antique Wisconsin amber blob soda is different from the common variety in more than just color. It's embossed on the bottom with a big G&M. The Madlener on the front of the bottle is about three thirty seconds of an inch from the Milwaukee at the base. The common variety is more like five sixteenths of an inch apart. The common variety has the re-cut A&DHC makers mark on the back this one has a clean cut A&DHC. So there you have it. While it stung to pay a fairly high price on this one at the time I bought it I feel a little better about it after realizing it was a new variant. The reason it stung is the bottle has an open bubble in the neck and a nice ding on the back heal. Even so it's the only one and it's LIGHT amber. It will find a place with some of my favorites front and center on the shelf of bottles I display including the Hopkins bottles, the cobalt Wolf bottles, the K&D the pontiled blue Lindstrom/Lindstram, the pontiled delf blue Bliss from Racine and it will be very close to where I intend to put my pontiled Blossoms Badger Ale when I get one. That is as high an honor as I can bestow on a bottle.
My thanks go out to Anthony, the BEEZ and grandpa for making it possible for me to really improve my collection. I look forward to meeting up for a privy dig and to seeing the treasures you boys find.
5-17-06

Here it is... The crown Ryan known as The Wisconsin Crown Top King sent in that proves we absolutely need a Wisconsin crown top gallery. This beauty is just so pretty. Any bottle in olive green has to be considered a super rarity. My fear seeing this one is that i'll end up collecting crown tops if more of this caliber show up.
04/06 With summer looming large and nice thawed out water everywhere some of the regulars are getting out and diving. The Fondulac crew have come across a very nice spruce beer. (Unfortunately they test every bottle they find for fragility with a ballpeen hammer across the blob... As with most they certified the spruce beer as "very fragile") The kid is rolling in glass already. Rumor has it there is a toddler and a newborn in his dive float cheering him on. Log into the forum and see these things for yourself!!!
Ryan has sent in a picture of a crown top beer that flat out warrants the creation of a crown top bottle gallery and milks abound in the forum. Check the galleries section soon to be one of the first in the new gallery. John Steiner occasionally adds his crocks, jugs and assorted antique Wisconsin stoneware to a page in the forum and Peter continues his lobbying to eliminate the Hutchinson gallery. His latest threat is that if the Hutch gallery is not taken down he will use a sharpie on his LCD monitor to cross off the gallery listing on his computer?!!! Descendants of many Wisconsin bottlers have found the site. They all agree with Peter the Hutch gallery has to go... So you better check it out now. If you're at Peter's house just click on the black line in the gallery menu.
03/2006 After review of the entire site Peter has decided we have to remove the Wisconsin antique Hutchinson gallery so check it out while you can. Peter thinks the Hutchinsons are taking attention away from

the Wisconsin clay beer bottle gallery. Good news for all Wisconsin collectors. Wil Martindale is allowing us to keep our only sided pontiled soda. The 'Taylor Brothers' is ours for now. I need hard core evidence... Some thing along the lines of one of the Taylor brothers diaries talking about how cold the winter of 1848 was in Milwaukie would do nicely. Or maybe a lithograph of the brothers hanging out, drinking their famous Mineral Water at Summer Fest in the summer of 48. If you have either please send them directly to me.
There is a lot happening for Wisconsin bottle collectors to be excited about!!! We have a forum here where we can get and share information. This site is becoming an incredible resource no matter what type of Wisconsin antique or non antique bottle you collect.
As of 3/15/2006 Marty and Donna Kupferschmidt, Dan Gross and Henry Hecker have the joined the ranks of Wisconsin antique bottle collectors published on the mrbottles site. Thanks to all for their contributions. If you like what you see and enjoy reading PLEASE contribute.
Nate keeps sending in more crown top images trying to force a crown top gallery onto us all, The Kid is (a cornerstone Oconomowoc collector) is not living up to his promise of new material every week in the forum... We are expecting him to make it up this summer with no less than TWO postings per week! When will he have time to dive?
Links has many fascinating new places for you to visit on the web. There are some excellent resources out there and we will do what we can to provide links to sites that really have information that is worth reading through on a rainy afternoon or a sleepless night. Some links like Wil Martendales pontiled soda website require you to go there NOW. Wil has provided some incredible insight to the origin of some of our earliest Wisconsin bottles.
Peter Maas, Bob Libbey and I are pounding away at making the galleries on this site a spectacular resource for every Wisconsin collector. We must have your help! Many Wisconsin collectors have stepped up big time!! Thanks to you all! If you have a bottle we don't have listed please send us high resolution images. Send the images to any of the contact links on the site.& If you look in the Hutchinson Gallery you will see a link to "Bob the Hutchinson" gallery administrator. Clay beers you will find a link to Peter the clay beer administrator. Those guys also administer every other gallery too! You can send pictures to the general contact address at Mrbottles and I will disperse them to the boys. PLEASE send only images that are very clear. If the picture is blurry retake it.