Steven R Libbey - Host Wisconsin Antique Bottle Collector
---
01/18/2011 Just read my maybe ten year old introduction to this collection.
Seems things never stop changing for my collecting interest. It got to the point that I had no opportunity to add to my collection of blob soda bottles. Having always preferred and pursued odd shapes and colors I started to acquire a few other bottles I found interesting. Realizing I didn't display and didn't really have the desire to display 110 different aqua soda bottles I started to refine and focus on whatever I found interesting. Knowing many of the bottles in my collection were bottles other collectors would love to have I decided to let the blob soda bottles go to other collectors. Many were very difficult to collect. It was hard to let some go but then I started to acquire bottles like the Fess pontiled medicine and the Otto Zwietush Wisconsin glass olive green quart. After a quick approval from Draga I put up artistic glass shelves in front of our south facing transom windows. Suddenly color and form meant more than anything. We love the artistic and happy appeal of the bright colors gleaming in the sunlight. It is more fun to collect than ever without the conforming guide wire of a particular type, style or place. Yes I am still all Wisconsin, other than my Ravenna pontiled Fruit jar find. The Lauber collection was the first unusual opportunity to acquire additions for my collection. A flask from Oconomowoc an upgrade on a Hopkins and a teal Chase Valley #1 utility bottle. Going forward I will add or remove pieces as the collection changes.
I considered asking one of my beloved fellow collectors to write a short story about my collection. That's a lot to ask. If you want to read the long version from the start forward I wrote it out a few years ago in homage to my hunting partners and the quest of finding what in the early days was the Holy Grail for me. The amber Hutch. I still feel giddy when I think of finding that one.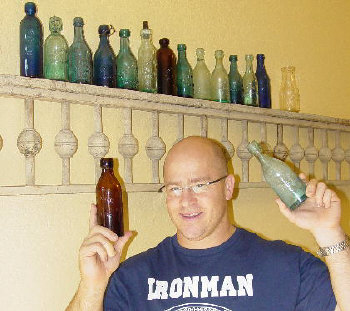 My brother Bob and I were about as hard core as any two bottle hunters ever have been and in most respects still are. We do the same things now we just think first. For example we still dive in freezing ice chunk water the difference now is we wear dry suits that help to keep our core body temperature over 90 degrees.
Bob and I were out on a particularly cold winter day, the 21st of February 1999. We met our friend Ed from Rockford Illinois in Watertown to try our Rock River hot spot. The ice was thick enough to hold a Sherman tank. Ed suggested we try Jefferson or Fort Atkinson. We drove to Jefferson. In the first tank I found a broken Pre Hutchinson blob soda bottle. I was stoked! Bob had gear trouble and Ed was freezing. Ed left the two of us as we submerged for a second tank. That second tank yielded my first blob soda ever. It's an Eaton and Woodward from Watertown. Soon I found more blob sodas including a Caspari from Beaver Dam, a J.E. Eaton of Burlington, a different blue Eaton and Woodard, a Wolf Christin from Milwaukee, a Menk of Watertown, both mold varieties of amber Miexner from Milwaukee, a John Graf true blob soda, an Eaton and Green of Watertown, a Michaels of Oconomowoc, a Gray from Janesville, both Eaton's of Watertown and a Banse of Cold Spring (Cedarburg). Those are just the whole ones that I can recall. I've been extremely lucky and blessed to find every one of them. Since I seemed to be the only one of my buddies finding this type of bottle I decided to collect them. These early sodas truly are some of the most fascinating and beautiful bottles from the state.
On the up side, I only have so many to 'Hunt' for, on the down side every one is hard earned. Additions to my collection already are difficult to come by. I've kept two colored Hutchinson soda bottles that I found myself, one being The Elusive Amber Hutch, the second a virtually mint deep cobalt Wolf and Seward out of Pewaukee Lake. They're so pretty and I found them so for now they stay.
I've been diligent in only collecting the early or, "Pre Hutchinson," Wisconsin soda bottles. This has worked wonders from the perspective of improving my collection quickly. I have been able to get some of my best bottles with great beer bottles or medicine bottles or clay bottles I found or the money from bottles I sold.
My collection? Well…, it's one of the most complete early Wisconsin blob soda collections there is. I've visited every Wisconsin soda bottle collection I'm welcome to see. I know of a few collections that are probably outstanding that I haven't seen. I guess we will never know the secrets they hold.
That's the whole point to this site. I want to share information and make it possible for all Wisconsin collectors to share information. I hope you enjoy this collection. If you see one you have to have make me an offer. It's unlikely that I will sell most of them BUT if it's your Holy Grail I, "Get it," while I don't want to give them up maybe we can figure out a trade or a way we both win.
If you like these, have questions or suggestions for the site please email me. A project like this website needs feedback. steve@mrbottles.com Thanks, Steven R. Libbey aka
Mr.Bottles
Steve
Photos